While an all-too-familiar scene for people on the West Coast who have endured increasingly severe wildfires in recent years, many residents across the Midwest, South and East Coast are seeing the devastating effects of wildfires for the first time.
From Chicago to Washington, DC, and even further south, residents stayed indoors, sports teams postponed matches and many wore masks again outdoors as the unprecedented smoke pollution rendered the air quality to dangerously unhealthy levels. 
A warmer planet will likely lead to more frequent and severe wildfires in the years to come, said Megan Lickley, assistant professor in the Earth Commons and the Science Technology and International Affairs Program in the School of Foreign Service. 
"For a forest fire to occur, you need heat, fuel and oxygen," Lickley said. "Climate change is causing higher temperatures around the world, which leads to more evaporation. Without more precipitation, vegetation will dry out, which means there's more fuel to burn in wildfires."
We asked Lickley how climate change, including temperature and precipitation levels, factor into these blazing wildfires, and if we should expect more fires and smoke across the country in the future — including in the East Coast and Washington, DC. Lickley is an expert in the drivers and impacts of climate change who studies fluctuations in global temperatures and precipitation levels.
Q&A With Megan Lickley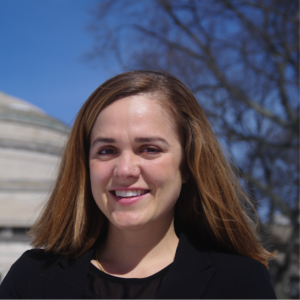 How does climate change affect the occurrence and severity of wildfires?
For a forest fire to occur, you need heat, fuel and oxygen. Climate change is causing higher temperatures around the world, which leads to more evaporation. Without more precipitation, vegetation will dry out, which means there's more fuel to burn in wildfires.
Precipitation trends also play a significant role in the occurrence of wildfires. While some places are getting more rain than before, other regions are getting drier as the Earth continues to warm. In North America, we've seen declining precipitation levels in the Southwest while other regions are getting more rain — this is one of the reasons why we've seen such severe and persistent wildfires in California this past decade.
Why have the Canadian wildfires been so severe even when the region is expected to get more rainfall?
This has been an abnormally hot spring in Canada, with record-breaking maximum temperatures being set across the country. In eastern Canada, there has been a persistent high-pressure system that has created a stagnant hot and dry weather system this spring. This has allowed these fires in eastern Canada to become so severe and out of control.
When it comes to precipitation, there is a lot of variability. So even if we expect more precipitation in the Northeast on average, we still expect seasonal variations and persistent extremes such as this.
Should we expect excessive smoke pollution to be a regular feature of the warmer months of the year?
This has certainly been the case in the western U.S. Will this be a regular feature in the eastern U.S.? I don't believe there is a consensus on this yet. However, the fires on the East Coast this spring have exposed more people to poor air quality than any wildfire in North America in the past decade due to the greater population density in the Northeast. This means that even modest increases in fire events on the East Coast could impact the health of millions of people.
What's the risk of a major wildfire in the surrounding region of Washington, DC?
Because DC typically receives so much rainfall, wildfires are a relatively low risk in the region. However, climate scientists are uncertain about whether ecological drought will become more frequent or extreme in the region, meaning that the risks of wildfires in the DC area in the coming decades cannot be ruled out.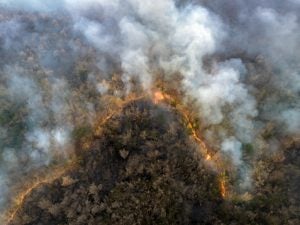 What work at the Earth Commons are you engaged in to help stem the effects of climate change and wildfires?
My research uses methods from climate science to ensure that countries are complying with the Montreal Protocol, which regulates the production of ozone-depleting substances. These gases also happen to be extremely potent greenhouse gases, so ensuring that they are being phased out will help to bend the curve on climate change. I have also been conducting work looking at changes in temperature and precipitation, which provides an indication of where we might expect wildfires to become more frequent in the future.
What can governments and other organizations do to prevent wildfires?
We should be tackling this on a variety of scales. There are a range of proven techniques that governments can use, including early detection, investing in fire suppression efforts, restoring natural fire patterns to ecosystems and educating the public so that the risks of ignition during hot and dry spells are limited.
However, the problem will only get worse as global temperatures continue to increase, and this once again underscores the urgency of reducing greenhouse gas emissions. Governments need to incentivize a rapid reduction in greenhouse gas emissions to limit the damage of climate change.
What can individual people do to stay safe?
Pay attention to your local air quality index. This past week in DC has had very poor air quality. Vulnerable populations are especially susceptible to detrimental health impacts from exposure to poor air quality. Limit your time outdoors, use air filters indoors and if you do go outside, consider using a good-fitting N95 mask when the air quality is poor.