Every morning, Kamiryn Rose-Weinberg (G'24) gets ready to head off to her internship. But rather than a quick walk, car ride or metro stop away, she opens Grab — a popular ride-sharing and food delivery app in Southeast Asia — to order a tuk-tuk, a small motorized three-wheeled vehicle, to commute to her co-working office space in bustling Phnom Penh, Cambodia.
Yara Doumit's (G'24) commute to the office is similar. She orders an Uber to travel to her internship in Amman, Jordan, early in the mornings from Sunday through Thursday, a work week typical of Jordanian culture.
Rose-Weinberg and Doumit are both students in the Master of International Development Policy (MIDP) program at the McCourt School of Public Policy. The two graduate students and their classmates secured unique professional opportunities with leading development institutions as part of their MIDP Summer Experience, a core requirement of the MIDP program, to put the technical skills they've been learning in Washington, DC, into practice in the field all over the world.
"The Summer Experience enables students to apply the analytical methods they've been learning in the classroom in real-world contexts with highly respected local and international development institutions," said Franck Wiebe, professor of the practice of public policy and faculty director of the MIDP program. "It's truly a unique experience that prepares students for their international development careers."
For Rose-Weinberg and Doumit, the summer has been full of exploring new cultures, getting a taste of what a career in international development policy looks like and stretching out of their comfort zones in new ways.
Expanding Healthcare Access in Cambodia With Kamiryn Rose-Weinberg (G'24)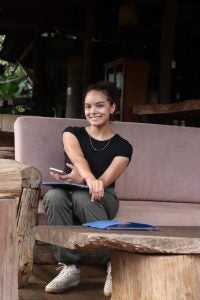 Rose-Weinberg has always been fascinated by Asian culture. Growing up in a multicultural family in the melting pot of Los Angeles, she was constantly drawn to the hustle and bustle of Chinatown and Little Tokyo. In elementary school, she would tag along with her best friend to attend afternoon Chinese school and deepen her knowledge of Chinese etiquette and traditions. In high school, her curious mind first turned to East Asian film and media before developing a more academic interest in the Asian region.
"I turned that superficial interest into a deeper passion for Asian history and foreign affairs. I take pride in knowing the ins and outs of ancient battles in the several millennia of dynasties past." Rose-Weinberg said. "The United States is less than 250 years old, yet countries in Asia have thousands of years of history to learn from. I'm interested in the geopolitics of it all, the game theory, different figures' political motivations and how it all affects the present. The lessons learned through these stories are universal and still very relevant today."
In 2017, as a high school student, Rose-Weinberg embarked on a month-long exchange program in Yatomi, Japan, that reaffirmed her love of Asian culture. She later attended the University of California, Irvine, engrossing herself in East Asian policy courses and the campus' vibrant Asian American community.
After graduating from college, Rose-Weinberg knew she wanted to lean into her passion for international studies, public health and travel throughout her career.
While she initially toyed with the idea of becoming an international law attorney, the COVID-19 pandemic got her thinking more about global health, especially after she wrote a research paper analyzing how the pandemic in East Asia would affect the United States. She discovered the MIDP program at McCourt and was drawn to the program's focus on quantitative methods and fieldwork. She enrolled in 2022.
In the Field in Phnom Penh, Cambodia
For the last two and a half months, Rose-Weinberg has been a Summer Research Fellow in the Phnom Penh office of Causal Design, an international development firm co-founded by two MIDP alumni, Keith Ives (G'14) and Reimar Macaranas (G'14).
In looking for a placement for her Summer Experience, Rose-Weinberg knew Cambodia is one of the least developed countries in Asia and more likely to be affected by the global health issues that most interest her. When she discovered Causal Design, she knew it would be the perfect opportunity to strengthen her analytical skills and deepen her expertise in global health issues while exploring Asian culture.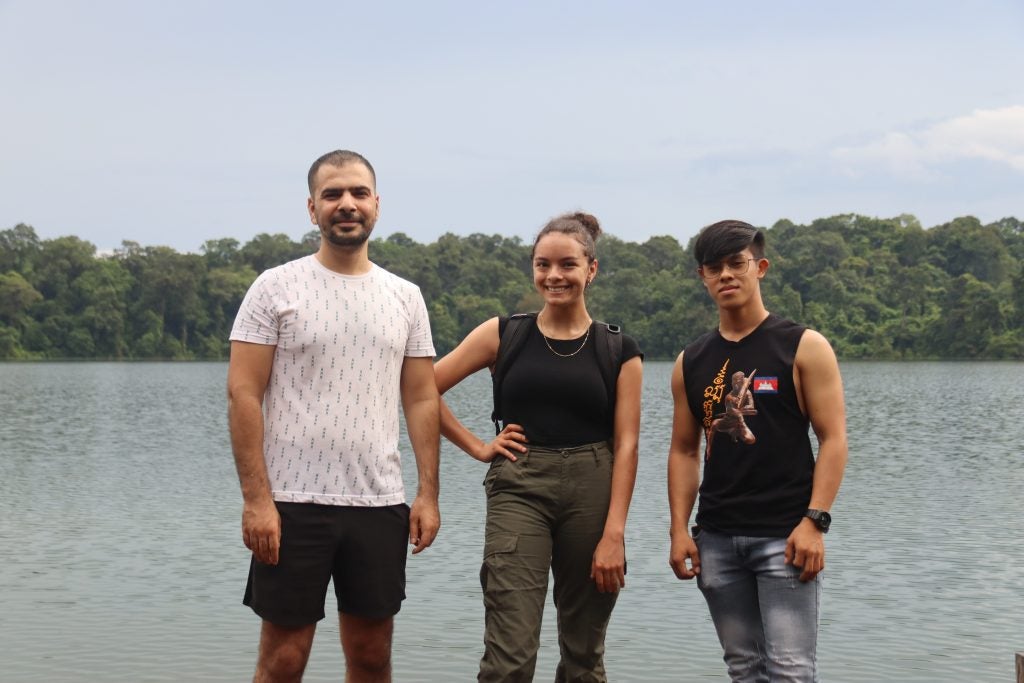 At Causal Design, Rose-Weinberg helps design surveys, conducts research in local communities where the firm is working in, and performs data collection, cleaning and analysis. Working on Cambodian government contracts to expand health care access in the country's rural provinces, Rose-Weinberg collaborates with the Causal Design team to evaluate the impact of their health interventions in these communities.
As part of these evaluations, Rose-Weinberg joins the survey teams that venture deep in the Cambodian heartland, from the villages immediately surrounding Phnom Penh in southern Cambodia all the way to Siem Reap, the second most populous city in the country, two hundred miles away in northern Cambodia — stopping along the way at other rural communities to gather data.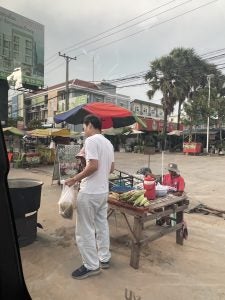 At each village, Rose-Weinberg observes the local community while her team interviews residents in the local Khmer language using surveys she helped design.
"We go to the rural areas and identify areas for support. We ask questions like, 'How often do you use traditional medicine? How often do you see your primary care doctor?'" Rose-Weinberg said. "Then we dive deeper into those questions to find out why residents don't visit their primary care doctor. Is it a physical barrier like the hospital being too far away? Or is the reason deeper and behavioral, like a lack of trust in modern medicine?"
Rose-Weinberg credits the comprehensive quantitative studies from McCourt as well as the MIDP program's flexibility in enabling her to take elective courses. Over the last year, she's taken electives in East Asian economics and several courses in the School of Health that complemented her own studies at McCourt. In her elective health financing class, Rose-Weinberg designed a mock health intervention in Sierra Leone to lower childhood mortality, a project that prepared her to work on Causal Design projects focused on childhood health in rural Cambodia.
As her internship winds down, Rose-Weinberg knows her experience in Cambodia will give her a leg up when she begins her career.
"My experience in Cambodia has prepared me for similar policy and program work in other settings, and I will have a significant competitive advantage compared to other economics or public policy students from other programs who don't have experience in the field."
Assisting Refugees in Jordan With Yara Doumit (G'24)
For Doumit, being around refugees has been a part of her weekly experience her entire life.
Born in the U.S. but raised in her parents' native Beirut, Doumit spent her high school years volunteering in refugee camps after school in Lebanon, which has over 1.5 million refugees in a country of just 5.5 million people — the highest number of refugees per capita of any country in the world.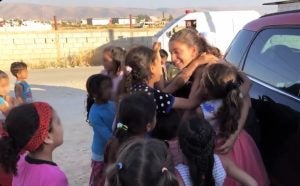 Ever since she tutored young girls in math and English in the refugee camps, Doumit knew she wanted to engage in initiatives to support refugees as they restarted their lives in foreign lands.
"You're helping them build and adapt to a whole new life," Doumit said. "My experiences have also helped me build something new in myself too, in terms of communicating with different audiences and understanding people who have been through such sensitive and difficult situations."
In college, Doumit studied international finance to better understand the systems powering international transactions and the roles that major actors play — whether in the private or public sector  —  in international aid projects, economic development and policy making. 
After graduating valedictorian from American University, Doumit spent eight months as an intern at the United Nations Capital Development Fund (UNCDF) in New York. While there, she interacted with UN staff who have been on the ground implementing development policies in countries across the globe and knew she too wanted to dive into the world of international development policy. The MIDP program caught her attention for its rigorous curriculum, focus on quantitative skills and fieldwork opportunities.
"You don't just learn if a policy works or not. You learn to measure the policy's impact and criticize its performance. You learn which partners to work with to implement policies and how to run and interpret the quantitative formulas," she said.
In the Field in Amman, Jordan
Doumit wanted to get hands-on experience during her Summer Elacement working on issues affecting the Middle Eastern region where she grew up.
She secured a role as a World Bank short term consultant in Amman, Jordan, working in close collaboration with the UN Refugee Agency (UNHCR) on data collection and analysis. UNHCR coordinates protection and assistance for refugees and other displaced people around the world. Georgetown is also partnering with the UNHCR through the Massive Data Institute led by Lisa Singh at the McCourt School to leverage data to better predict mass movements of forcibly displaced populations.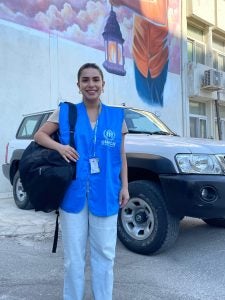 For refugees in Jordan, UNHCR offers services that complement public services in Jordan, including on identity documents. Doumit said it's not uncommon to see over 1,000 refugees come to the UNHCR Registration Centre in Amman every day to receive counseling on protection, resettlement and other services.
Over the course of the summer, Doumit has contributed to World Bank and UNHCR projects involving quantitative methodologies about the vulnerability of refugees, advising UN staff on different indicators that the agency could be monitoring and ways to measure incoming data from surveys and home visits. She also participated in dialogues between different partners such as the World Food Programme and various agencies of donor countries that are directly involved in refugee assistance in Jordan.
But Doumit doesn't just sit in the office all day. She also goes out to the field, traveling around the country in UN vehicles and visiting refugee families. Unlike many other countries where most refugees are housed in tent encampments, Doumit explained how 82 percent of refugees in Jordan live in dense urban areas in dwellings alongside the local population.
"We get to see firsthand the day-to-day lives of refugees we are assisting and how their experiences differ from area to area, whether in Amman, the capital, or different communities around Jordan's 12 governorates," she said.
Doumit hopes to apply her knowledge of the region and its geopolitics to her future career, which she hopes will focus on the intersection of economic development,  international cooperation and regional security in the Middle East and different parts of the world.
"Regional security in the Middle East very strongly relies on the refugee communities and how they're treated and assisted, which is why I'm fascinated by this," Doumit said. "The Middle East is so much more than how it's portrayed. It's beautiful, really."