When Renée Clark (C'24) sent a cold email in December to an attorney to learn more about his work, she was not expecting much of a response.
Half a year later, Clark is a summer intern working alongside that same attorney in the substance use disorder division at Legal Aid of West Virginia, an organization that provides free legal services to underserved populations.
While many of her peers are interning on Wall Street or Capitol Hill, Clark has always been drawn to the work of serving needy rural communities. For Clark, interning in West Virginia is more than just a summer experience. It's a region that represents a piece of home.
Growing Up in Rural Appalachia
Clark grew up in a small Appalachian town in upstate New York . Like many other rural communities across the United States, poverty and substance use were commonplace, leaving devastating effects Clark witnessed regularly with friends and adults she knew growing up.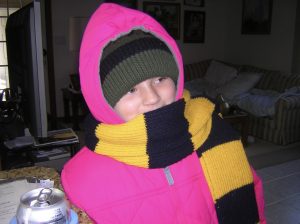 When it came time to apply to college, Clark knew that she wanted to use her education to create change and progress in her own community. 
Ever since she was in middle school, Clark dreamed of becoming a Hoya. She was drawn to Georgetown's Washington, DC, location and its commitment to social justice and lifting up students from all backgrounds through programs like the Georgetown Scholars Program. Coming from an impoverished rural community, Clark recognized that the opportunity to go to Georgetown was too good to pass up.
"It was really this by-the-grace-of-God moment [of getting into Georgetown] that then got me thinking about how I can translate this into actually helping my community in need," said Clark, who studies government and theology. "Georgetown is a place where people care not only about the good ideas you learn in the classroom, but knowing that you have to put those good ideas out into the world to do the most good." 
Seeing Cura Personalis With Legal Aid of West Virginia
The idea of going to law school was always in the back of Clark's mind. Three years after arriving on the Hilltop, Clark has steadily gained experience in the legal field, taking pre-law classes and working at the Georgetown University Law Center.
While conducting research for her thesis that will focus on community building and poverty alleviation in rural communities affected by substance use issues , Clark discovered Legal Aid of West Virginia. She knew she wanted to be a part of its mission. For Clark, an internship at Legal Aid would allow her to pursue her passion for the law while working on substance use issues in Appalachia, an issue and community close to Clark's heart.
After sending her cold email, Clark connected with an attorney about his work with Legal Aid. At the end of the conversation, she went out on a limb to see if the firm hosted undergraduate interns.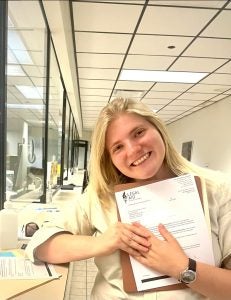 Her leap of faith paid off.
In June, Clark joined a team of three other interns in Charleston, West Virginia, supporting Legal Aid's substance use disorder division.
Throughout her six-week internship made possible by the Laidlaw Undergraduate Leadership and Research Scholarship Programme, she researches cases and performs administrative tasks. But getting out of the office is what drives her motivation this summer.
Most days, Clark travels alongside Legal Aid attorneys to the courtroom and meets with judges, an experience Clark says even many licensed attorneys may not have often, let alone an undergraduate intern.
What Clark finds most satisfying about her internship, however, is her regular interactions with clients. She often visits clients at treatment clinics, working with attorneys on cases that help recovering addicts get back on their feet. Learning the stories of people behind her case files has reaffirmed her own desire to pursue a legal career, she said. 
In one case she worked on, Clark was able to assist in preparing to file a lawsuit to combat predatory landlord practices. Throughout the process, she interviewed clients to help support the case.
"You talk to someone. You hear them, and they've experienced something terrible," Clark said. "Then if you go to law school, you can have the skills to then filter that through the language of law to get something done. So that's cool to see that in action right now."
Some of the services Clark assists with include helping clients get their driver's licenses back so they can drive to work and ensuring employers are not discriminating against clients who are recovering from substance use, which is classified as a disability and protected from discrimination under the Americans With Disabilities Act.
"What the substance use disorder division tries to do is if there are legal barriers that are making it harder to recover, we try to make that easier," Clark said. "It's so hard to seek and stick with your treatment. It's even harder to do that when there's a system against you now that you have a criminal record that makes it that much harder to get a job."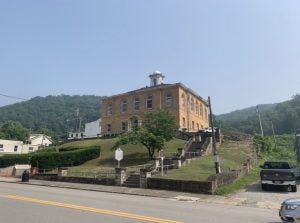 Clark credits her three years at Georgetown for teaching her how to spot systemic issues and understand the local and national contexts that make each situation unique.
"Georgetown encourages us to think systemically about what issues are happening and how we can change the why," Clark said.
She also appreciates how Georgetown's value of cura personalis — care for the whole person — has informed her own formation and allowed her to see people struggling with substance use in a new light.
"Coming from a rural area and then going to a rural area with that issue spotting ability from Georgetown taught me to be a lot more empathetic and to see things more holistically," Clark said. "Looking at a client who struggles with substance use disorder, there's a lot of stigma behind that, and I don't think we're being compassionate enough and seeing them as a whole person that's struggling to do their best."
A Future in Public Interest Law
On the first day of her internship, a senior leader at Legal Aid asked Clark if she wanted to go to law school one day.
At the time, Clark couldn't give a definitive answer. Wanting to give back to the rural community she grew up with, she had doubts over whether a legal career would enable her to serve her community best and wrestle with complex issues like rural poverty and substance use.
"The question I wake up with every day is, 'Is law really the best language to speak to poverty?' I honestly don't know," Clark said.
It wasn't until a conversation with one of the attorneys at her internship that Clark all but knew she wanted to pursue a career in public interest law to work on these challenging societal problems.
Working on a vexing eviction case, Clark felt disillusioned with how far out of reach systemic change can be. Seeing repeat clients and taking on disheartening cases over and over again made her doubt her optimism for change. 
But one day, as she sat across from an attorney who had been doing advocacy work for decades, she realized she had to see the real-life struggles of people affected by the law first-hand before pursuing systemic change. To achieve the change public interest attorneys work for, Clark understood that she had to be on the frontlines of advocacy work to better inform the high-level thinking necessary to drive real policy change.
"It's almost like science. Direct services are important because you have to understand the specific phenomenon. You have to be able to think about real people because real people keep you honest," Clark said. "You can take a class at Georgetown that talks about theoretical problems of housing, but then there's a client right in front of you who, if we don't have a good outcome, is not going to have a place to live." 
Clark now knows her path forward. While the Appalachian native understands that pursuing public interest law is not the easy path, she is eager to push ahead.
"If you have the privilege to go to college — especially a college like Georgetown — and have the opportunity to become a lawyer, to do anything other than making people's lives better who need it the most, I mean to call that a missed opportunity is very much an understatement," she said. "The only responsible thing that I could do if I got a law degree is to do public interest law."
"People relapse. People die. People don't get to see their kids ever again. And there aren't nearly enough people doing public interest work.  So part of what keeps me going is there is no other thing to do than help people. If you live in a world on fire, you have to at least work to put out the fire."