Cross-Campus Collaboration
Core to the function of the Tech & Society Initiative is the idea that understanding the role of technology in society requires an interdisciplinary approach, illustrated by the cross-campus collaboration on display during Tech & Society Week.
"Technology touches every part of society, and presents opportunities and challenges that are inherently interdisciplinary — they cannot be understood, or managed, with a single perspective, skillset or discipline. That's where Tech & Society comes in," says Emily Evagelia Tavoulareas, managing chair of the Tech & Society Initiative and adjunct professor in the McCourt School of Public Policy. "We are building connective tissue between people and programs that are immersed in this space."
True to this interdisciplinary approach, Tech & Society Week featured a variety of technical, ethics-focused and policy-related events.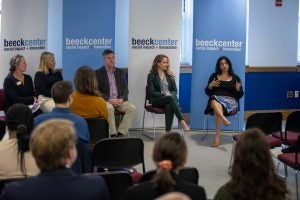 Nathan Wycoff, a postdoctoral fellow at the McCourt School's Massive Data Institute, led two days of regression workshops using TensorFlow, an open-source machine learning platform. Visiting distinguished professor danah boyd led a conversation on her current research and upcoming book about the U.S. census. At an event on the modernization of Congress sponsored by the Beeck Center for Social Impact & Innovation, Georgetown alumnus Ken Ward (C'02), director of the new House of Representatives Digital Service, offered remarks about data-driven law-making in conversation with several other leading experts.
The Next Generation
Several Tech & Society Week events were designed to engage students and highlight their work — part of the initiative's broader goal to educate the next generation of technologists and researchers.
In collaboration with the Center for New Designs in Learning and Scholarship, the Tech and Society Grand Rounds featured student research from courses offered across the university. The series of presentations showcased the different methodologies, approaches and disciplines — on topics ranging from career services to tech regulations to the shift to remote work — from across Georgetown's campuses and undergraduate, graduate and professional programs.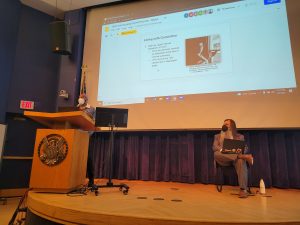 At the modernization of Congress event, Christine Mauvais (NHS'24) learned something new about technology and policy that she will take back to her nursing classrooms.
"Through this event, I got to fully take in the value that technology has in the law-making world," says Mauvais. "It takes a while for change to occur at the Congressional level, so with more technology, I am sure that we can reach progress at a much quicker rate than before."
These student-focused events build on ongoing and future Tech & Society opportunities for students and practical learning in this space. The Fritz Family Fellows Program, which builds the expertise of Georgetown students working on the social impacts of technology, is entering its third year. The Public Service Fellowship Program recently launched for technologists and researchers to spend a year in government, deepening Georgetown's connection between scholarship and public service. New undergraduate courses focused on technology, ethics and society will feed a major in computer science, ethics and society; a certificate in the Department of Computer Science; and a future interdisciplinary minor in tech, ethics and society.
A Cross-Campus Effort
Georgetown's location in Washington, DC, and academic expertise in ethics, policy, law and more are key to the university's capabilities to address the world's most pressing issues at the intersection of technology and society.
According to Dewey Murdick, director of the Walsh School of Foreign Service's Center for Security and Emerging Technology (CSET), Georgetown's tradition, passion and location — as well as the people connected to the university — have supported his research and the center's impact.
"Institutional support and programs like Tech & Society help CSET deliver evidence-driven analysis to key policy-makers. Plus, Georgetown students have contributed to our research and bring a breadth of experiences and backgrounds," says Murdick. "This deep network of alumni, faculty and students, plus Georgetown's status as a preeminent university, helps us with recruitment and opens doors to policy contacts."
To Provost Robert M. Groves, Georgetown's work on technology and society is motivated by the university's emphasis on interdisciplinary collaboration and the foundational tradition to be "people for others."
"From multiple perspectives, the initiative is tackling the large mismatch between technology's direction and velocity of change and behavioral norms, regulations and laws that society supports," Groves wrote in his blog post about Tech & Society Week. "The initiative is uniquely a Georgetown invention, transporting concepts and perspectives across fields to solve important problems that technological change brings."