Yu "Angela" Bai (C'17) plans to pursue a career in sustainable urban planning after using a prestigious Gates Cambridge Scholarship to study at the the University of Cambridge in the United Kingdom.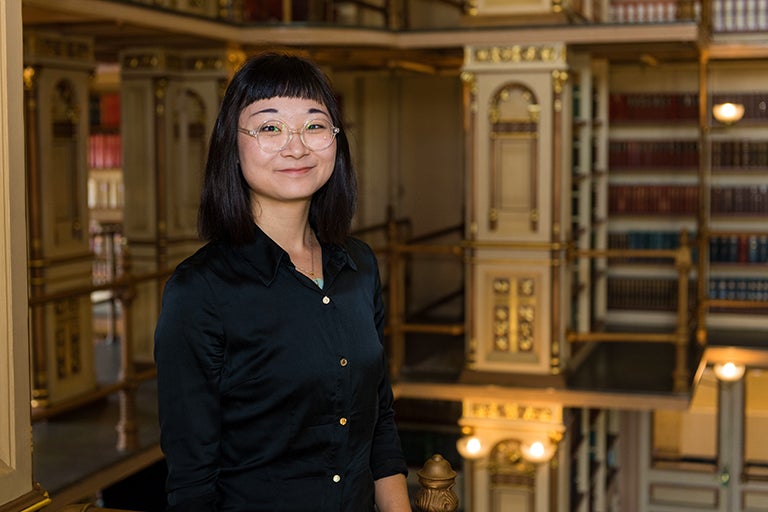 Yu "Angela" Bai (C'17), who hopes to pursue a career in sustainable urban planning, has won a prestigious Gates Cambridge Scholarship, awarded each year to only 90 students around the world.
The scholarship, established in 2000, is awarded to outstanding applicants from countries outside the United Kingdom to pursue a full-time postgraduate degree in any subject available at the University of Cambridge.
Bai is the fifth  Georgetown graduate to win the scholarship in the past seven years –joining Ayan Mandal (C'18), who won in 2018; Aya Waller-Bey (C'14) and Carol Ibe (G'06), who won in 2015; and Michael Meaney (C'12), who received the award in 2016.
A biology major and business administration minor, Bai will enroll in the MPhil program in architecture and urban studies at Cambridge.
She plans to research human behavior in "eco-cities," focusing on the concept of moral licensing, or unconsciously compensating for virtuous behavior in one area by becoming lax in other areas.
Lifelong Calling
Bai became interested in science early on.
As a high school student, Bai conducted research on cancer genetics at the City of Hope Cancer Research Center in her native Los Angeles, focusing on endocrine disruptors and their role in genetics.
She also has an interest in design and design ethics.
Extreme Biology
At Georgetown, Bai immersed herself in research opportunities –some of which were truly out of this world.
As a senior, she assisted Sarah Stewart Johnson, assistant professor in the biology department and at the Walsh School of Foreign Service, in studying extreme environments in order to better understand extraterrestrial life.
She accompanied Johnson on an expedition to Antarctica, where the team sequenced the genes of native microbes that live in an environment similar to that found on Mars.
"Researching extremophiles actually made me think quite a bit about human habitats," Bai said. "Facing the challenges of living in such harsh environments, microbes often band together by creating amazingly diverse communities, and our cities can learn a whole lot about adapting to climate change from these microbes."
As an undergraduate student, Bai continued her cancer genetics research, working on cancer-preventative effects in common foods alongside Fung-Lung Chung, professor of molecular oncology at Georgetown University Medical Center.
Eco-Cities
At Cambridge, she plans to research how cities can be made more sustainable in that university's architecture and urban studies program.
Around the world, urban development has increasingly adopted ecological elements that promote sustainability and resilience. As the concept of living in "eco-cities" becomes more popular, Bai wants to better understand how human behaviors in these developments are affected by moral licensing.
Bai hopes to help urban planners and ecological infrastructure designers optimize their projects so that people are less likely to offset their ecologically conscious choices with poor ones.
Tackling Urban Problems
"As eco-cities become the new norm for sustainable urban development, understanding the human response to such complex, systemic developments will be increasingly crucial for the building of successful eco-cities," Bai says.
The Cambridge master's program is not the end of the academic road for Bai –after graduation she hopes to earn a Ph.D. in ecology.
"The architecture department at Cambridge recognizes that urban problems cross many fields, and thus not only accepts different disciplinary backgrounds, but even encourages them," Bai says. "The Gates Cambridge Scholarship is giving me a tremendous opportunity to not only look forward to a career in sustainable urbanism, but also bring what I already know about biology with me."
For more information about the Gates Cambridge Scholarship and other fellowship opportunities, please visit the Georgetown Office of Fellowships, Awards and Resources or email gufa@georgetown.edu.