Ever since their own families grappled with their own health crises, Dr. Ralf Martz Sulague (G'23) and Dr. Allison Fitzgerald (M'23, G'23) wanted to pursue careers taking care of patients' health.
But they both knew they wanted to make an impact outside of the doctor's office and came to Georgetown to expand the reach of their M.D. degrees. In the years since, Sulague has traveled to Ghana to research financial risk associated with major surgery, and Fitzgerald has made important contributions to pancreatic cancer research.
This past weekend, Sulague graduated with his master's in global health, and Fitzgerald completed her dual Ph.D. and M.D. eight years after arriving at Georgetown. 
Sulague leaves Georgetown on a mission to make surgery more accessible and improve cardiovascular disease treatments, and Fitzgerald is off to join the effort to treat and study cancer as a researcher and clinician. 
Read on to see how these two doctors are working in their fields to improve health care for those who need it most — and the defining moment in their family histories that spun both of their lives toward a career in health care.
Making Surgical Care Accessible With Ralf Martz Sulague (G'23)
Growing up in a middle-class household in the Philippines, Dr. Ralf Martz Sulague (G'23) never took the health care of his family for granted.
However, due to financial constraints, he and his family always had to think twice before going to a doctor, often resorting to more inexpensive herbal medicines and other alternative forms of care.
Experiencing the Stinging Cost of Health Care
This all came to a head during Sulague's second year of college when his uncle had a medical emergency that required surgery. Coming from a small town on the Philippine island of Bohol, getting treatment for some conditions was not as simple as driving across town to the doctor's office — Sulague's uncle had to sail to another island to receive quality health care.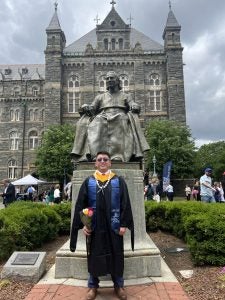 To cover the cost, Sulague's family had to take on loans and sell property. Following this experience, Sulague could only imagine how much more difficult accessing health care would be for those on the margins.
"That made me realize if a middle-class family like mine had to do that just to be able to afford quality surgical care, how much more would it be for the many Filipino families who have way, way less," Sulague said.
After the experience, Sulague was determined to pursue a career as a doctor. After completing his undergraduate education at a Jesuit university in Metro Manila, Sulague earned his M.D. in 2020 with the hopes of becoming a surgeon, a specialty that he found lacking in his province in the Philippines.
But he knew he wanted his work to extend beyond treating patients. He wanted to address the root causes behind patients' inability to access quality and affordable health care around the world.
"I'm learning all of these clinical things, like how to diagnose myocardial infarction, pneumonia, or, let's say a urinary tract infection. But I realized that the problem is more systemic," he said. "Global health and medicine are two different things. Medicine is the science, but global health is the politics of medicine and deals with how to make health accessible to all."
Pursuing Global Health at Georgetown
In 2020, Sulague watched COVID-19 ravage his home country and realized that he had to learn more to better serve his community. This realization led Sulague to Georgetown, where he pursued his master's degree in global health at the Graduate School of Arts & Sciences and was the recipient of the Father Bienvenido Nebres, S.J. Scholarship for his passion for health and development solutions in the Philippines.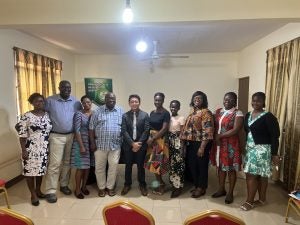 "I was telling myself I should equip myself for wherever God places me in the future, if ever I'd be given that opportunity to work in the government, rural health or in my province," he said.
At Georgetown, Sulague concentrated his studies on improving financial access to surgery, a key concern in the field of global surgery — an emerging field focused on improving access to surgery around the world.
As part of his immersive field research experience, Sulague traveled to Ghana to assess the country's social health insurance program and its ability to protect Ghanaians from exorbitant costs due to surgery. He said seeing the vulnerabilities in Ghana's health care system only strengthened his resolve to continue fighting to expand health care access.