When Justin Cassera (B'23) was in middle school, he watched a police officer pull up to his family's home in small-town Colorado. The police officer handed his father official papers charging him with felony assault, a crime his father never committed. Cassera's childhood was turned upside down.
Despite his father never being convicted of the felony, what followed was a drawn-out legal saga that pushed the Casseras out of their community. Both of his parents lost their jobs in the fallout, and Cassera's family spent the next year and a half on the move, shifting from one hotel to the next and living out of the family minivan.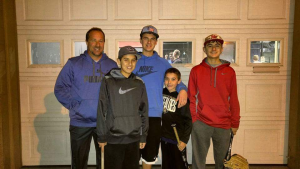 "Even though my father was innocent of what he was being tried for, and even though he hadn't been convicted, the process of the trial wrecked our lives," Cassera said. "And that's something that I thought shouldn't happen in a fair justice system."
That experience has stayed with Cassera years later as he prepares to graduate from Georgetown. But what once traumatized Cassera's coming-of-age has driven him to advocate for those who have been unfairly treated in the criminal justice system.
A Budding Interest in the Law
As with many college students around the world in 2020, Justin's first year at Georgetown was cut short when the pandemic struck. But with all this extra time on his hands during the early months of the pandemic, he realized he could pursue whatever he wanted at Georgetown. Over the summer, Cassera began to think more deeply about his family's experience with the criminal justice system and dedicated his extra time to learning all he could about the law.
"I was reading a bunch of books about the criminal legal system, and I realized this is way bigger than just my family's experience," Cassera said. "It provided me some solace to know that, but I also felt like I had a responsibility to learn more about it just because of the privilege that the Georgetown degree offers you."
Though Cassera was learning plenty on his own, it wasn't until his senior year that he was able to really dive into the law, enrolling in the Prisons and Punishment course taught by Marc Howard, director of the Prisons and Justice Initiative (PJI). The course connects a group of undergraduate students and incarcerated individuals as they explore topics of mass incarceration, the criminal justice system and more. For Cassera, the course helped him contextualize his family's experience.
"I was really involved in the class, and I was bugging Marc constantly in office hours," said Cassera. "It was just a good way for me to sort of formalize my education outside of just my personal experience."
Fighting to Free John Kinsel From Prison
Moved by his experience in Prisons and Punishment, Cassera felt he needed to go further and directly help wrongfully incarcerated people. He applied for the Making an Exoneree course, co-taught by Howard and Martin Tankleff, an adjunct professor of law, for the spring semester of his senior year.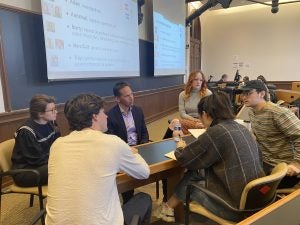 "I felt the passion inside me thinking I need to do this. I want to do this more than anything else," Cassera said. "I just felt this itch to get involved and do the work with my brain and my own two hands."
In the class, Georgetown undergraduate and law students team up with film students from the University of California, Santa Cruz to support the cases of people believed to be wrongfully convicted, many of whom have spent decades behind bars. Each team supports one case by creating a digital campaign and a short documentary, culminating in the Making an Exoneree showcase at the end of the semester.
Cassera and his team supported the case of John Kinsel, a man who has spent more than 26 years in a Louisiana prison serving a life sentence for aggravated rape of a minor. For the past 17 years, his alleged victim Alyssa Medlin has maintained that she fabricated her testimony and has been fighting to clear Kinsel's name alongside his friends and family.
When Cassera first heard Kinsel's story, he was hesitant to accept the case due to the nature of the alleged crime. However, seeing Medlin be so vocal about Kinsel's innocence for nearly two decades convinced him to take on the case.