Marsh and Bonior recommend the following:
Take a Reality Test
"I've heard people throwing out the most unbelievable scenarios playing out down the road," says Marsh, a professor of psychology. "Just do a little reality testing."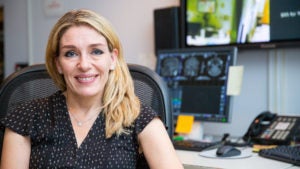 Bonior says avoiding "rumination and catastrophizing" in these uncertain times can hinder serious distortions in our thinking patterns that make us feel negative and hopeless.
"Practice observing your thoughts gently and curiously, and catch in statements that are inaccurate and unduly negative or blown out of proportion," she says. "When we label our emotions, they feel more manageable."
Keep a Routine
Bonior says stress levels diminish when we increase our sense of being in control and predictability.
"Right now, we may feel quite uncertain and helpless, but we can create basic rituals, building structure into our days," she says. "Consistent meal times and break times can ground us and calm our nerves. Making daily and weekly plans for what we are personally doing in this crisis can help keep us from feeling powerless."
Prioritize Interpersonal Connection
Bonior, author of the upcoming Detox Your Thoughts: Quit Negative Self-Talk for Good and Discover the Life You've Always Wanted (Chronicle Books, 2020), says social distancing and self-quarantining make social support harder to come by, but she says it's not impossible.
"Use technology to embrace community and emotional closeness, even while social distancing, as loneliness fuels anxiety and depression," she explains. "Get creative with virtual happy hours or synchronized movie-watching. I'm even seeing people cook dinner together over Skype or play concerts for each other over Facebook Live. We are all in this together, and embracing that is crucial."
Reframe Your Behavior
"There are always things you can do to change how you feel," says Marsh, also a professor in Georgetown's interdisciplinary program in neuroscience. "The single best treatment for clinical anxiety is what's called cognitive behavioral therapy, where you retrain your brain to think about threats differently."
Marsh recommends reframing your behavior toward protecting other people instead of just protecting yourself.
"My research on altruism indicates that when you're focusing on other people, you don't feel as anxious as when you're focusing on your own safety," Marsh explains. "It's amazing how just not focusing on yourself is incredibly helpful. Luckily, Georgetown students are great at this – being people for others."
Marsh describes how one of her heroines, American Red Cross founder Clara Barton, faced a number of mental health challenges.
"She used to suffer terrible anxiety and depression during her life," Marsh says. "The way that she would treat it was by going to battlefields to help soldiers, taking the focus off of herself and focusing on helping other people."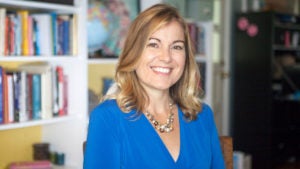 Protect Sleep, Exercise
Sleep is under serious threat right now due to disrupted routines and new housing arrangements for students and their families, Bonior says.
"Sleep deprivation heightens our sensitivity to threat and weakens our immune systems, but exercise has well-documented mood-boosting qualities," she adds.
Bonior recommends walks, yoga videos or even just dancing to your favorite music.
"It can get your heart pumping and help you step outside of your head for a moment," she says.
Check Your News Diet
Marsh and Bonior both say knowledge is power, but there is a fine line between gaining insight and continuing to reread the same information, which can make people overly anxious.
"Be choosy about the news sources you're paying attention to," Marsh says.
She also recommends limiting exposure to social media, where she says "the most hysterical posts" tend to get the most attention.
"It can end up creating the view that things are even worse than they really are, even scarier than they are because emotion is contagious," she says.
Bonior recommends checking out websites that specialize in positive news.
"Seek those out as well," she adds, "and don't forget the role of laughter in stress relief."
Find a Purposeful Mission
Bonior and Marsh both recommend nourishing your brain and putting energy into things you want to learn or goals you want to achieve during this time.
"Having commitments and commutes canceled quickly can go from dream to nightmare once we start feeling trapped in our homes without stimulation," Bonior says. "Now is the time to go back to that book you liked but didn't finish, listen to that new singer your co-worker told you about or even just learn how to perfect your omelet technique."
Marsh says these actions will engage different emotions and lessen anxiety.
"If you're focusing on goals," she says, "you can't be focusing as much on threats."