Title:

Government, Political Science Scholar to Become New McCourt School Dean
Date Published:
May 17, 2017
Georgetown appoints government and political science scholar Michael Bailey as the new interim dean for the McCourt School of Public Policy.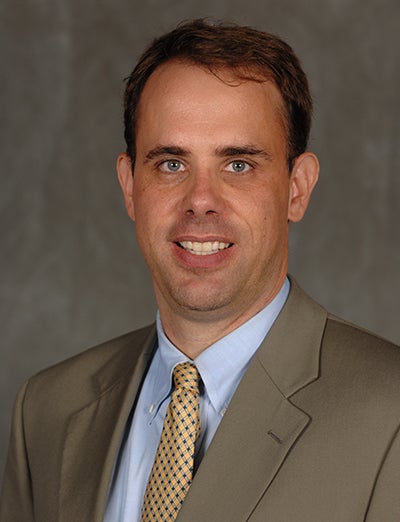 –
Georgetown has appointed government and political science scholar Michael Bailey as the new interim dean for the McCourt School of Public Policy, effective August 1.
Bailey, a member of Georgetown's faculty since 1997, serves as the Colonel William J. Walsh Professor of American Government in the McCourt School as well as the government department.
He specializes in data analytics, the U.S. Supreme Court, public opinion polling and federalism.
"I am deeply grateful to Michael, for his extraordinary dedication and exemplary commitment to our university," says Georgetown President John J. DeGioia. "He served as chair of our Department of Government one of our nation's leading departments in political science – for four years and, most recently, has served as a member of a core group of faculty members working to develop innovative graduate programs in data analytics."
Serious Data Analysis
Bailey has played an integral role in the study of American public policy and politics at Georgetown.
He has written Real Stats: Using Econometrics for Political Science and Public Policy (Oxford University Press, 2015) and co-authored The Constrained Court: Law, Politics and the Decisions Justices Make (Princeton University Press, 2011).
He also is the author of numerous articles in top peer-reviewed political science journals.
"Georgetown has always had a very deep commitment to serious data analysis," Bailey says. "The gift from Frank McCourt has allowed us to move even more aggressively toward new technology and new opportunities."
A generous gift from Frank H. McCourt, Jr. (C'75) created the McCourt School of Public Policy at the university in 2013.
Mining Big Data
Last month, the McCourt School opened the first Research Data Center (RDC) in Washington – a joint project of the U.S. Census Bureau and the school's Massive Data Institute (MDI), created in 2013 to study of high-dimensional data to answer public policy questions.
The institute uses data from novel, often real-time sources such as the Internet, social media, sensors and other big data sources to increase understanding of society and human behavior, and thus improve public policy decision-making.
"As it is an exciting time to see the amount of data that's available via the Internet and other sources, it can also be a time for challenges," Bailey says. "I think the McCourt faculty along with the research that we're doing demonstrates how important it is to be thoughtful about how the data works. You can make bad decisions with a lot of data just as you can with a small amount."
Numerous Honors
Bailey's work has been awarded with numerous academic appointments and honors that include serving as the Hepburn-Shibusawa Distinguished Senior Lecturer at the University of Tokyo; the John G. Winant Visiting Professor of American Government at the Rothermere American Institute at the University of Oxford; and the Supernumerary Visiting Fellow at the Balliol College at Oxford.
He also has earned fellowships to the Hoover Institution as well as the University of Basel in Switzerland as a Master of Arts in American Government fellow.
Additionally, Bailey has received awards for his research from the American Political Science Association Law and Courts Section and the Southern Political Science Association among other distinctions.
The Next Level
The university will soon form a search committee for the permanent McCourt dean.
The current dean, Edward Montgomery, served for seven years and is slated to become Western Michigan University's ninth president August 1.
Montgomery also taught in the school as a professor of economics.
"We have a large and growing faculty, a large and growing student body, strong research centers and good momentum going forward with hiring dynamic faculty," Bailey adds. "I'm thankful for the opportunity and all the work Dean Montgomery has put in, as well as Provost [Robert] Groves and President DeGioia and everyone else responsible for taking an already a strong program to the next level."