Arias-Cirinna, who has more than 25 years of leadership experience in residential life, crisis management, health education and student affairs at universities across the U.S., started her role on Aug. 14.
"Claudia has worked tirelessly as an agent of change and fierce advocate for students throughout her career," said Eleanor J.B. Daugherty, vice president for student affairs. "Her dedication to access, education and holistic care for students embodies our Jesuit values and way of proceeding. I couldn't be more thankful that Claudia will be joining Georgetown. We are delighted to welcome her."
Prior to Georgetown, Arias-Cirinna worked at the University of Connecticut for nine years, where she served as the assistant dean of students, oversaw educational programming for residence life, and, most recently, served as the associate dean of students and director of the Office of Student Care and Concern, working to build out and lead the office's team.
In her new role, Arias-Cirinna will serve as a senior member of the Student Affairs team, which provides programs and services to support students and enrich their learning experiences at Georgetown. Arias-Cirinna will influence the development and launch of key initiatives, review current practices and collaborate across the university to provide holistic support to students that empowers them to thrive. This also includes reviewing procedures for caring for students in times of critical need and aligning programs with the university's Jesuit values to care for the whole person. Becoming dean of students and coming to Georgetown is a "dream beyond a dream," she said.
"I feel excited and blessed to become a member of your (and now our) community," she said. "Having immigrated to the United States from Chile as a young girl, it is the realization of the American dream to join an institution with such an amazing global reputation."
A Focus on Holistic Care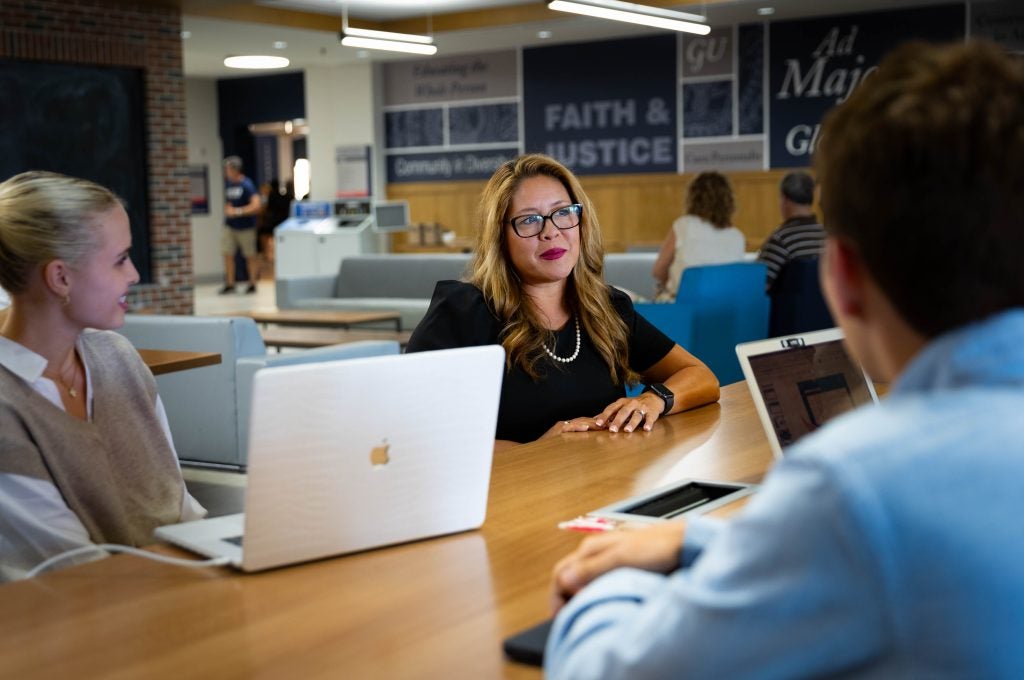 Arias-Cirinna started her career in higher education as a resident assistant and then hall director, where she found her passion helping college students learn and grow. As she took on leadership roles at UConn, the University of Miami, Quinnipiac University and Central Connecticut State University, she focused on improving care and access for students of all backgrounds.
She developed and delivered alcohol and other drug abuse prevention programs and services as the director of the Center for Alcohol and Other Drug Education at the University of Miami; enhanced resources, support and access for underrepresented students in mental health, wellness, diversity, equity and inclusion at UConn; and improved residential life and housing experiences for students at UConn. Her approach, she said, has always been to "treat students holistically."
"I listen to learn and seek to validate each student's feelings and experiences," she said. "I believe this is why I identify so strongly with cura personalis as a critical feature of Jesuit education in general, and notably here at Georgetown."
Family Roots in Access and Education
Access to education is also a deeply rooted value for Arias-Cirinna. Her father was a professor and a journalist in Chile, and when she was five years old, her family fled the country in the middle of the night after her father had been blacklisted by the country's dictatorship. They were granted political asylum in Stamford, Connecticut, and her parents had to start over, not knowing English. They championed and prioritized education for their children.
"My father, who also devoted his career to higher education, instilled in me a passion for education and its ability to create opportunity," she said. "I understood from a young age that education was an invaluable gift – and one that could never be taken [away] once achieved."
Arias-Cirinna began teaching her parents English on index cards after school. She went on to earn her bachelor's and then master's in counseling and higher education and student affairs from Central Connecticut State University and her doctorate in higher education administration from Northeastern University.

She was hooked by higher education and improving access for others, and set her sights on becoming a dean of students. When she interviewed for the role at Georgetown, she found the Jesuit values aligned with her own.

"I will remain passionately committed to exemplifying the university's Jesuit values, and more specifically, to promoting human dignity and caring for the mind, body and spirit as we collectively seek to make a difference in the world," she said. "I love challenges. I'm excited. I'm grateful. I'm ready."
At Georgetown, Arias-Cirinna ultimately wants to focus on what she has done her entire career: advocating for and supporting students.
"Students, I want you to know that I am here for you," she said. "My role is to support you and help to ensure you are maximizing your Georgetown experience outside of the classroom. You deserve the best."