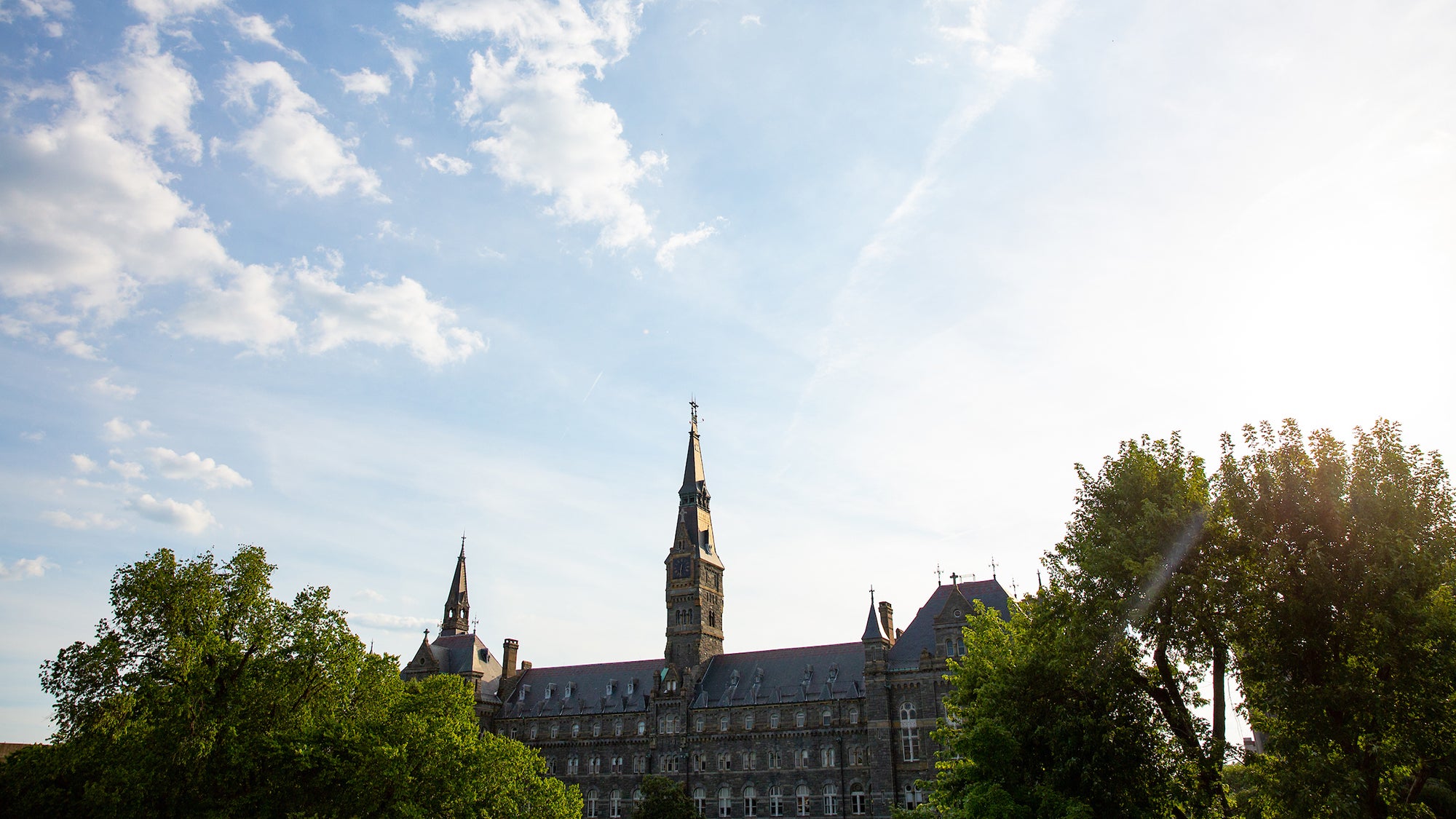 Category:

University News
Title:

Georgetown: Working Toward a Sustainable Future
Date Published:
February 6, 2020
Pope Francis' Laudato Si' environmental encyclical asks, "What need does the Earth have of us?"
Georgetown answers that question by embracing sustainability through its business operations, individual choices, support of research, the education of students and the general public, and more. The university takes an integrated and holistic approach to sustainability, placing value on a quadruple bottom line – people, planet, prosperity and purpose – guided by Georgetown's Catholic and Jesuit values and its commitment to the common good.
What has Georgetown accomplished thus far? How are faculty and students contributing to sustainability? The university views 2020 as a kickoff to a decade of sustainability efforts that include action in operations, research, education and more. The work of understanding and responding to the demands of climate change is urgent and complex and requires the most serious attention. The university community can best respond to this evolving and ongoing challenge by examining every possible way they can help.

See below for answers to some common questions about sustainability at Georgetown.
What is Georgetown Doing to Reduce its Carbon Footprint?
In the mid-1980s, the university added solar panels to its International Cultural Center (ICC) that lasted for 30 years. The oil crises of the 1970s encouraged Georgetown to think about creative ways of using alternate forms of energy, and later led to increasing awareness and concerns about climate change. Georgetown has required 100% renewable electricity on its campus since 2013, and that year was recognized by the U.S. Environmental Protection Agency as the second-largest green power user of all campuses in the country.
A banner year for Georgetown's sustainability efforts came in 2014, when the university reduced its carbon footprint by more than 71% from a base year of 2006 through the procurement of renewable energy certificates (RECs) for 100% of its power, meeting its greenhouse gas goal six years ahead of target.
The following year, Georgetown's board of directors agreed to discontinue the university's direct investments of endowment funds in companies whose principal business is mining coal for use in energy production.
After divesting from coal and then tar sands in the late 2010s, Georgetown's board of directors adopted a policy on fossil fuel and impact investments in 2020.
Under the new policy, the university will continue to make investments that target a market rate of return in renewable energy, energy efficiency and related areas while freezing making no new endowment investments in companies or funds whose primary business is the exploration or extraction of fossil fuels.
Georgetown will divest from public securities within the next five years and divest from existing private investments in those companies or funds over the next 10 years.
Nearly 1 million square feet of green building (LEED) space, which conforms to the requirements of the U.S. Green Building Council, now graces the Georgetown campus.
The university also was the first campus in the District of Columbia to receive the "Bike Friendly" designation for its comprehensive efforts to support bicycling as a sustainable form of transportation. This includes having Capital Bikeshare available right in front of Healy Gates on Main Campus, discounted Bikeshare memberships for students, faculty and staff, and other amenities.
Dining Services at Georgetown purchases local produce, dairy and baked goods, as well as organic vegetables and milk. They compost almost all food waste and recycle frying oil, provide incentives for alternatives to plastic bags and practice water conservation.
The Move Out drive waste reduction program, established in 2006, works with university staff, Move Out Drive volunteers and local charity partners, the Move Out Drive to divert an increasing quantity and quality of goods from the waste stream. In 2018 alone, the Drive diverted over 56,000 lbs of material, valued at $186,000, which made it into the hands of local individuals living in poverty through the help of KEYS for the Homeless.
What Kind of Environmental Research is Conducted at Georgetown?
A wide variety of research is taking place, with faculty exploring everything from public health issues associated with climate change to looking at how the world will transition to a low-carbon economy to measuring the decline of birds, bees and butterflies, and more. Georgetown also advocates for effective U.S. climate and energy policies and serves as a resource to state and local communities to cut carbon pollution and prepare for climate change.
The university's world-renowned faculty includes former members of the U.S. Environmental Protection Agency, the Smithsonian Institution, NASA, the Pew Center on Global Climate Change and the National Institutes of Health, to name a few.

How is Environmental Research Being Supported at Georgetown?
The Georgetown Environment Initiative (GEI) supports Georgetown students interested in pursuing academic work related to the environment.
The initiative is a university-wide effort to advance the multidisciplinary study of the environment and sustainability in relation to society, scientific understanding, sound policy and the complex challenges facing the planet.
Over the last several years the university through two different grant programs has provided hundreds of thousands of dollars in environment and sustainability grants to faculty, students and staff through the GEI Impact Program Awards and the 2019 Laudato Si' Fund. Some of the supported projects include addressing the problem of global pollinator decline and creating a Bee Campus; implementing a sustainability education campaign that targets first-year students; examining the issue of environmental justice in India, among others.
Georgetown faculty members also hold grants from a wide variety of federal agencies that fund environment and sustainability research as well as internal grants.

How Are Students Getting Involved in Sustainability Efforts?
Georgetown students have played a major role in reducing the university's carbon footprint. The board of directors approval of divestment from fossil fuels in 2020 is the direct result of a multi-year engagement within the Georgetown community that included students, faculty and staff.
This includes the long-term sustained efforts of the student-run GU Fossil Free (GUFF), which has submitted a number of proposals to the university's Committee on Investments and Social Responsibility (CISR) over the years. They take on major roles in Laudato Si' Fund projects, participate in panel discussions with sustainability experts, march in global and national climate change events, join clubs that address environmental issues, ask questions of global leaders fighting climate change and other work.
A variety of student-led clubs address sustainability and the environment, such as the undergraduate club GREEN, as do graduate student initiatives like McCourt Energy and Environment and Net Impact.
The Office of Sustainability offers internships to nearly a dozen Georgetown students each semester, engaging them in advancing sustainable campus practices such as composting, green roofs and incentivizing sustainable behaviors, while providing real-world professional experience.

How is Georgetown Preparing Students for a Sustainable Future?
Georgetown students are working on sustainability research and projects and working to influence policy on climate change, and there are more than 80 courses on campus related to the environment.
The university established the Science, Technology, and International Affairs (STIA) major in 1992. The major is designed to educate the next generation of leaders skilled in science and technology, creating knowledge to advance cross-cutting solutions for today's most pressing issues and driving innovation at the nexus of science, technology and international affairs. STIA has trained a disproportionately large percentage of Georgetown's Rhode Scholars, Truman Scholars, Fulbright Fellows and other prestigious award recipients.
Georgetown's Designing the Future(s) of the University created a Core Pathway on Climate Change curriculum in 2017, giving undergraduates a chance to address complex climate change issues while meeting their core undergraduate requirements. Courses now range from The Ecology of Cities to Disability, Ethics, Ecojustice to The Rhetoric of Climate Change and more.
Besides STIA and the Core Pathway curriculum , undergraduates can major in Environmental Biology and minor in Environmental Studies, while graduate students can focus on Environmental Law, graduate programs in Biology, Environmental History and Environmental Metrology & Policy.
The university also now offers an MBA Certificate in Sustainable Business at the McDonough School of Business as well as an undergraduate minor in environmental studies.
The university also has a Program on Science in the Public Interest in Georgetown College that teaches students actionable innovation and equips students to apply scientific problem solving skills to complex global challenges.

What Georgetown Offices, Centers and Initiatives Serve Sustainability Efforts?
In addition to the Georgetown Environment Initiative and Designing the Future(s), the Office of Sustainability was established in 2013 as a resource and catalyst to advance the university's sustainability mission and goals. This office builds upon Georgetown's commitment to environmental stewardship and social justice by leading efforts to create a positive campus environmental footprint, facilitate integration of sustainability across functional areas and provide Georgetown students with experiential learning opportunities in the practice of sustainability.
The Beeck Center for Social Impact and Innovation exists to inspire and prepare students, faculty and global leaders with the necessary skills to generate and innovate solution-based social change, including sustainability efforts, both locally and internationally.
The Center for Social Justice Research, Teaching and Service (CSJ) is designed to advance justice and the common good and promotes and integrates community-based research, teaching and service by collaborating with diverse partners and communities. A number of the programs that CSJ runs and the student initiatives they support contain an environmental sustainability component.
The nonpartisan Georgetown Climate Center (GCC) at Georgetown Law seeks to advance effective climate policies in the United States, including policies that reduce greenhouse gas emissions, help communities adapt to climate change and bridge the gap between climate and transportation planning. GCC works with state and federal officials, academics and an array of stakeholders to strengthen state and federal climate partnerships in the United States.

What Georgetown Policies and Affiliations Advance Its Sustainability Work?
The board approved a Socially Responsible Investing Policy in 2017 that further aligns the university's investment strategy with its commitment to social justice, protection of human life and dignity, stewardship for the planet and promotion of the common good.
Georgetown is also part of the Ivy Plus Sustainability Working Group, the International Sustainable Campus Network and is a member of the Association for the Advancement of Sustainability in Higher Education (AASHE).
Joining a group of leading universities across the country in 2017, the university reaffirmed its commitment in support of the Paris Agreement on climate change, continuing its work toward slowing the rise in the global average temperature and transitioning to a clean energy economy.
Who Does Georgetown Bring to Campus for Inspiration?
Georgetown has worked with sustainable development expert William McDonough of William McDonough + Partners for several years as part of its strategic sustainability planning process and has helped enhance and accelerate the student-led proposals.
The university sponsored a 2020 event on campus with UN Secretary-General Ban Ki-Moon, former Irish President Mary Robinson and former California governor Jerry Brown to talk about the advancement, due to climate change and nuclear war and other threats, of the "Doomsday Clock," which moved to its closest-ever time to midnight or the apocalypse.
Georgetown also welcomed actress and activist Jane Fonda in 2020 to talk about climate issues and her "Fire Drill Fridays" protests and has plans for future talks and collaborations. The university will continue to bring such thought leaders to campus.
Previous speakers over the years have included a U.S. president, a former vice president, UN global climate change leader Christiana Figueres and primatologist and anthropologist Jane Goodal and others.
What Can Faculty, Students and Staff Do at Georgetown to Make a Difference?
At Georgetown, all members of the university community have an opportunity through daily choices to have a positive impact on the future, both at Georgetown and in the world at large. Some ways to make a difference include:
Use public and university transportation, carpool, bicycle or walk instead of driving a car.
Carry a reusable bottle and know where the hydration stations are on campus.
Take or teach a sustainability class.
Incorporate a sustainability lesson or project into your course, no matter the topic.
Calculate your carbon footprint and reduce it.
Join together on sustainability projects.
Sign up to take the Campus Sustainability Walking Tour.
Choose to eat sustainable foods, on and off campus.
Recycle paper, plastic, aluminum cans and other materials.
Pursue sustainability opportunities in Washington DC, such as through an internship or community service.
Engage in reflection and dialogue about sustainability.