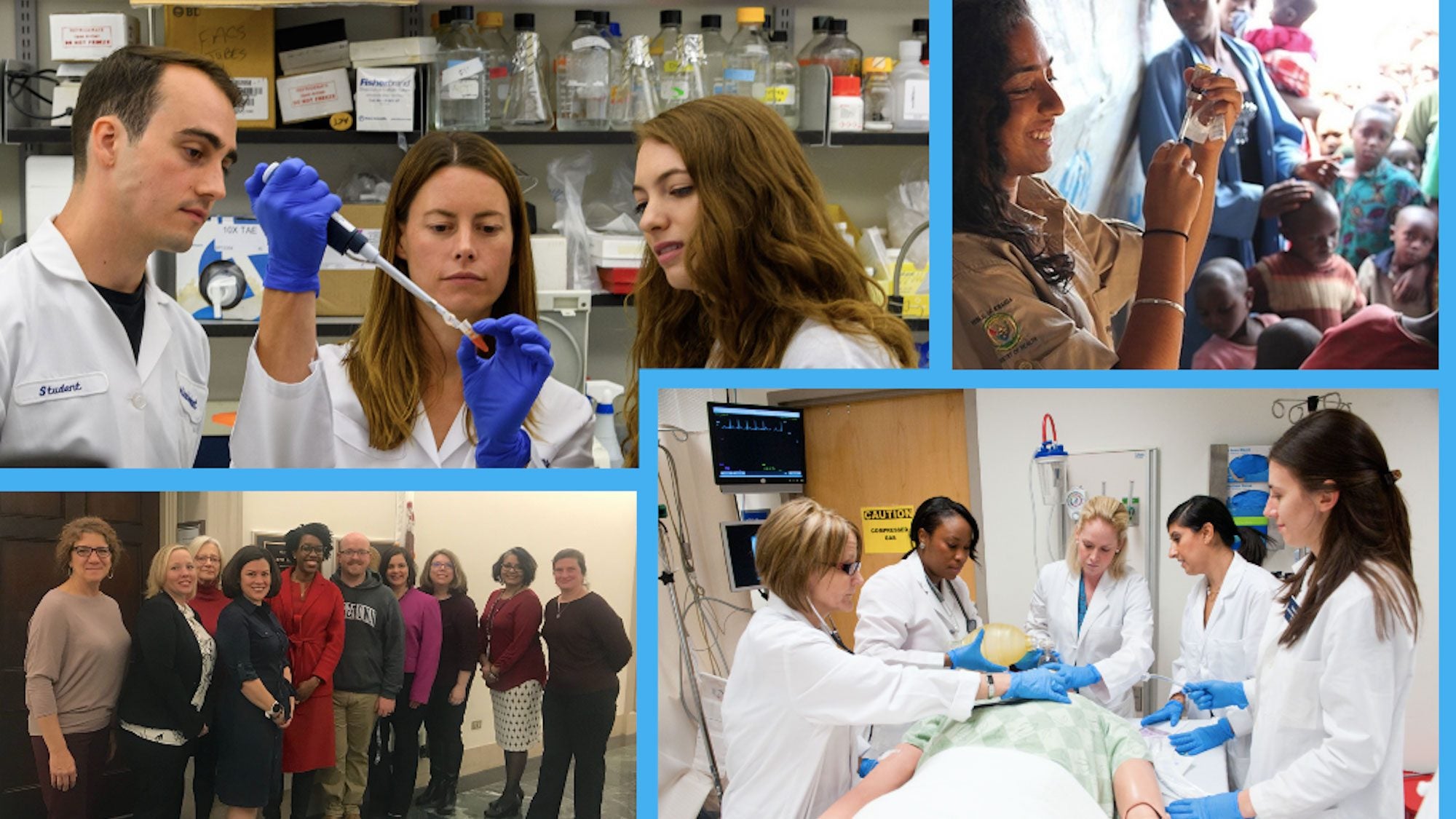 Category:

University News
Title:

Georgetown to Broaden Commitment to Health, Nursing Through New Schools
Date Published:
December 7, 2020
Georgetown President John J. DeGioia today announced a plan to establish a School of Health and a School of Nursing on the Medical Center campus by July 2022.
The schools will build upon the foundation of the current School of Nursing & Health Studies (NHS), which has continued a tradition of nursing education that started at Georgetown in 1903, while broadening into other health disciplines built over the past two decades.
"Working together, and with schools across Georgetown, they will help us to expand our commitment to health and provide new opportunities for growth and collaboration," DeGioia says.
DeGioia said in a letter to the university community that this organizational direction complements recent strategic advances in the health sciences at Georgetown, including the launch of an interdisciplinary Health Justice Alliance, a partnership renewal with MedStar Health, and a university-wide Global Health Initiative.
Strategic Vision in Health
In 2019, the university began a Health and Health Sciences Strategy Initiative, an ongoing collaborative and deliberative process to envision the future of the health sciences at Georgetown. The plan for the two schools, an initial result of this work, emerged after engagement with NHS faculty and staff.
"Through that work, we recognized our ambitions for research and education in nursing and health could be strengthened by the creation of two distinct schools, providing space for growth within the focal point of each school, while fostering interdisciplinary and cross-school collaboration," DeGioia says.
Each school will be led by a dean who reports to the executive vice president for health sciences at Georgetown University Medical Center. A decanal search for the School of Nursing will launch in the coming weeks, and a search for the dean of the School of Health will begin "following a planning process that will articulate the school's mission and areas of focus," DeGioia says.
In coordination with Dr. Edward Healton, the medical center's EVP; John Monahan, senior advisor to the president; and Carole Roan Gresenz, interim dean of the School of Nursing & Health Studies, will lead the cross-campus process for the School of Health to determine areas for potential growth to complement existing academic departments in health systems administration, human science and international health. Additionally, a group of faculty members has already begun meeting to discuss future directions for the School of Nursing.
'The Ideal Incubator'
Healton expressed enthusiasm about the planned schools in a letter to the Medical Center community, noting how the extensive  preparatory work helped Georgetown respond in an expeditious way to new, unexpected challenges presented globally by the COVID-19 pandemic.
"Our health and health care challenges here at home and around the world have been laid bare," he says. "Sustainable solutions will not come from any one discipline or any one approach, but from a meaningful, collaborative and interdisciplinary effort. And as history has demonstrated time and again, the academic setting, especially like ours at Georgetown, provides the ideal incubator where meaningful ideas emerge and change occurs."
Healton extended gratitude to Gresenz and Jan LaRocque, chair of the NHS executive faculty, for their leadership in the process.
"I'd like to thank the faculty and staff who have participated in this consultative process over the last several months and look forward to additional engagement as we move to stand up the two schools," he says. "And I am deeply grateful to President DeGioia for his vision in leading this transformation as we reimagine the health sciences at Georgetown while being guided by the mission of cura personalis and the values of equity toward the common good."
Gresenz echoed Healton's sense of optimism.
"There has been no time in history when the importance of health to every sector of our lives – economic, political, cultural, social – has been more apparent," Gresenz says. "Georgetown is ready at this important and dynamic time in health and health care, to leverage a new structure to best advance our education, research and service missions during a time of great need and great change."
'Improving the Human Condition'
"Our commitment to health – to improving the human condition – is integral to our mission as a Catholic and Jesuit institution," DeGioia says.
"We take this next step as we face our nation's worst health crisis in a century – a powerful reminder of the challenges we face and the urgency of envisioning new responses to health education, healthcare delivery, health disparities and health equity, and healthcare policy at the local, national, and global level," he adds.
DeGioia described several important milestones in this work during the university's history, including the establishment of the School of Medicine in 1851, the School of Nursing in 1903, the Lombardi Comprehensive Cancer Center in 1970, the Joseph P. and Rose F. Kennedy Institute of Ethics in 1971, the Center for Clinical Bioethics – now named for Dr. Edmund D. Pellegrino, in 1991 – and the O'Neill Institute for National and Global Health Law in 2007.
"Over the coming year and beyond," DeGioia says, "I look forward to the input and collaboration of our community in the continued development of our mission and our ambitions for the School of Nursing and the School of Health, and I wish to again express my gratitude to our School of Nursing & Health Studies—the faculty, staff, students and alumni who have made this such a special place."