A group of Georgetown faculty secured up to $21 million in funding from the National Institute of Standards and Technology (NIST) to provide laboratory experience and financial support to researchers across the university.
The grant enables Georgetown undergraduate and graduate students, post-baccalaureate and post-masters researchers, doctoral candidates, postdoctoral fellows and faculty to work on complex research problems alongside scientists at NIST, an agency within the U.S. Department of Commerce that promotes U.S. innovation and industrial competitiveness by advancing measurement science, standards and technology.
"Over the years, the grant will offer unique experiences to scientists, both those starting their careers and those at their prime," Georgetown Provost Robert M. Groves said.  "It will strengthen the ecosystem of government and academic institutions by giving those in academia experience inside a government scientific organization."
The grant comes as part of NIST's Professional Research Experience Program (PREP), which is designed to expand and sustain the United States' highly skilled workforce in science, technology, engineering and math (STEM).
Georgetown first partnered with PREP in 2016. In the years since, the partnership has enabled more than 100 researchers at Georgetown to work at NIST.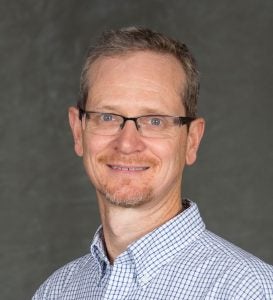 Peter Olmsted, the Joseph Semmes Ives Chair in Physics who led the effort to secure new funding, said he hopes this next round of funding will support more researchers than ever before and open even more doors for undergraduate and graduate students.
In addition to valuable research experience, the program has given Georgetown researchers access to innovative tools and opportunities to work on leading scientific questions across various STEM disciplines. 
"It has enabled a few new collaborations and more interaction with NIST," said Olmsted. "NIST has significant technological resources that we make use of. They have instruments that we don't have on campus, and the close interaction with industrial problems opens our eyes to different research areas."
Olmsted has worked closely with NIST over the years, including an ongoing project studying issues related to 3D printing.
"I'm a theoretician, so I do simulations or calculations," Olmsted said. "What NIST has provided are new problems I can solve — or I can try to solve, which I might not have ordinarily come across." 
Noah Last (G'23) made his way to study at Georgetown through PREP as a science communications fellow in 2021. He credits the flexibility in the program for allowing him to transition to a research-focused role examining sustainable manufacturing and how to create a greener, circular economy.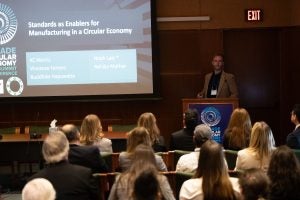 At NIST, Last also works with organizations to help establish standards for greener manufacturing while researching innovative new methods for sustainable product design.
Last wanted to dive deeper into the intersection of sustainability and business, and decided to pursue his master's in environment and sustainability management at Georgetown while continuing his work as a PREP fellow.
"I was learning about the technical side of manufacturing, engineering and data science," Last said. "But I wanted to learn more about sustainability more broadly and why businesses aren't making this shift to more sustainable practices."
Now eyeing his graduation this July, Last is looking forward to pursuing a career in the federal government, whether at NIST or other federal agencies. He said that his time as a PREP fellow has given him an on-ramp to other opportunities in civil service.
"It's allowed me to work in the federal government with a lot of really cool researchers and public servants," Last said. "It's also given me the ability to pursue research interests as they come up."