Georgetown is the only postsecondary institution in the District of Columbia and one of just four postsecondary institutions in the country to receive the award. 
"I am thrilled that Georgetown University has been named a 2023 Green Ribbon School Postsecondary Sustainability Awardee," said Meghan Chapple, vice president for Sustainability. "It recognizes the strong commitment to sustainability the university has made and the significant progress Georgetown is making on becoming a greener, more sustainable institution."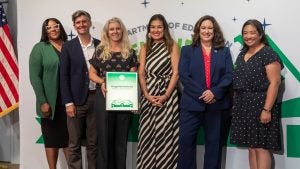 As part of its award application, Georgetown highlighted its practical approaches to sustainability, including reducing greenhouse gas emissions and waste, being on track to reduce its energy use intensity by 35 percent by 2031, and providing sustainable transportation for students, faculty and staff. Georgetown's campus also features three green roofs on campus buildings, has bioswales, is certified as a bee-friendly habitat, and recently launched an additional food-producing garden on campus. 
The Green Ribbon School Postsecondary Sustainability Award is part of Georgetown's broader efforts to advance sustainability on campus and in the communities it serves. 
Beginning this year, partners across the university, including the Earth Commons — Georgetown's hub for environmental and sustainability innovation, research and education — are addressing ecological belonging as an essential aspect of environmental change. The partnership is part of Georgetown's Wellbeing Project, a coalition of higher education institutions and social change organizations whose mission is to support the well-being of social changemakers. 
Georgetown also centers environmental and sustainability learning in all its schools, with a particular emphasis on STEM literacy for all, encouraging interdisciplinarity, and incorporating equity into environmental discussions. Its Core Pathways program, for example, allows students to fulfill their core requirements while examining climate change through an interdisciplinary lens. 
Chapple said the award reflects Georgetown's university-wide commitment to sustainability.
"This award is something to which everyone at Georgetown has contributed through their daily actions and can be proud of," she said.