The program, Welcome Corps on Campus, created in July of this year, offers students living abroad both a pathway to education and permanent residency and citizenship. Colleges and universities in the program will provide students with funding, sponsorship and support as they begin their new lives in the U.S.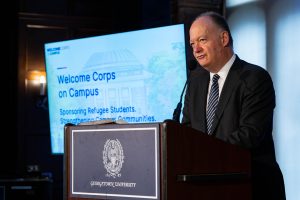 "This work could not take place at a more urgent moment for our global family," Georgetown President John J. DeGioia said at the event. "Each of us has a role to play in expanding access and opportunity around our globe. Everyone deserves the opportunity to pursue an education. And all of us, no matter where we call home, are connected."
DeGioia is a founding member of the Presidents' Alliance, a group of higher education leaders working together on immigration issues that is helping to implement the program. 
The first cohort of students, who are currently living in East Africa and Jordan, will begin their first year at higher education institutions in fall 2024. The program plans to expand to other regions in the coming years. 
Refugees' Barriers to Higher Education
The event, hosted in the Copley Formal Lounge on the university's main campus, brought together State Department representatives, college presidents and higher education leaders, and refugee students and advocates to discuss the barriers to immigration and education that refugee students face and the importance of creating a sustainable pathway to education and resettlement in the U.S.
"The Welcome Corps is the single boldest innovation in the U.S. refugee resettlement program in over 40 years," Julieta Valls Noyes, assistant secretary of state for the Bureau of Population, Refugees and Migration, said at the event. "Like the Peace Corps, we hope the Welcome Corps will become a widely resonant, inspiring and, dare I say it, an iconic American institution that reflects our highest values: generosity, compassion [and] volunteerism."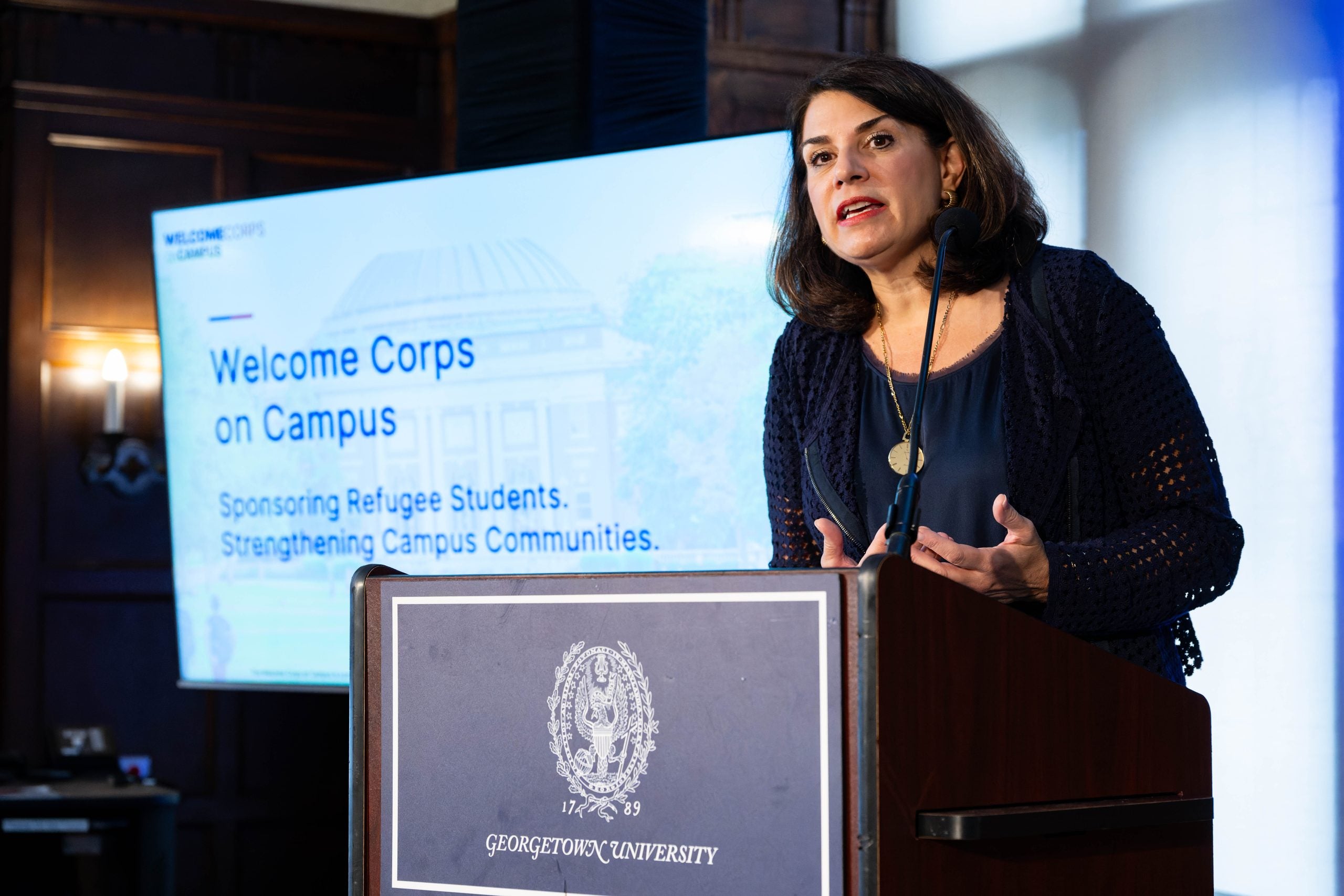 At the end of 2022, 108.4 million people were forcibly displaced – an increase of 19 million people compared to 2021, according to a United Nations report. The UN also recently reported that more than 7 million children – about half of the world's 14.8 million refugee children – were not enrolled in school. 
In the United States, refugees have typically faced tall barriers to access higher education. In most cases, refugees must demonstrate economic self-sufficiency and the ability to secure employment for themselves and their family members. Meanwhile, refugees who are able to secure student visas must demonstrate financial support for their entire education while not having a clear path to permanent residency and citizenship.
"Despite the growing interest in the intersection between higher education and displacement, a structured, sustainable pathway for refugee students to access higher education in the United States did not exist until now," Miriam Feldblum, co-founder and executive director of the Presidents' Alliance, said at the event. "This is why the Welcome Corps on Campus program is so welcomed and needed. This is a historic and profound opportunity for students and campuses."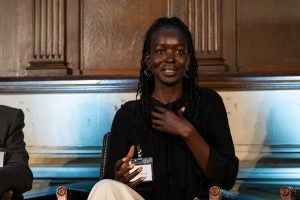 Diing Manyang, a panelist at the event, experienced these obstacles first-hand as a refugee student in the United States from South Sudan. After graduating from George Washington University, Manyang went on to co-found Elimisha Kakuma, an organization dedicated to connecting high school graduates living in the Kakuma Refugee Camp in Kenya with higher education opportunities.
"There's just so many overwhelming things to deal with," said Manyang in a panel that included her and other State Department, Welcome Corps and higher education leaders. "But as someone who has experienced this, I feel the need for this program and kind of envy the students that will come through this program because they won't have to struggle so much as long as there are people that will really support them."
Welcoming Refugees on Campuses
The Welcome Corps on Campus program was based in part on a report the Presidents' Alliance produced in 2021, which recommended creating a program in which colleges and universities could sponsor refugees. Georgetown was also one of 149 institutions and organizations to sign a statement of support for the program.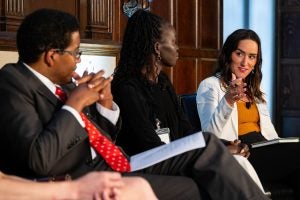 Participating colleges and universities will provide international students admitted through the U.S. Refugee Admissions Program (USRAP) with full tuition for their first year and living expenses. They also must demonstrate how they will help set students up for success throughout their two or four years at the institution. 
"As colleges and universities deeply connected to our global community, we have an opportunity to provide hope. Our academic missions call us to this work," DeGioia said. "With the Welcome Corps on Campus, we realize a new way to advance our shared mission."
Asadullah Azimi (C'27) was one of two Georgetown students who are Afghan refugees who attended the event. Azimi had lived in India for four years before coming to Georgetown through a different program sponsored by Duolingo and the UNHCR, the UN Refugee Agency, that aims to expand pathways to higher education for refugee students.
Azimi said his parents were unable to attend elementary school, and he always dreamed about sitting in a college class listening to a professor teach coding. He was unable to due to his refugee status, until the UNHCR and Duolingo program.
"I am seeing all my dreams in real life," he said. "I still can't believe that I am right here in the U.S. studying my dream subject at a university such as Georgetown University," he said. Since I arrived here, I have been thinking, what if there were more programs like this?"
Azimi is now pursuing his bachelor's in computer science at Georgetown. He said he was happy to hear that the Welcome Corps on Campus was also doing something "life-changing for refugees."
"By helping a refugee student gain access to higher education they are not helping only that single student but actually saving an entire family from becoming the burden of society," he said of Welcome Corps on Campus.
Georgetown's Commitment to Supporting Refugees
Georgetown continues to engage with migration and refugee issues across its schools. 
Through key academic centers like the Institute for the Study of International Migration, community engagement, like the Center for Social Justice, international partnerships and research and teaching across campuses, the university applies a multidisciplinary approach to the fields of migration and refugees.  
Most recently, Georgetown and the United Nations High Commissioner for Refugees (UNHCR) partnered on a project that blends traditional and new forms of data to better understand and predict mass movements of forcibly displaced populations.  
In spring 2022, Georgetown's Collaborative on Global Children's Issues, Institute for the Study of International Migration and the Georgetown Americas Institute hosted a forum focused on the perspectives of asylum-seeking and migrant youth and solutions and approaches to protecting them. And last year, a group of Georgetown medical students created a program that helps newly arrived refugees access health care providers and resources. 
"Welcome Corps on Campus is a vitally important program that aligns with the Jesuit value of community in diversity," said Thomas Banchoff, vice president for global engagement. "As a university committed to social justice and the common good, we are honored to participate."