A program for athletes at Georgetown is one of the first of its kind to teach leadership concepts and skills through an academic framework, according to Mike Lorenzen, an assistant athletics director at the university.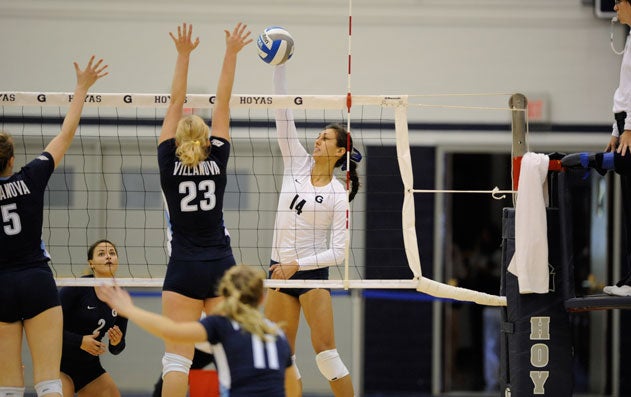 November 4, 2013
Lorenzen, also an adjunct professor in the School of Continuing Studies, created the Georgetown University Leadership Academy from scratch and conducts the "academically-grounded" leadership program.
The academy was inspired by Georgetown President John J. DeGioia's focus on the development of the university's student-athletes.
"The leadership academy that we're developing at Georgetown is very unique and almost one-of-a-kind in college athletics," says Lee Reed, the university's director of athletics. "With the support of President DeGioia and the work of Mike Lorenzen, we are helping to develop the leadership and team-building skills athletes rely on to be successful on the field as well as help them achieve academic and professional goals."
HOYA LEADERS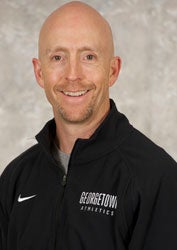 Mike Lorenzen
A former head coach of a nationally ranked women's gymnastics program at the University of Iowa,Lorenzen was hired in August 2012 to design and roll out a new curriculum after the university brought in a consultant to meet with coaches and players.
"I think what we're doing allows us to very authentically claim the role of a co-curricular activity within the context of higher education and contribute to the development of young folks," says Lorenzen,who holds a doctorate in education.
The leadership academy consists of Hoyas Lead, a set of classes required for all first-year and sophomore student-athletes and Hoyas Lead – Advanced Leadership Development Program (ALDP) for juniors and seniors interested in studying the practice of leadership in depth.
There are four classes each in the fall and spring semesters for freshman that explore transitional issues student-athletes face when entering college, with spring term classes focusing leadership tools and career planning.
Lorenzen said the first year of Hoyas Lead provides a solid foundation for freshmen student athletes to become leaders both on the team, in the classroom and eventually in their careers.
STRATEGIC AND PROACTIVE
"[We're] introducing them to the concept of personal strategic planning and getting them kick-started at the end of their freshmen year so that they're already being proactive about creating resumes, networking and doing internships," he said.
Sophomores learn more about leadership concepts within the Jesuit tradtion, using the bookNext Generation Leadershipby Rev. William Byron, S.J., a former Georgetown business professor, as a guide.
Leadership tools, such as effective writing and reflective listening, are also taught.
"It begins the transition into more formalized leadership positions but also reinforces the Jesuit concept of how do we influence and lead as servants and transformational leaders," Lorenzen explained.
REAL-WORLD PREPARATION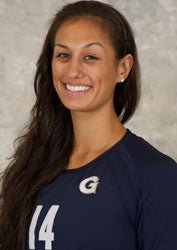 Brooke Bachesta (C'14)
Student-athletes say the leadership classes have been rewarding.
"The university has done a great job of tailoring the curriculum to prepare us for real-world experiences," said Brooke Bachesta (C'14), a member of Georgetown's volleyball team. "The program isn't just about being a good volleyball player or team captain. It's teaching us about working with others and problem-solving in a way that's applicable in every other facet of life."
Lorenzen added that Georgetown's Jesuit heritage and commitment to developing the whole person –cura personalis– makes the university the perfect place to develop the confidence and leadership skills student-athletes need today.
"Athletics provides an interesting venue in which to both learn and develop your skill set as far as influencing other people and being a contributing member of dynamic team," he said. "… There is no greater possibility on this campus of capturing the entire of development of a young people then to do so through their participation of intercollegiate athletics and blending that into the overall academic experience."