The Fund will award two phases of grants per year and will begin accepting applications for the next round in the coming weeks.
"The Reconciliation Fund is a collective effort — an example of our community's deep commitment to the possibilities that can emerge when we work in partnership to advance Reconciliation," says Georgetown President John J. DeGioia. "We are honored to recognize these inaugural recipients and are deeply grateful for their meaningful and important work to advance equity and justice."  
The five projects, located in Maryland and Louisiana, have a variety of goals and communities they'll reach, including engaging young adults in rebuilding blighted homes in New Orleans; providing free legal services to families of loved ones with severe mental illnesses; uniting and connecting members of the Descendant community; launching a high school tutoring program that's co-organized by a Descendant and Georgetown community members; and providing educational programming for children. 
The Reconciliation Fund, which was inspired by a student referendum, began accepting its first applications last fall. Students and Descendants worked together to review and recommend the five awardee projects. 
Student and Descendant Collaboration
The Reconciliation Fund's Student Awards Committee led the application process in consultation with the Descendant Advisory Committee over the summer and fall of 2022. 
Once the application launched in October, members of the Descendant Advisory Committee helped share news about the Reconciliation Fund with fellow Descendants and information about projects in their communities. The application also included questions on whether applicants had any known connections to the committees or to the Descendant community. 
After the committees reviewed and discussed applications in a joint meeting, student leaders interviewed a select number of project applicants in early spring of this year. They ultimately recommended allocating funding to five individual groups and organizations totalling $200,000, which the Fund's University Review Board approved in March of this year. 
Zac Colon (G'26), vice chair of the Student Awards Committee, said that members of the Descendants Advisory Committee helped students better understand their communities' histories and priorities, and that in the end, they chose projects that demonstrated a long-term community impact on future generations.
"Some of these projects are already well on their way to being successful and we're just opening the door for them to branch out and get necessary resources.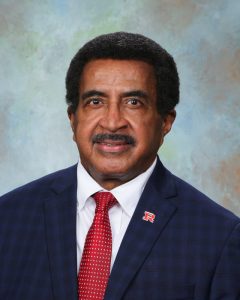 While others, like Starting from Day 1 and Mon Petit Maringouin, we hope to provide the foundation for these programs to leave a long lasting impact on Descendant communities," he said. "My hope is that when I'm graduating from Georgetown, these programs will still be running strong."
Lee Baker, a member of the Descendant Advisory Committee, said that the inaugural funds are a step toward reconciliation and "transformational relationships between the university, especially students, and Descendants of the GU272."
"In the wake of the anniversary of Georgetown University's public admission, acknowledgement and acceptance of its history owed in part to the GU272 — although I still believe so much work and trust-building is before us — I applaud this initial funding moment," says Baker. "It is a win for those who commit toward reconciliation and restorative justice, especially with a collective input from both students and Descendants in the spirit of 'for us, about us and by us.'"
Learn more about each of the inaugural recipients of the Reconciliation Fund and how they are making a difference in the communities they serve.