Six students in Georgetown's School of Medicine create a group inspired by their own backgrounds and those of their peers as first-generation medical school students.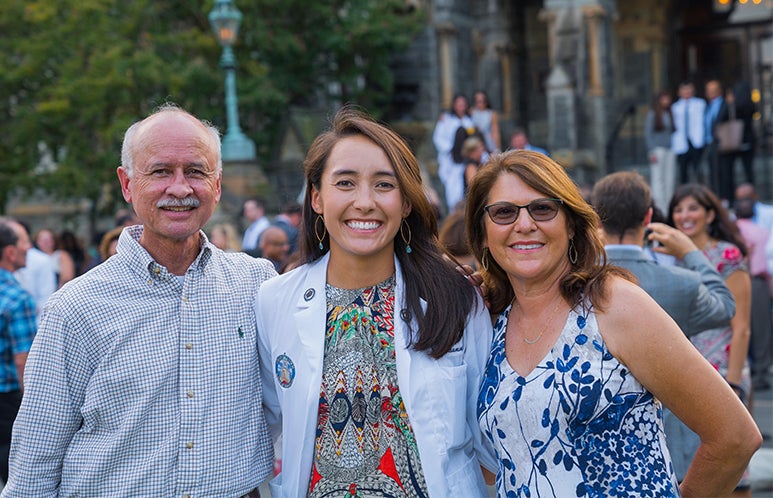 The second-year medical student says the process of applying to medical school was a challenge as a first-generation college student especially after she felt discouraged from applying to medical school by an advisor early in her undergraduate career.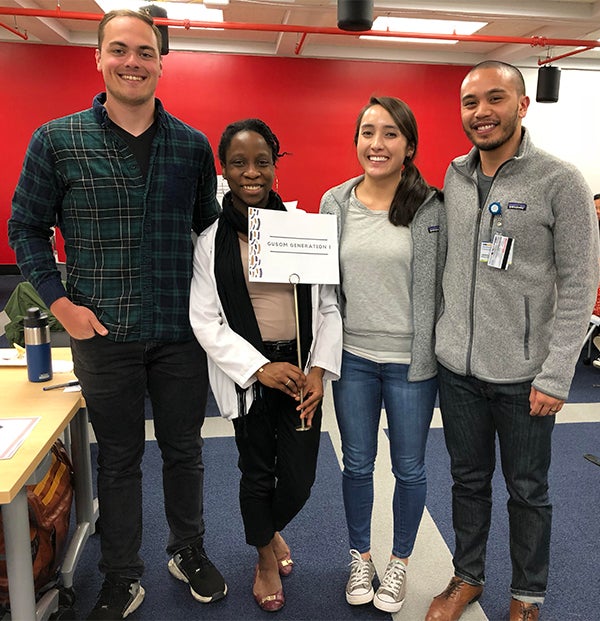 Matt Triano (M'21), Toyosi Ipaye (M'21), Hailey Roumimper (M'21)and Francis Navarra (M'21) are among the founding members of GUSOM Generation I.
"This interaction also helped motivate me to kick my grades up a notch. Even though I didn't think getting A's and B's was that terrible, I already felt somewhat insecure about my belonging at an Ivy League school," says Roumimper, who majored in biology at Brown University as an undergraduate. "I needed to prove to myself, as well as the advisor, that I belonged."
Roumimper now feels she has a community in which she can express her thoughts and experiences as a first-generation student.
"It feels nice to know that I'm not alone," she says.
Roumimper along with Toyosi Ipaye (M'21), Wooju Kim (M'21), Francis Navarra (M'21), Callie Takahashi (M'21) and Matt Triano (M'21) worked with the medical school's Council on Diversity Affairs to create the group, called GUSOM Generation I.
Visible and Vital
The group, officially launched this past spring, serves as a safe space distinct to the experiences of first-generation medical students. It includes medical students who are the first college graduates in their families, the first to graduate from colleges and universities based in the United States or the first in their families to attend medical school.
Susan Cheng, dean of diversity and inclusion in the School of Medicine, says she has enjoyed working with students on GUSOM Generation I.
"Our student leaders have created a visible, vital peer resource and support system for students who are the first in their families to attend college," says Cheng. "They have created a community of support that provides mentorship with other first-gen physicians, peer support and increased visibility as they navigate medical school."
GUSOM Generation I is in keeping with Georgetown's commitment to ensuring its first-generation students thrive across campuses through undergraduate programs such as the Community Scholars Program, Georgetown Scholarship Program and First-Generation Faculty & Staff Initiative.
Georgetown also is a founding member of the American Talent Initiative, which is a collaboration among the Aspen Institute's College Excellence Program, Ithaka S+R and a growing alliance of colleges and universities dedicated to expanding opportunities and access for low- and moderate-income students, who often are the first in their families to attend college.
Providing Mentors
The group's mentorship component became a key focus for the students. Navarra, who graduated from the University of California, Irvine before attending Georgetown, recalls watching his peers with family members who were physicians during last year's White Coat Ceremony.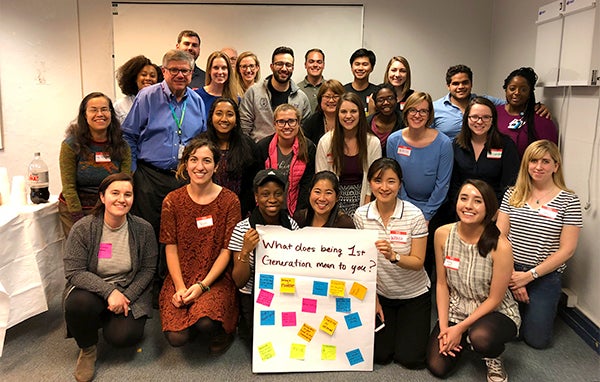 Members of GUSOM Generation I gather at the group's inaugural Mentor-Mentee Dinner last spring.
"Because there were so many people there who have doctors in their families, I felt like an imposter," he explains.
He says it can be very helpful for first-generation students to have access to practicing physicians toshadow and from whom to seek advice.
Roumimper is grateful for her mentor relationship with Dr. Kacie Saulters, assistant professor of internal medicine at Georgetown University Medical Center, through GUSOM Generation I.
"I feel like I can go to her with any questions or worries I may have, and it's nice to have that support," Roumimper says.
Saulters, also the first in her family to attend college, understands the challenges members of GUSOM Generation I may face.
"I joined the group as a mentor to share lessons I have learned along the way with students who are going through the very same thing I did several years ago," she explains. "Being the first in a family to take this journey is filled with unknowns, but worth it. I hope my own experience serves as encouragement."