Washington, DC is famous for musicians such as John Philip Sousa, Duke Ellington and Marvin Gaye – as well as for its history of jazz and invention of Go-Go music. Music history and industry scholar Anna Celenza, who researches the significance and impact of music on culture, and the DC Mayor's Office plan to release the results of a census of DC musicians at this year's Music Policy Forum Summit at Georgetown, Oct. 25-26.
Title: Thomas E. Caestecker Professor of Music
Department/Program: Department of Performing Arts; American Studies Program in Georgetown College
Classes: Beethoven Seminar; Live Music in Context; Music Industry Seminar
Research: Celenza has authored and edited numerous works, including The Cambridge Companion to Gershwin (Cambridge University Press, 2019), Jazz Italian Style: From Its Origins in New Orleans to Fascist Italy and Sinatra (Cambridge University Press, 2017) and Music as Cultural Mission: Explorations of Jesuit Practices in Italy and North America (Saint Joseph's University Press, 2014).
Creation of Music Policy Forum: The music scholar and Georgetown alumnus Michael Bracy (C'90) founded the Music Policy Forum along with four other colleagues from New Orleans, Seattle, Ottawa and Toronto to advise local governments how to create sustainable music landscapes.
Each year, the forum holds a summit at Georgetown to build cross-sector networks among musicians, industry leaders and policymakers.
"The idea was to be a place to talk about policy issues and best practices for creating local ecosystems," Celenza explains. "The world of technology has given us this global and national perspective of music, but we wanted to look closer at communities."
Music Policy Summit 2019: The first day of the summit focuses on city officials who work in music and entertainment divisions and want to learn best industry practices.
"Cities are starting to hire music specialists, and that hasn't really been a profession before," Celenza says. "So we're trying to bring folks together so people can share information, and so that people aren't having to reinvent the wheel."
The second day of the summit is filled with panel discussions with musicians and city officials. One panel will focus on city noise ordinances.
"Noise pollution is a huge problem in American cities," Celenza adds. "Unfortunately, people say 'Oh, it's because of the loud musicians,' but that's not true. We have musicians and city officials from across the country who will talk about how their own communities deal with noise pollution and save the music."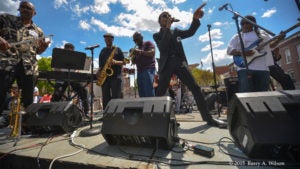 DC Music Census: In 2017, Celenza joined forces with local music activists and wrote a grant to help cover the costs for the DC Music Census, which was launched by Mayor Muriel Bowser's office in October 2018. The goal was to gather data on DC's music community and to learn more about the role musicians play in the local economy.
More than 2,600 musicians took the census, a departure from the city's initial estimate that there were only about 350 musicians in the DC area.
"The initial data came from income tax returns," Celenza notes. "Since many in the city work as musicians on the side, that wouldn't be reported as their main income."
Census results will be released Oct. 26 at the Music Policy Forum Summit and are expected to shed light on who DC's music people are and what challenges they face.
"One of the things people said they need is space – space to rehearse, to perform, to record," Celenza says. "And that's probably something that is doable."
A panel of musicians who took the census will participate in the summit.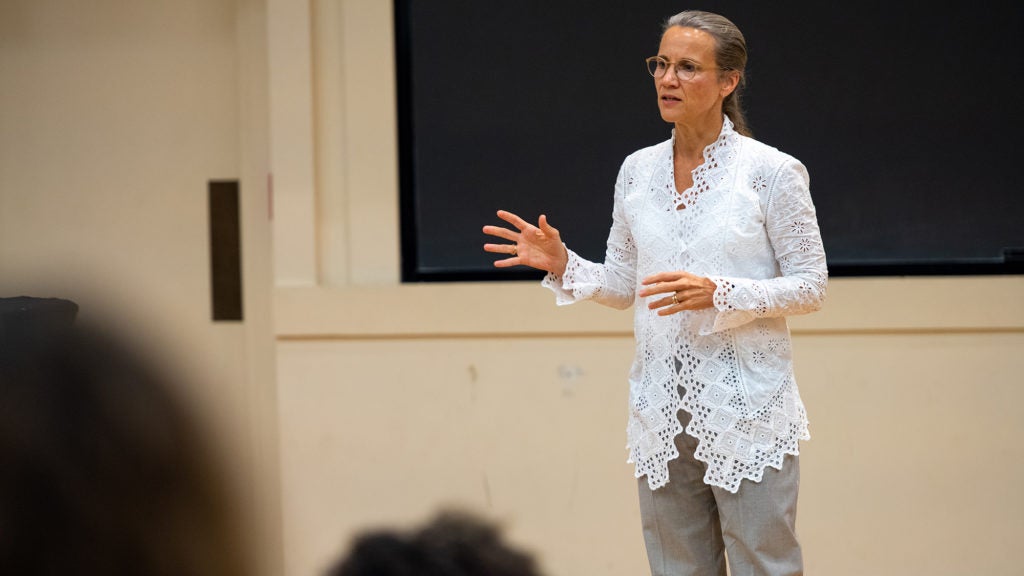 In the Classroom:  Students in Celenza's Music Industry Seminar have been studying early results of the DC Music Census this fall as well as examining media legislation, copyright enforcement and censorship, artist compensation in the digital age, social justice issues and the future of music journalism.
"The course is built around the summit," she says, "and the impact of contemporary politics on the music industry."
Upcoming Works: The music scholar is currently working on her next book, Music that Changed America (W.W. Norton, 2021).
"Basically, the book is about music and politics. Not how music reacts to politics, but rather the times when music changed politics. There are musical works that actually created change," she says. "So for me to talk about a musical piece, it has to show up in congressional debate."
The music scholar points to The Star-Spangled Banner as an example of music tied to legislation.
"Although the song was written in 1814 by Francis Scott Key, it doesn't become the national anthem until 1931 after it's introduced as House Resolution 14 and President Hoover signs it into law."
Ellington, Billie Holiday, Paul Simon, Kendrick Lamar and Beyoncé are among the artists she explores in her latest work.
"Works by these artists made people feel and think about ideas that they hadn't been exposed to before, that politicians hadn't been exposed to before," Celenza says. "It made them start thinking about policies in different ways."
Related Content