Seven new members have joined the board of directors, and each will serve three-year terms. 
"We are deeply grateful to welcome these distinguished leaders onto our board of directors," says Georgetown President John J. DeGioia. "They bring a deep commitment to our mission and a vision for what Georgetown, and higher education, can contribute to our world." 
The new board members include:
Ed Cohen (L'70), attorney and principal in Lerner Enterprises and owner and vice president of the Washington Nationals baseball team

Gen. Joe Dunford (M'85), a retired four-star general, 36th commandant of the U.S. Marine Corps and 19th chairman of the Joint Chiefs of Staff

Ritu Ahuja Khanna (B'01), a former executive at Bulgari

Ravi Raheja, president of K Raheja Group

Makiko Tanaka Ueshima, president of the Tanaka Family Foundation

Tim O'Neill (L'77), global co-leader of the investment management division of Goldman Sachs and a former member of the board of directors

Kelly

Mulvoy

Mangan (SFS'91), president of the Georgetown Alumni Association
The board members' terms began on July 1, 2022 and will end on July 1, 2025. 
2022 Fiscal Year Results
During its fall meeting, the board approved financial results for fiscal year 2022, which showed a balanced budget and positive operating results. 
As part of its 2022 budget, the board had previously approved improvements to staff benefits, including a 3% merit pool for the 2022 fiscal year and merit pay increases for academic and administrative professionals (AAP) as part of the annual performance review process. 
Georgetown also updated its Tuition Assistance Benefits (TAP) for faculty and staff members. As of Aug. 19, 2022, employees who completed one year of service can qualify for TAP benefits — a shift from the former two-year requirement. Georgetown covers 90% of tuition for classes taken at the university.
The university also rolled out enhancements to its parental leave, paid time off, sick leave and disability leave benefits this year.
Georgetown's Expanding DC Presence
On October 20, the board of directors toured Georgetown's downtown presence, which the university continues to invest in and expand since establishing Georgetown Law downtown more than 130 years ago.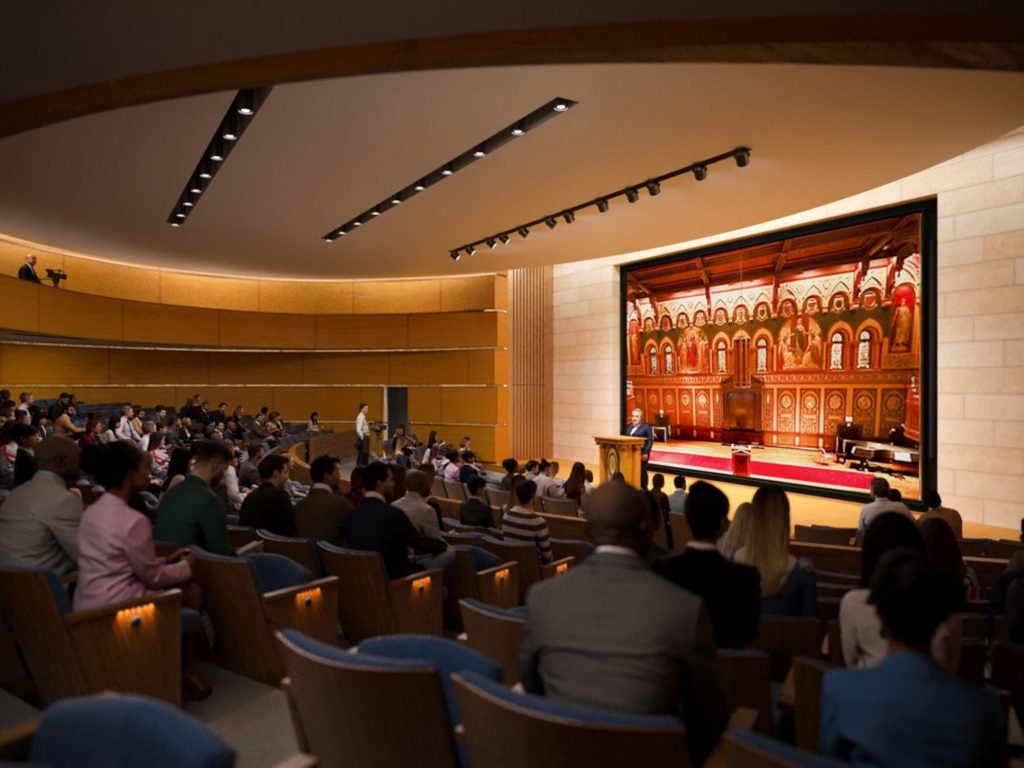 Several members of the board viewed construction underway on 125 E St. NW, a building just blocks from the U.S. Capitol where the McCourt School of Public Policy, currently housed on main campus, will permanently move. 
The 130,000-square-foot building will feature new classrooms, offices, lounges, an auditorium, rooftop events space and terrace and views of the U.S. Capitol. The building is anticipated to be substantially completed by December 2023. 
"Investing in our downtown infrastructure is more than the buildings — it's about creating new programs, interactions and experiences for students in the heart of our nation's capital," says David Green, chief financial officer and interim chief operating officer of Georgetown. "We are thrilled to anchor the McCourt School of Public Policy in the very center of the policy world."
In August 2022, Georgetown opened its new residence for undergraduate and graduate students at 55 H St. NW in downtown DC. The 11-story building offers students a living, learning and working community near Georgetown Law, the School of Continuing Studies, the U.S. Capitol, Union Station and the Supreme Court. 
In addition to housing graduate students, the residence houses students in the growing Capitol Applied Learning Labs (CALL) program, a one-semester program that offers undergraduate students credit-bearing internships paired with unique mentoring and networking opportunities. 
55 H St. features 158 furnished apartment-style units with in-unit washer-dryers, a full kitchen and dishwasher and access to the building's amenities, which include a contemplation space, theater, fitness center, offices and meeting rooms, an outdoor courtyard and bike storage.