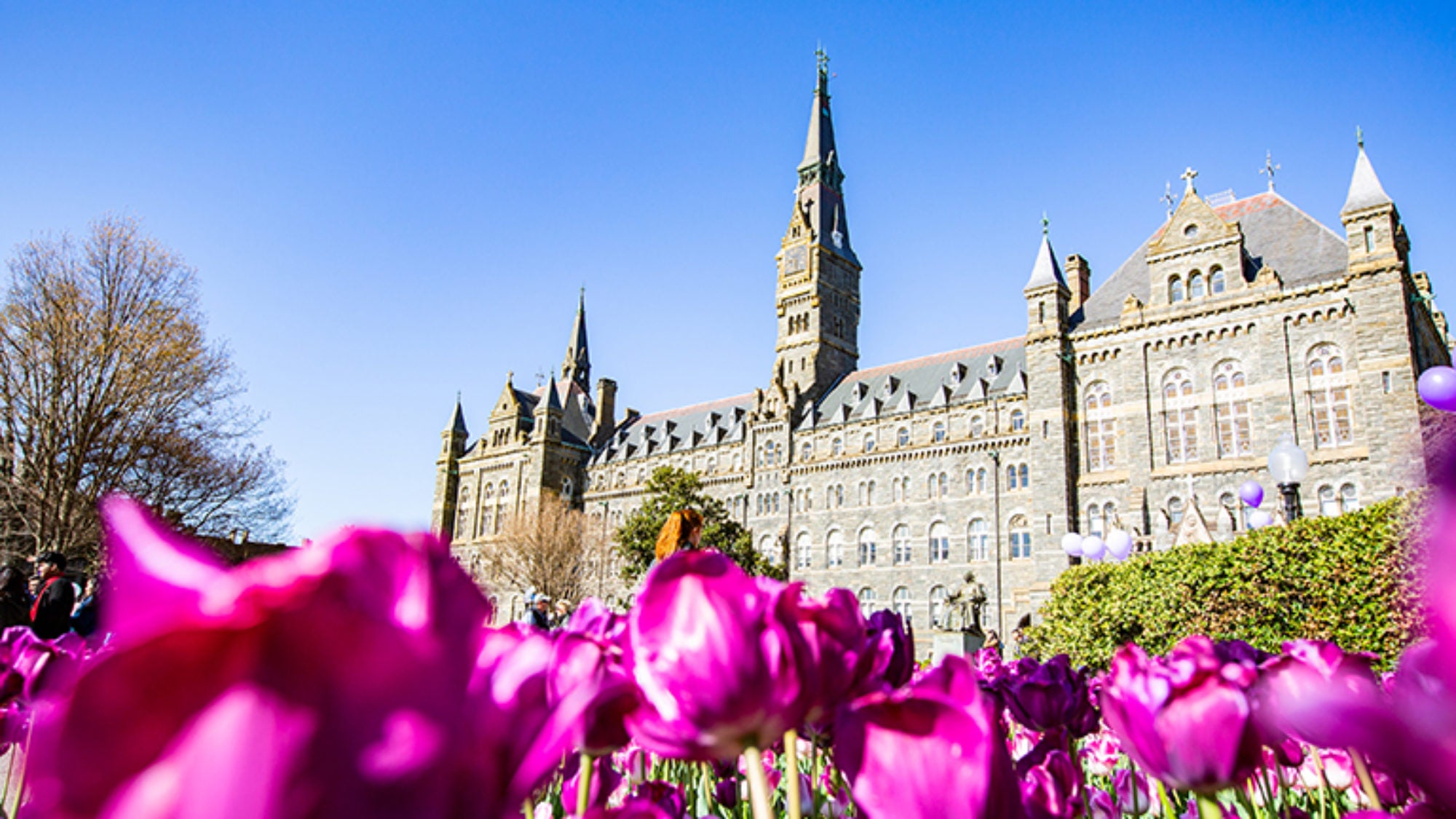 Category:

University News
Title:

Board Finance Committee Supports Recommendation to Avoid Tar Sands Investments
Date Published:
June 7, 2018
During the June meeting of Georgetown's board of directors, the Committee on Finance and Administration supported a recommendation to use reasonable efforts to avoid investments in companies whose principal business is the extraction of bituminous sands ("tar sands") for use in energy production.
Earlier this year, the university's Committee on Investments and Social Responsibility (CISR), which comprises students, faculty and administrators, reviewed a proposal from the student organization Georgetown University Fossil Free (GUFF).
GUFF requested that the university divest from companies that extract tar sands, which are then refined into oil.
Socially Responsible Investments
After meeting with representatives from GUFF and considering research related to their proposal, CISR found investing in companies whose principal business is tar sands extraction to be inconsistent with Georgetown's Socially Responsible Investing (SRI) policy, which the board approved in June 2017.
CISR submitted a memo to the board's Committee on Finance and Administration in April recommending that the university "shall use reasonable efforts to avoid investments in companies whose principal business is the extraction of tar sands."
At this time, CISR also thanked GUFF for its sustained engagement and commitment to addressing the critical challenge of climate change.
The board's finance committee supported CISR's recommendation this week. The move follows a board action in 2015, when the university announced it would not make or continue any direct investments of endowment funds in companies whose principal business is mining coal for use in energy production.
New Master's Degrees
This spring the board approved the creation of new master's degrees in Supply Chain Management and Cybersecurity Risk Management to be awarded by Georgetown's School of Continuing Studies.
The programs will provide options for part-time and full-time enrollment and offer courses in on-campus and online formats.
Students with bachelor's degrees who complete the master's programs will be equipped to enter the supply chain management and cybersecurity professions, and early- and mid-career professionals can broaden their skill sets and progress into roles with increased responsibility.
The programs also will enable career-changers to successfully transition to new professional paths in these burgeoning industries.
Executive Masters in Leadership
Earlier this year, with the board's approval, the Qatar Leadership Centre (QLC) and Georgetown University inaugurated an Executive Master's Program in Leadership, Policy and Innovation.
The nine-month, customized master's program, which begins in September 2018 in Doha, will be offered through the McDonough School of Business to qualified QLC graduates who meet the admissions criteria.
Building on expertise achieved through participation in QLC's National Leadership Programs, the new program will be delivered through modules held in Doha, a residency module in Washington, D.C., and online coursework.
Students in the program earn an Executive Masters in Leadership degree.
Board Transitions
During the June meeting, eight board members concluded their terms and were recognized for their service to the university, including Paul Tagliabue (C'62), chair during Georgetown's last capital campaign (2009-2015) and vice chair since June 2015; and ex-officio board member Jeffrey Chapski (B'91), Georgetown University Alumni Association president.
Also recognized for their service on the board were Rev. James McCann, S.J., Rev. Bienvenido Nebres, S.J., Aline O'Connor (C'77), Thomas A. Reynolds III (B'74), Rev.Stephen V. Sundborg, S.J., and Kevin Warren (C'84).
Facilities Improvements
The board heard updates this week on the joint effort with MedStar Georgetown University Hospital to reimagine the north side of campus and provide new infrastructure to support new state-of-the-art facilities, including a medical/surgical pavilion, underground parking and new green spaces.
The major improvements anticipated in this effort also include construction of a new East-West road along the northern periphery of existing Shaw Field, a new campus bus turnaround in the vicinity of Lombardi Circle and related accessibility improvements to further enhance pedestrian access and extend the Student Life Corridor to Reservoir Road.
The board approved funding to begin early construction of the permanent East-West Road.
Funding was also approved for the Central Utility Plant Modernization and Upgrade Project that will provide new equipment to meet the campus and hospital's heating and cooling needs and improve efficiency while reducing emissions and improving air quality.