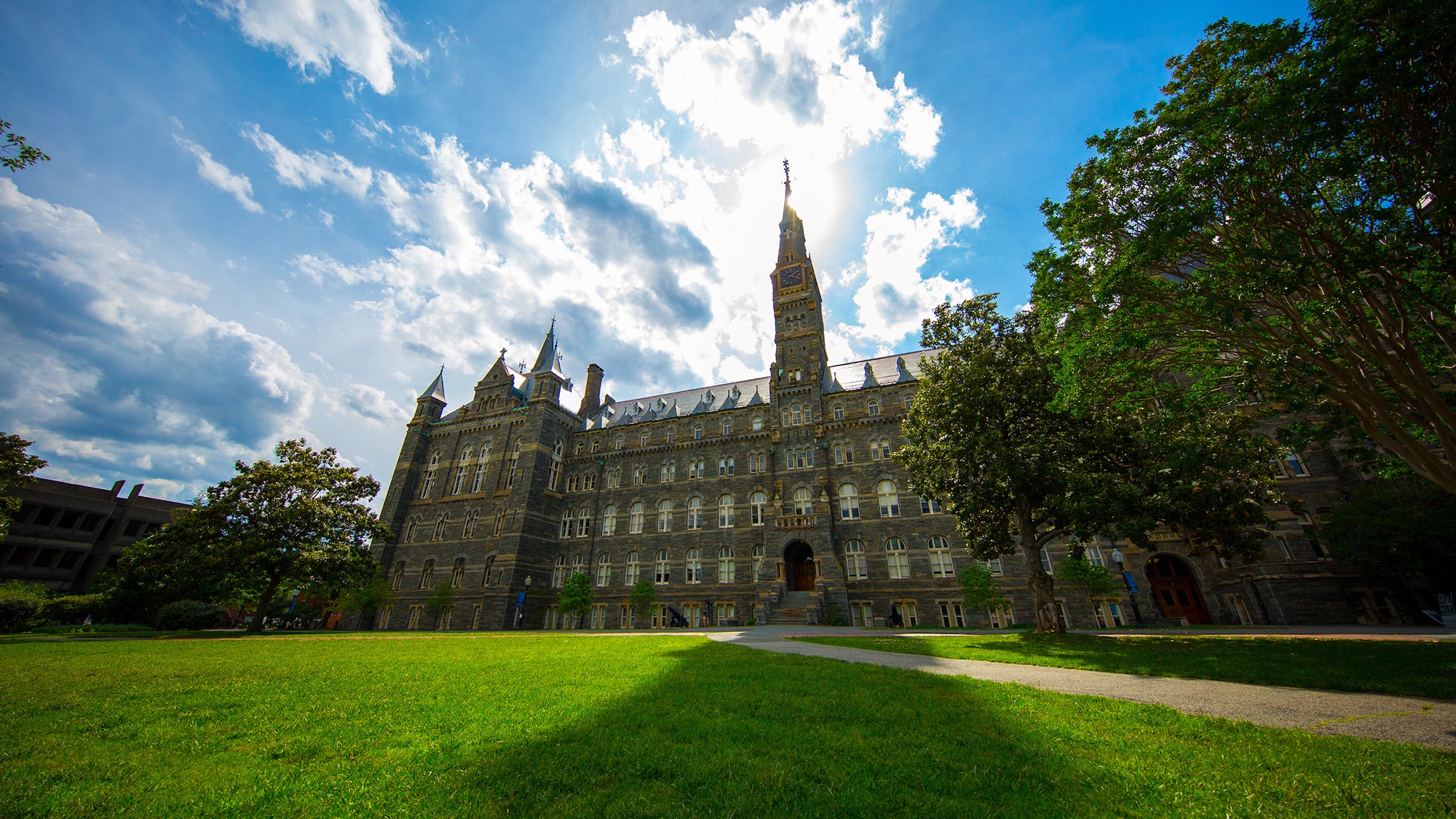 Category:

University News
Title:

Georgetown Divests From Direct Investments in Coal Companies
Date Published:
June 4, 2015
Consistent with the university's mission and existing sustainability practices, Georgetown's board of directors passes a resolution stating that the university will not make or continue any direct investments of endowment funds in companies whose principal business is mining coal for use in energy production.
Georgetown also will encourage its external investment managers, which invest on the university's behalf in funds that own wide ranges of securities, to avoid investments in these companies.
In addition, the university will continue on a regular basis to evaluate in-depth issues related to socially responsible investments and management of the endowment.
"As a Catholic and Jesuit university, we are called to powerfully engage the world, human culture, and the environment – bringing to bear the intellectual and spiritual resources that our community is built upon," says Georgetown President John J. DeGioia.
"The work of understanding and responding to the demands of climate change is urgent and complex," he says. "It requires our most serious attention. As a university community, we can best respond to this evolving and ongoing challenge when we acknowledge the tensions embedded in this work – and the variety of perspectives that are present in this moment."
Environmental Responsibility
The resolution arose out of a thoughtful and engaged process that has included students, staff and faculty across the university over the past two years.
Since November 2014, student representatives from Georgetown University Fossil Free (GUFF) have met with DeGioia, board of directors members and senior university officials more than a dozen times. GUFF andthe university's Committee on Investing and Social Responsibility (CISR)then presented their proposals directly to the board working group in the spring of 2015.
CISR is an advisory body comprising faculty, students and administrators charged with reviewing proposals from Georgetown community members on issues related to socially responsible investing.
"Recognizing the seriousness and complexities of the moral, economic and policy issues related to environmental responsibility, climate change and energy production and consumption, a board working group proposed the resolution that was approved today by the full board," says Paul Tagliabue (C'62), chair of Georgetown's board of directors.
The working group based their recommendations on deliberations, extensive analysis and the proposals put forward by GUFF and CISR.
Long-term Sustainability
In keeping with Georgetown's Jesuit heritage, its core mission of creating knowledge and its commitment to justice and common good, the university is addressing critical sustainability challenges through its operational footprint, academic mission and financial operations.
Georgetown is working to implement real-world sustainability solutions, using the campus as a living laboratory to develop a long-term sustainability strategy.
Collaborating with engaged student groups, including the Georgetown University Student Association (GUSA), GU Fossil Free, the Sustainable Oceans Alliance, the university is pursuing broad-based, practical approaches to sustainability in its daily operations.
The university made a commitment in 2006 to cut its carbon footprint in half by 2020.
Georgetown met this goal in 2014, reducing its carbon footprint by more than 70 percent through a combination of targeted efforts to reduce on-campus energy usage and the purchase of Renewable Energy Certificates (RECs) in the university's annual power purchase agreement. `
University Endowment
Georgetown's endowment value is approximately $1.5 billion as of April 30, 2015.
The endowment is used for academic and research programs, professorships and lectureships, student aid, facilities, library support, athletics and more.
The board of directors is responsible for stewarding the university's endowment carefully, consistent with its mission, in order to provide funding to support the academic mission of the institution for current and future students.
Green Power
According to the U.S. Environmental Protection Agency (EPA), Georgetown is the second largest green power user of all campuses in the country, with 100 percent of the electricity on main campus coming from renewable sources.
The university has established an active partnership with the District of Columbia Sustainable Energy Utility to cut energy waste, support local green jobs and advance mutual goals in sustainability.
Georgetown recently piloted an energy initiative through this partnership that is saving 500,000 kilowatt-hours of electricity annually, enough to power about 53 typical American homes, and cutting about 3,400 metric tons of carbon dioxide (equal to taking about 716 cars off the road each year).
Two years ago, the university was recognized as a green power leader in higher education with an EPA Green Power Leadership Award. And in the summer of 2014, more than 400 faculty and staff members pledged to help save energy on campus in the first two months of the pilot GU Energy Conservation Program.
In another effort in the fall of 2014, the Switch It Off Challenge engaged more than 300 students and saved over 28,000 kilowatt hours in a student competition to save energy in on-campus residence halls.
"By integrating sustainability into the university's ongoing master planning process, Georgetown continues to prioritize sustainability in its campus operations and future growth," notes Robin Morey, vice president for planning and facilities management.
LEEDing the Way
Four of Georgetown's buildings have received LEED green building certifications, including most recently the School of Continuing Studies' campus and Nevils Hall.
"The university is committed to achieving LEED for all new construction and major renovations, helping address the life-cycle environmental impacts of campus buildings," Morey adds.
Using the campus as a living laboratory for students to gain real-world experience in sustainability includes an April 2015 class of Georgetown students in a new pilot course, "Sustainability: Theory and Practice," taught through the Communications, Culture & Technology program.
A class project on campus stormwater design received an honorable mention in the EPA's Campus Rainworks Challenge competition.
The course brought together students, faculty and staff in collaboration with the District of Columbia Water and Sewer Authority's Clean Rivers Project to develop creative ideas for green infrastructure on campus.
Environmental Initiative
The Georgetown Environment Initiative (GEI) that launched in September 2012 with a $20 million gift is a multi-campus effort to advance the interdisciplinary study of the environment in relation to society, scientific understanding, sound policy and the broad and complex challenges the world faces as stewards of the planet's natural resources.
The GEI is working to reinforce foundations and to set directions for Georgetown's future scholarship and education efforts in these critical areas.
"This gift give us the opportunity to become a global leader in this increasingly urgent area," DeGioia said during the initiative's launch. "Our Jesuit tradition leads us to deeply understand the value of reducing negative effects on the environment and to see environmental justice and sustainability issues from a faith perspective."
Academic Opportunities
Training students to become future leaders in issues related to sustainability is continually integrated into the campus experience at Georgetown.
It is one of the four key issues of Georgetown's Global Futures Initiative, a universitywide exploration of pressing global issues through teaching, research and dialogue with world leaders.
In 2015, the Global Futures Curriculum Studio launched The Climate Change Imperative series, a campuswide conversation about the relationship between climate change and a Georgetown education.
Energy Prize
In addition, the Georgetown University Energy Prize, a $5 million prize designed to foster innovative approaches to energy efficiency in cities and counties throughout the U.S., launched in April 2014.
The prize invites communities to compete with one another to develop and implement plans for replicable, scalable and continual reductions in the per capita energy consumed from local natural gas and electric utilities.
Leveraging the university's convening power and the talents of its faculty and students, the prize exemplifies the catalyzing role of higher education in mobilizing the public to solve global sustainability challenges.