Category:

News, Veteran & Military-Connected Community
Title:

Academic Boot Camp for Vets Takes Place at Georgetown Next Week
Date Published:
May 24, 2016
Georgetown faculty and graduate students are teaching next week on campus for the Warrior Scholar Project, designed to help prepare enlisted military veterans for the transition to four-year colleges.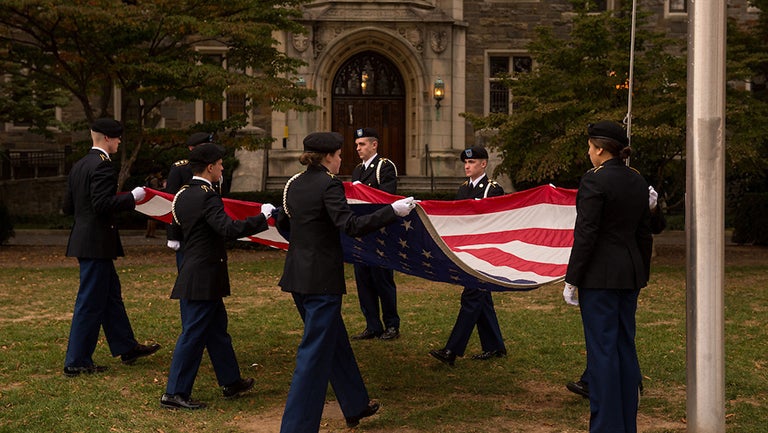 – A weeklong program designed to help prepare enlisted military veterans for the transition to four-year colleges will take place at Georgetown next week.
Hosted by the Warrior Scholar Project (WSP), the May 28-June 5 "academic boot camp" is focused on helping veterans develop and rediscover the skills and confidence necessary to successfully complete four-year undergraduate degrees.
"The Warrior Scholar Program is very intense and intensive as well as transformative for these students," says English professor Kathryn Temple, one of seven Georgetown faculty members teaching during the week. "It's also been transformative for me. Working with these young men and women has provided some of the most rewarding teaching of my career."
Academic Immersion
Because veterans are non-traditional students with unique experiences distinguishing them from their college peers, WSP also uses the boot camps to help prepare participants for the emotional and cultural adaptations required to succeed in a higher education setting.
The Warrior-Scholar Project coordinates immersive academic preparation courses for enlisted military veterans of any skill level at America's top universities.
Temple is running the writing workshops for the project at Georgetown.
Aligning Commitments
Other Georgetown faculty teaching seminars for the project include Daniel Byman (School of Foreign Service), David Goldfrank (history), Leslie Hinkson (sociology), Eric Langenbacher (government), Torsten Menge (philosophy) and Paul Russo (School of Continuing Studies).
Graduate students at the university will also assist in teaching the veterans, who study democracy and citizenship, the U.S. Constitutionand modern American democracy, among other subjects.
This is the second year that Georgetown, which ranks as one of the top military-friendly institutions in the country and serves more than 850 military-connected students, has collaborated with WSP.
"Georgetown is honored to welcome service members and veterans to campus through the Warrior Scholar Project," says LeNaya Hezel, Veterans Office director. "The mission of Warrior Scholar Project aligns with Georgetown's commitment to support the military community to achieve academic, professionaland personal success, and we are excited to collaborate again this year."
Immense Potential
Hezel says some of the participants have applied to Georgetown as transfer students, and possibly will hear whether they have been accepted while on campus next week.
Jimmy Sutton (C'15), who served in the Army for seven years as a BlackHawk helicopter mechanic, is the project's program director at Georgetown this year. He collaborates with Sidney Ellington, WSP's executive director.
"I think that the curriculum offered by the Warrior-Scholar Project both prepares, and more importantly motivates, service members for higher education at schools like Georgetown," says Sutton, who now works in Georgetown's Registrar's Office processing veterans education benefits for current students. "The success of WSP have been immediately visible both to me and to current Georgetown student veterans. We all hope to continue improving veteran support services on campus and contributing to national efforts that assist veterans transitioning out of the military."
Ellington says the Warrior Scholar Project is proud to host academic boot camp at Georgetown.
"The program at Georgetown University will tap into the immense potential of post-9/11 veterans," he says, "and reduce obstacles to success, addressing veterans' misperceptions about college and building their confidence through an intense academic reorientation."
Top-Ranking Schools
WSP launched its first program at Yale in 2012 with nine participants.
Since then, the project has expanded to include 12 top-ranking schools, including Georgetown, and is on track to host more than 200 veterans at boot camps across the country in 2016.
An intensive syllabus comprising both classic and modern scholarly works guides participants as they learn how to frame their ideas in an academic context, think critically and formulate scholarly arguments.
WSP funders and private donors cover the entire cost of the program for participants, excluding travel. The student veterans attending the boot camp will live in campus housing and attend lectures in classrooms on campus.