Health Leader
Dr. Mishori comes to this new role with an impressive curriculum vitae, one that highlights accomplishments in practice, research, service and teaching.
She is an alumna of Georgetown's School of Medicine, where she also completed a family medicine residency. Having already earned a master's degree in international health at Johns Hopkins Bloomberg School of Public Health, Dr. Mishori is working toward a second at Oxford University in international human rights law.
A fellow of the American Academy of Family Physicians, Dr. Mishori is the senior medical advisor for the not-for-profit organization Physicians for Human Rights.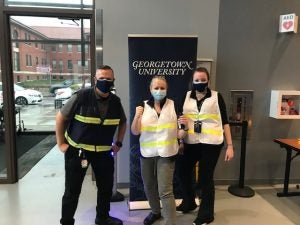 Commitment to Community
In reflecting back and looking ahead, Dr. Mishori says COVID-19 has shown organizations, including universities, the importance of preparing for and managing responses that reflect the complexities of their communities.
"Why this role is unique and maybe groundbreaking is in the recognition that a university is its own microcosm of the general population with people from different backgrounds, with different health literacy levels, and with different roles and responsibilities," she says. "In order for a university to operate smoothly and safely and to promote the health and well-being of its members, we need to think about all the different communities that make the university operate."
For Dr. Mishori, this means paying attention to the unique needs of students, faculty, staff and members of the broader community in the formulation of public health planning and implementation.
Planning for the Future
While the CPHO's immediate responsibilities involve the ongoing response to the COVID-19 pandemic, Dr. Mishori is already thinking about how she would like to see the role evolve on campus and in the community.
Given her background in human rights and the university's commitment to racial justice and social justice, Dr. Mishori hopes to work on trying to achieve health equity by fostering a two-way relationship between community partners and university experts and initiatives.
"We have a lot to contribute to the well-being of the community at large," she says. "It starts with a dialogue, but hopefully it'll end in some action. We can be part of the solution, but we must let communities define what their needs are."