'I Never Looked Back.'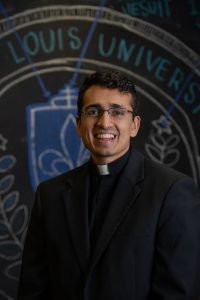 My senior year of high school, the principal called me into his office. He asked me to think about becoming a Jesuit.
He was teaching me linear algebra at the time, and he had such joy and passion when he taught. I was inspired by the way he led his life, but I couldn't see it for myself. I was thinking more about being a father and having a wife and settling down that way.
In our meeting, he also mentioned to think about prayer more expansively. If I really enjoyed doing math or playing volleyball, that was communicating with God.
At Georgetown, I started doing those things. I played club volleyball. I took a ton of math courses, and I fell in love with theology classes. I really enjoyed music, so I was part of the daily mass community and chapel choir community. Georgetown offered all these opportunities, and I saw these Jesuit values lived in the classroom and out of it.
My sophomore year, I became more serious about discernment. I got to know more Jesuits at Georgetown. I went on an immersion trip to El Salvador to visit the site where Jesuits were martyred and to Brazil for World Youth Day. I prayed with Pope Francis and two million people on Copacabana Beach, and that was when I started seeing the blueprint of the Jesuit vocation. I started feeling a pull.
I went on a five-day silent retreat through campus ministry on my junior year spring break and had a prayer experience where everything clicked. I had a sense that Jesus was calling me, through a Jesuit vocation, to walk with him carrying his cross into the light of the resurrection. I still get chills thinking about it now. I never looked back.