Georgetown Responds to the Ruling on Affirmative Action
As a Catholic and Jesuit university established in the spirit of the new republic, Georgetown was founded on the principle that discourse among people of different faiths, cultures and beliefs promotes intellectual, ethical and spiritual understanding. While Georgetown is deeply disappointed with the Supreme Court's decision on race-conscious admissions, our mission will not change. We will comply with the ruling while expanding all available efforts to cultivate and support a diverse Hoya community.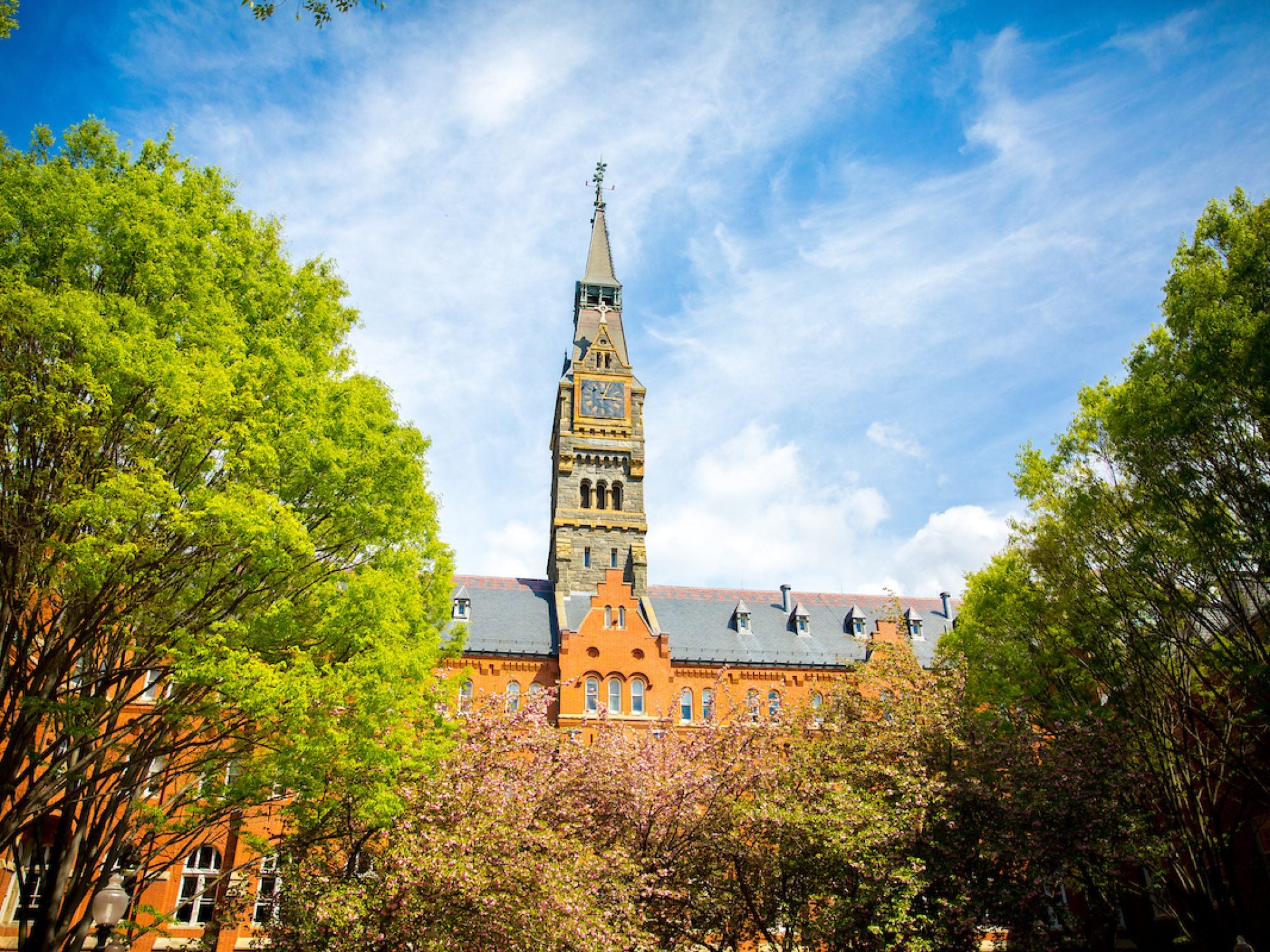 The History of Affirmative Action
For the last four decades, universities across the nation have included race-conscious admissions practices among many tools to promote diversity in their student bodies. As part of our Jesuit tradition, Georgetown has emphasized the importance of building a diverse and inclusive learning environment. At Georgetown, we have also developed initiatives to recruit a student body comprised of people with abundantly diverse backgrounds, as well as programs to ensure they feel welcome at the university.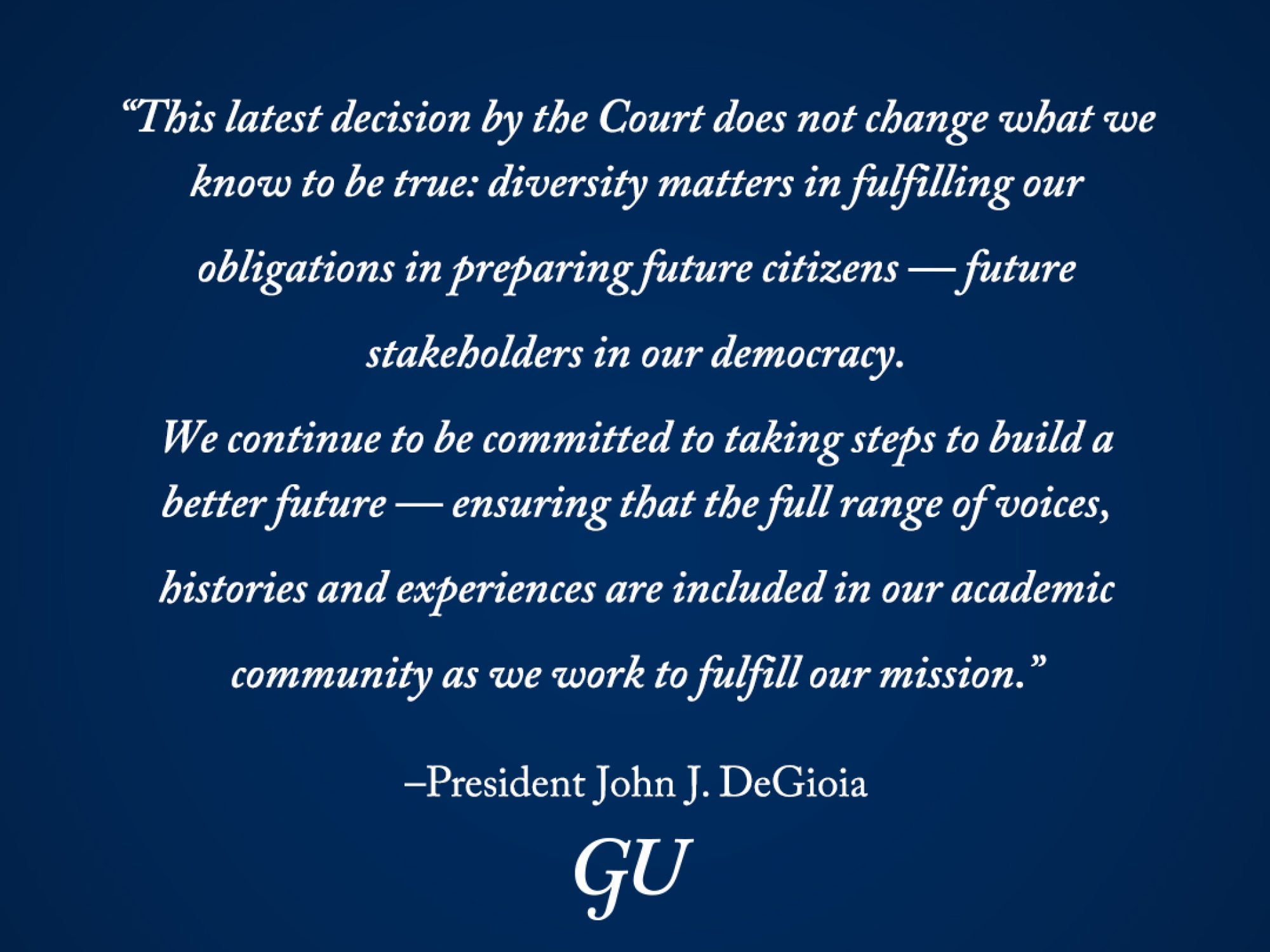 A Response from President John J. DeGioia
Read President John J. DeGioia's statement on what this ruling means for the Georgetown community and how we will respond and continue to enroll and support students of all backgrounds.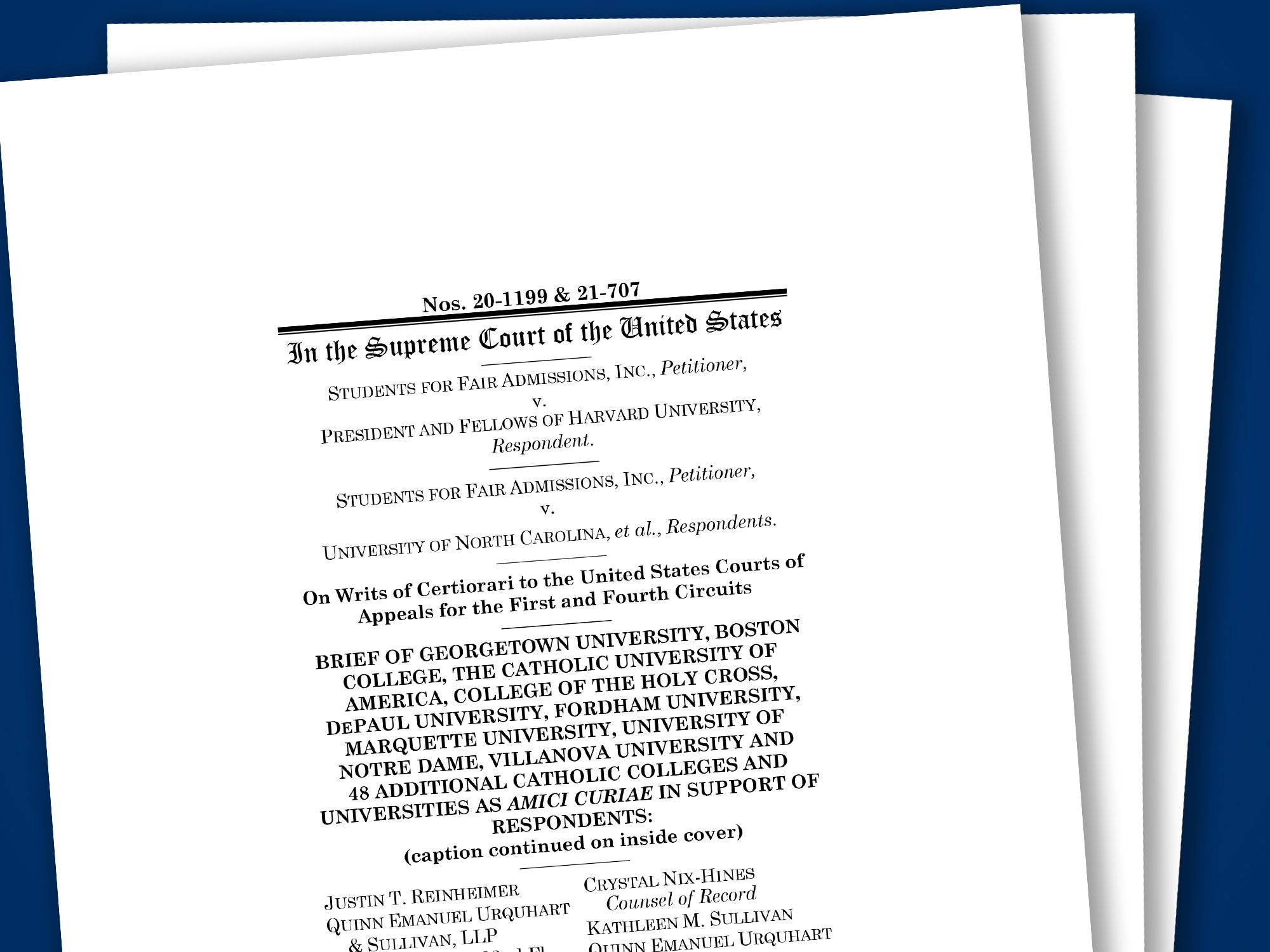 Georgetown's Advocacy
Georgetown is a staunch advocate for the evident educational benefits of diversity in higher education. Last year, we led a coalition of 56 Catholic colleges and universities to file an amicus brief, which Justice Sonia Sotomayor cited in her dissenting opinion in the decision, urging the Supreme Court to uphold longstanding legal precedent allowing universities to enhance the diversity of their student bodies through admissions practices.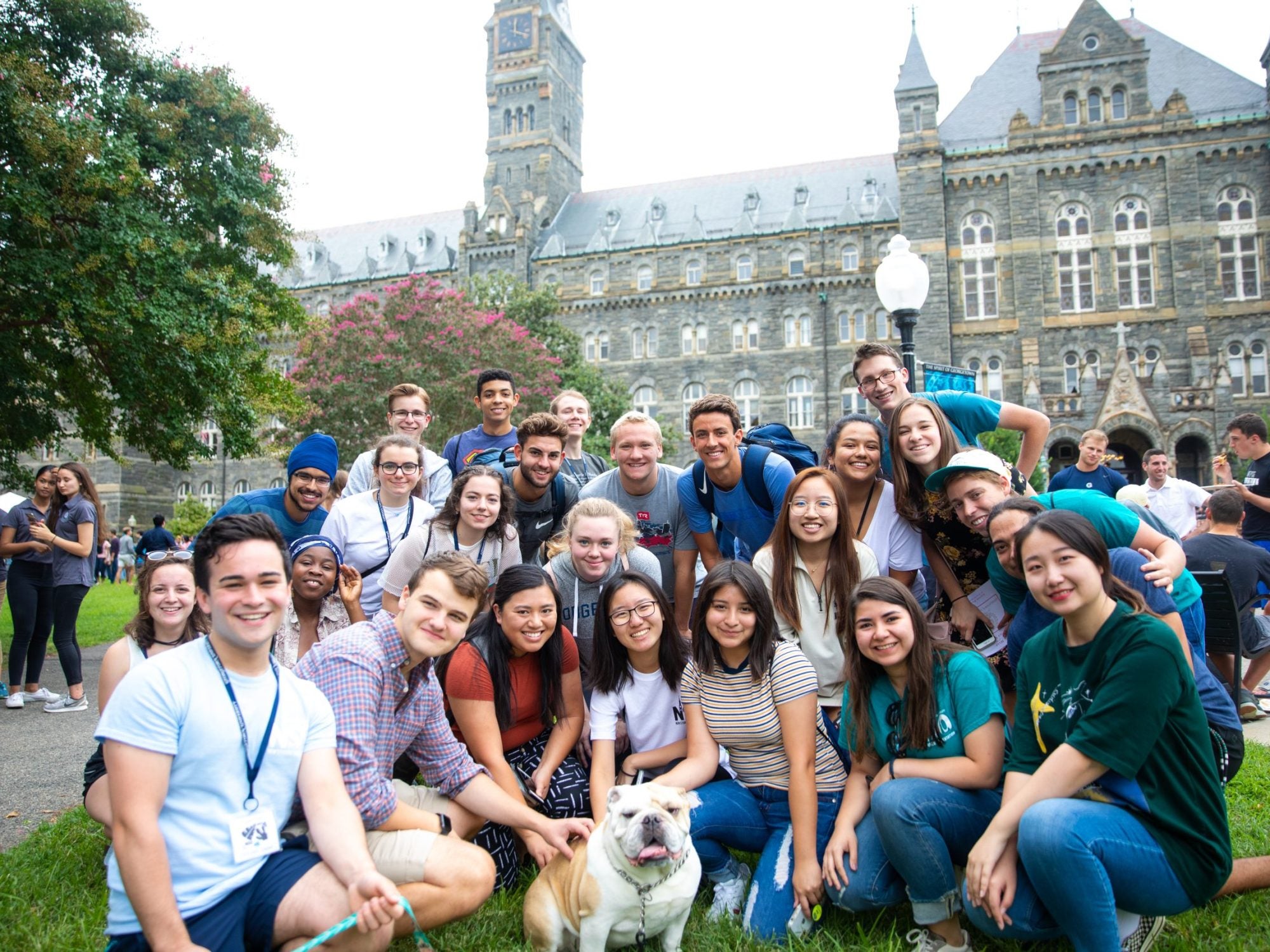 Investing in the Next Generation
Preparing the next generation of students of all backgrounds is a core aspect of Georgetown's mission. Central to this work are our pipeline programs across the Washington, DC, metropolitan area that support and empower future leaders.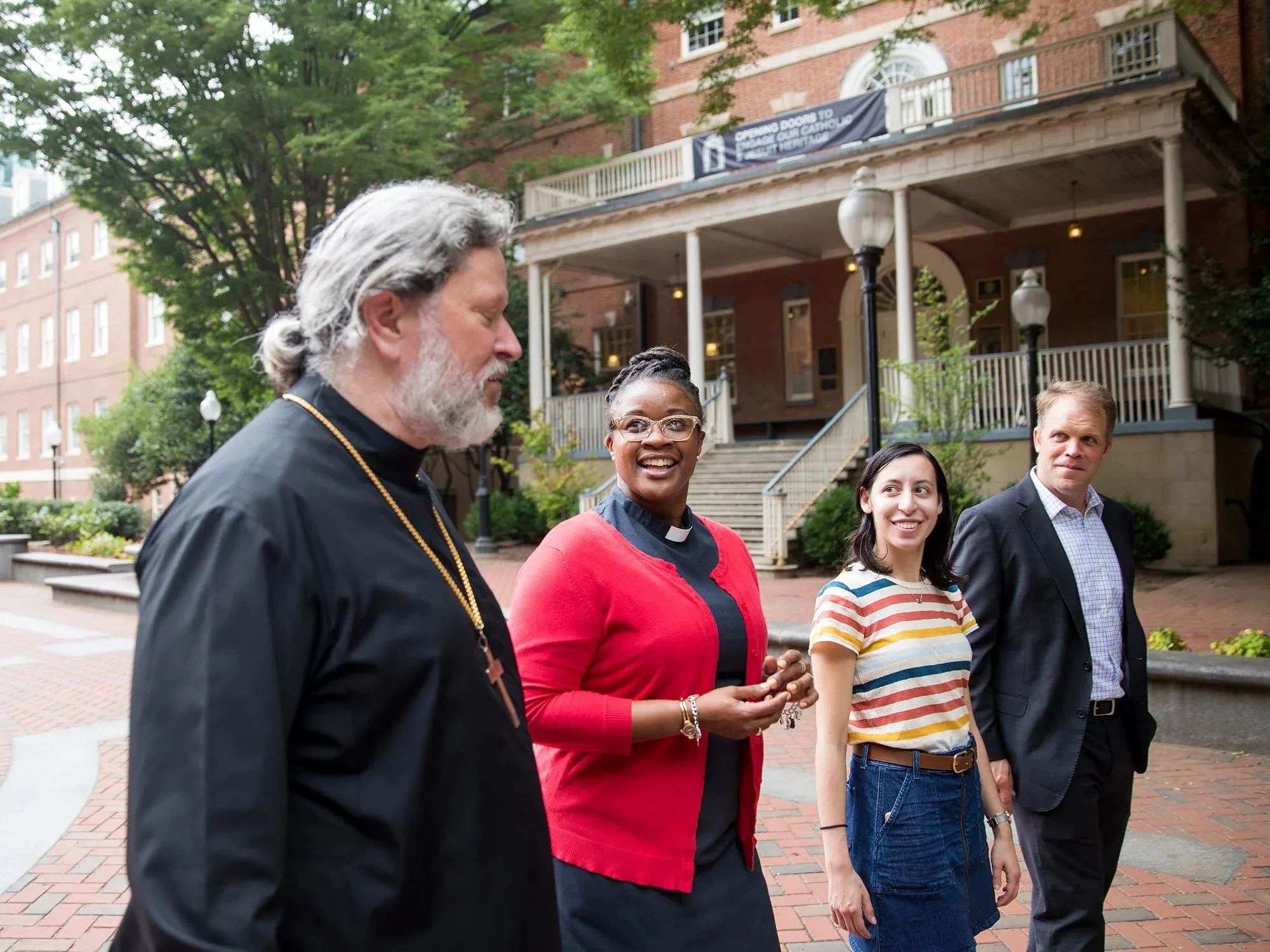 A Place for All Faith Traditions
As a Catholic, Jesuit university, Georgetown is committed to building a community that is rooted in our core values and embraces the diverse faith traditions of our student body.
Building Pipelines to Diversity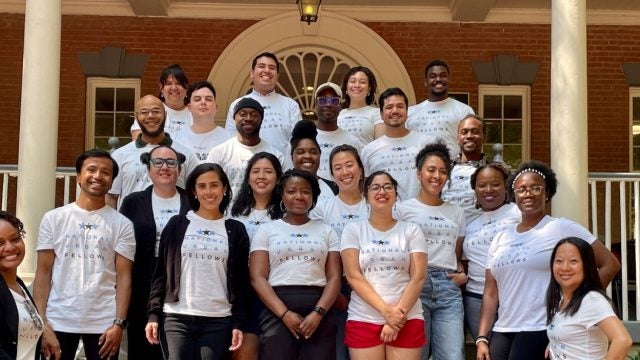 The McCourt School of Public Policy has strengthened its partnership with the National Urban Fellows program by committing to fund full tuition for the Class of 2022 Fellowship cohort.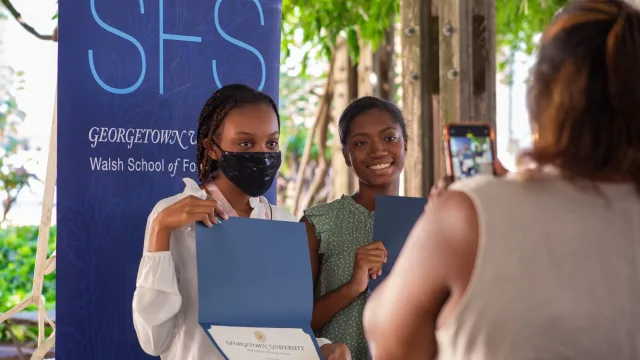 The School of Foreign Service's Future Global Leaders Fellowship successfully wrapped up its second year, hosting DC-area high school students for a weeklong international relations program.
Celebrating Over 50 Years of CSP
Georgetown's Community Scholars Program was a pathbreaking initiative to support first-generation college students. Now over five decades later, their work remains as important as ever.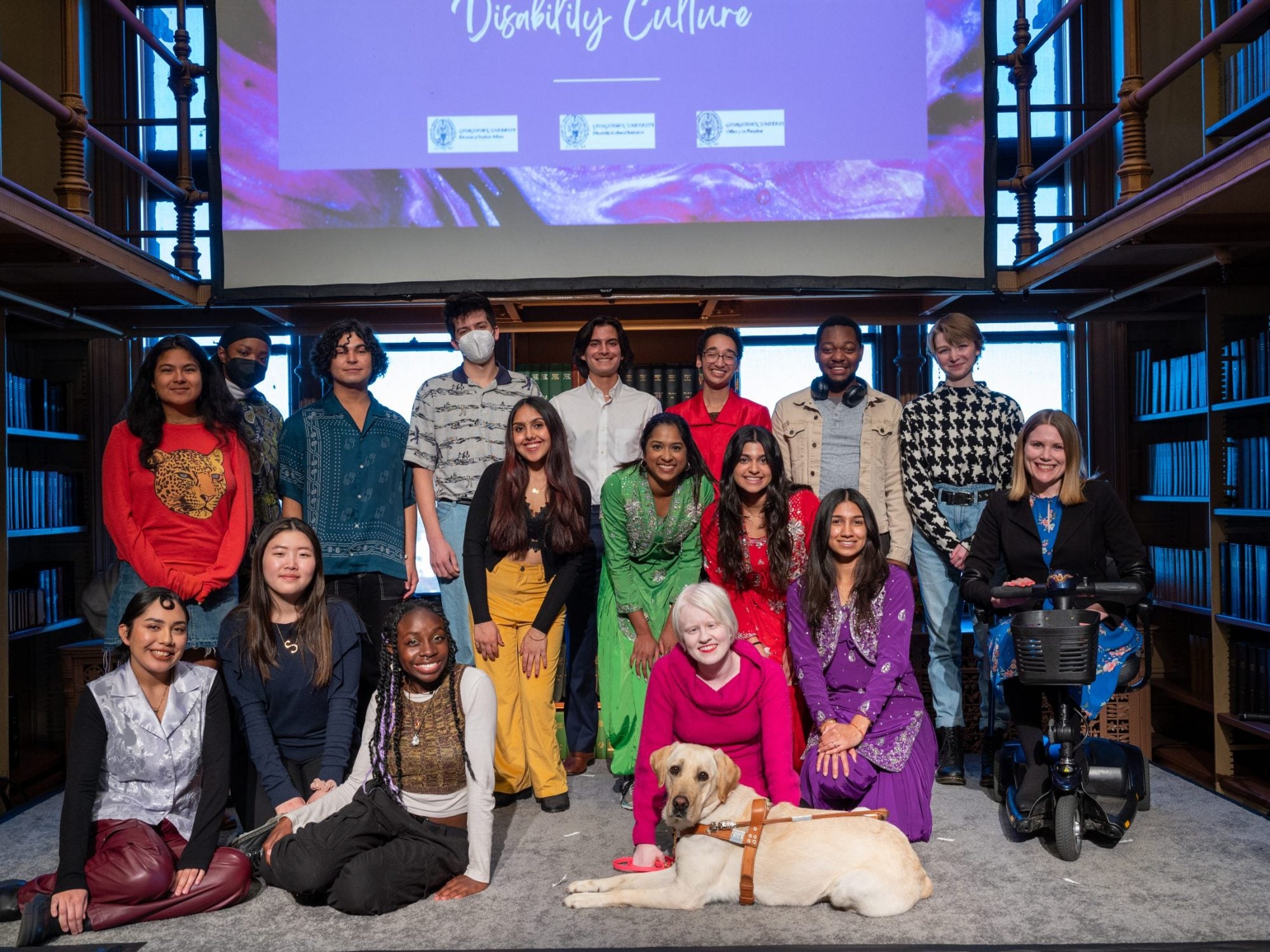 Supporting a Diverse Student Body
Our community thrives when we share our extraordinary range of life experiences and learn from our differences. That's why we nurture an environment for our students that inspires dialogue and sustains our diverse community.
Learn more about our programs that support current students of all backgrounds.
Building a Diverse Community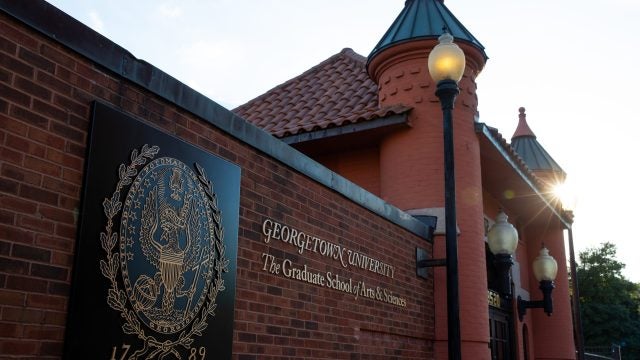 Meet this year's Patrick Healy Graduate Fellows, a cohort that includes a Baptist minister, a political science changemaker and a biologist-turned-Spanish-linguist, who are pursuing transformative research across disciplines.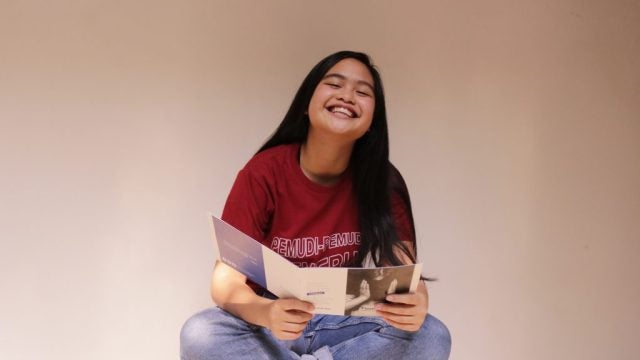 Faye Simanjuntak (SFS'24) began advocating for human rights at age 11. She helped drive landmark change for women in the Indonesian Army, and now continues her advocacy from the Hilltop.
Uplifting First-Gen and Low-Income Students
Andy Marquez (SFS'21) was once told he'd never make it through high school. Now with a Georgetown degree in hand, he's giving back to his community in Los Angeles. Key to his success was the Georgetown Scholars Program, which supports first-generation and low-income college students in their time on the Hilltop.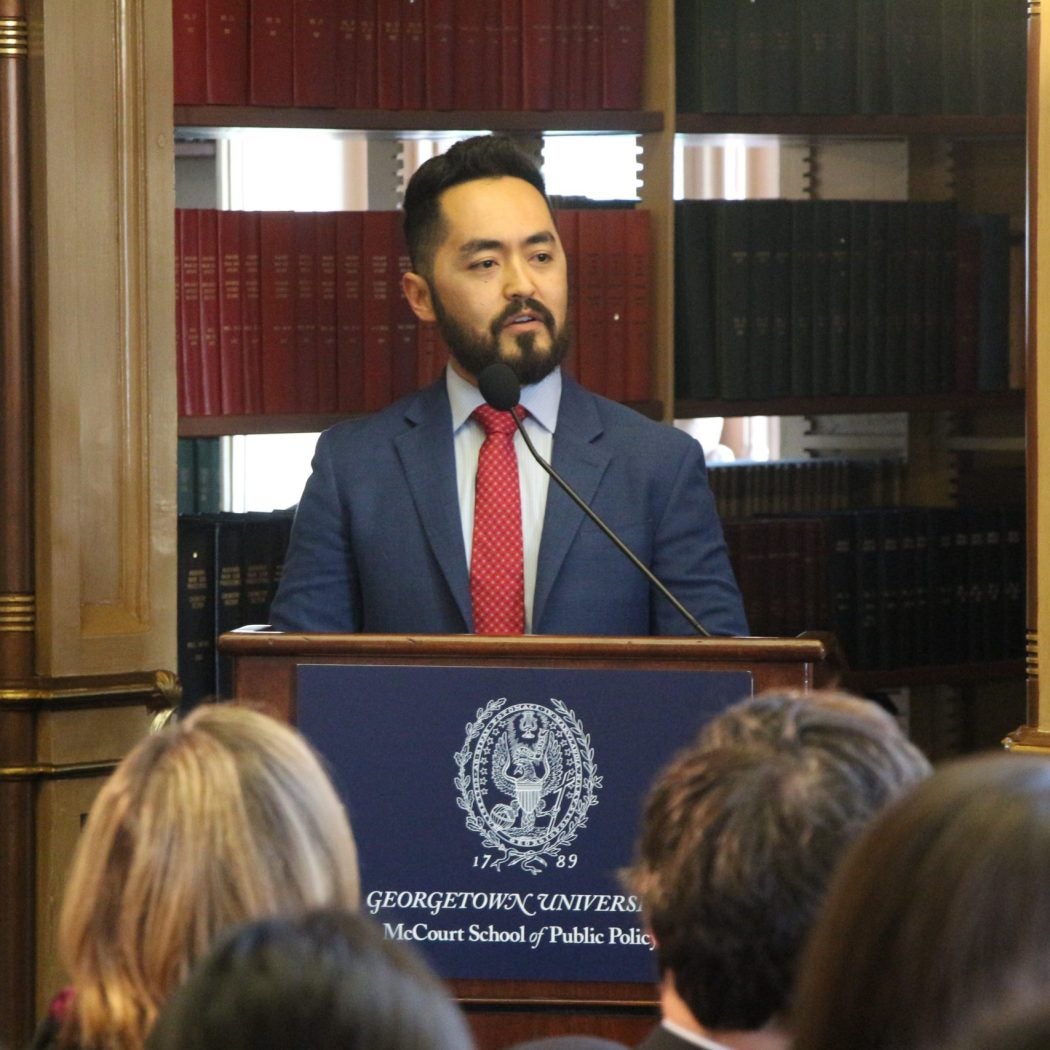 "The U.S. was so well-built that somebody like me could only be a brick in that wall. But in Afghanistan, there was this possibility of helping to build that wall. I wanted to be part of that rebuilding process."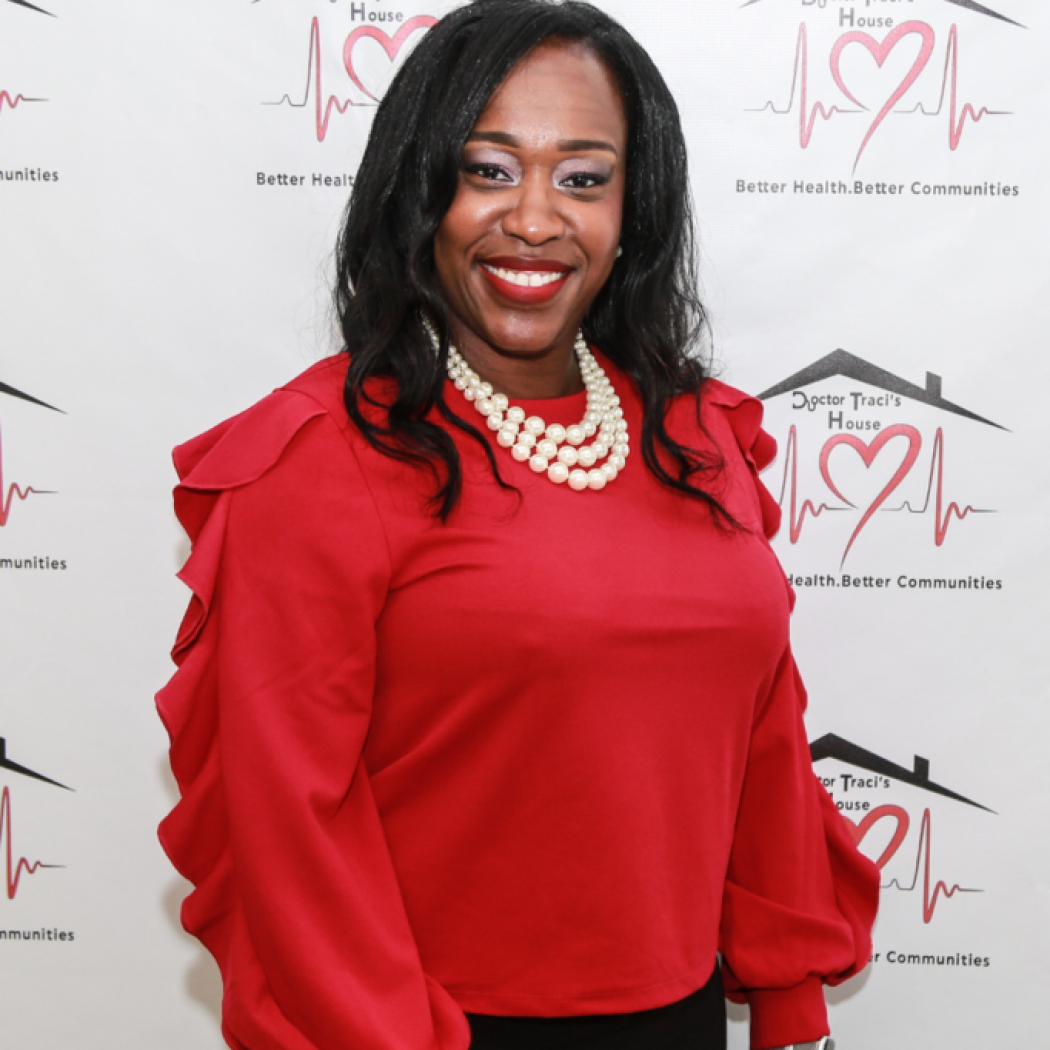 "We're using a holistic approach to revitalize this community to achieve health equity and wellness so everyone can live their best life."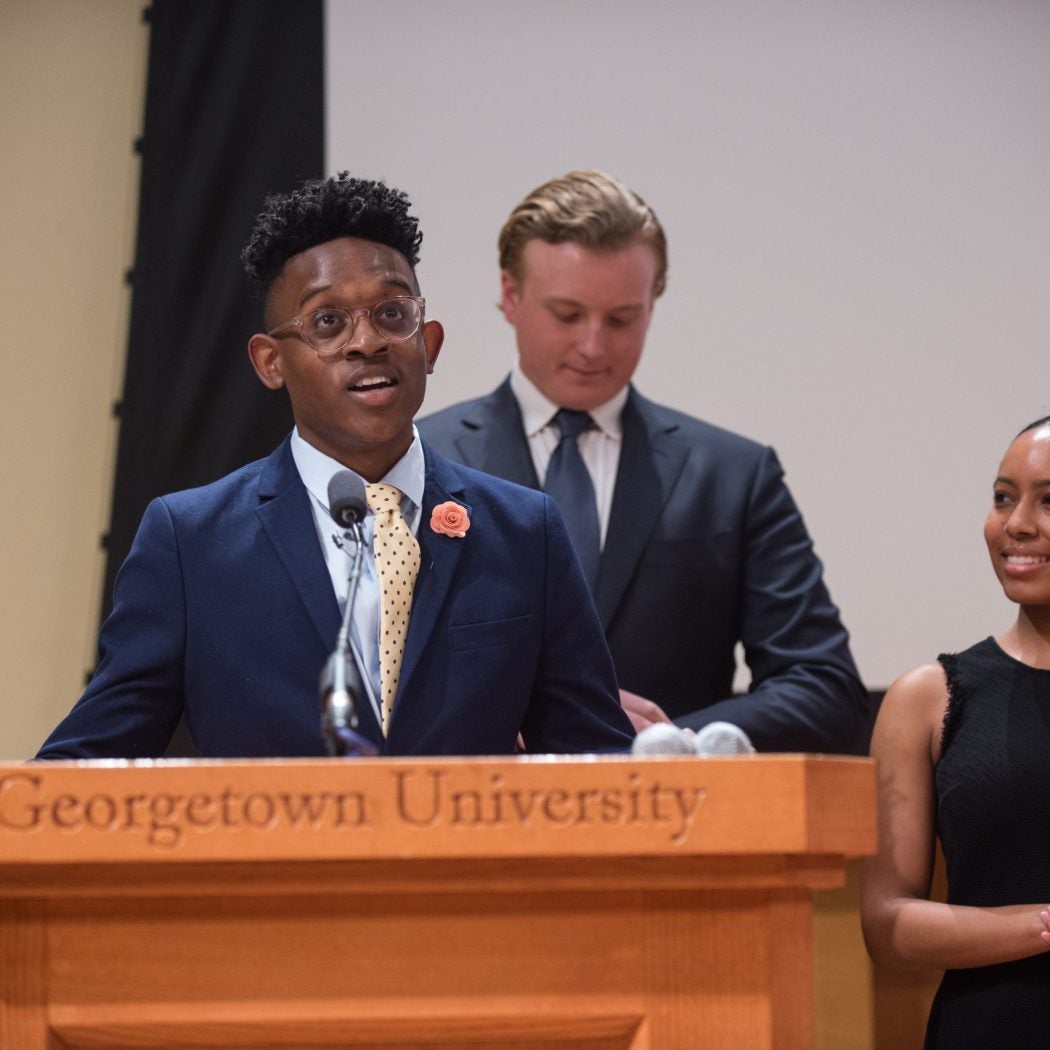 "After high school, I was initially determined to leave, but my time away has deepened my appreciation and increased my desire to contribute to make the South a place where Black people can be whole despite the painful history of racism."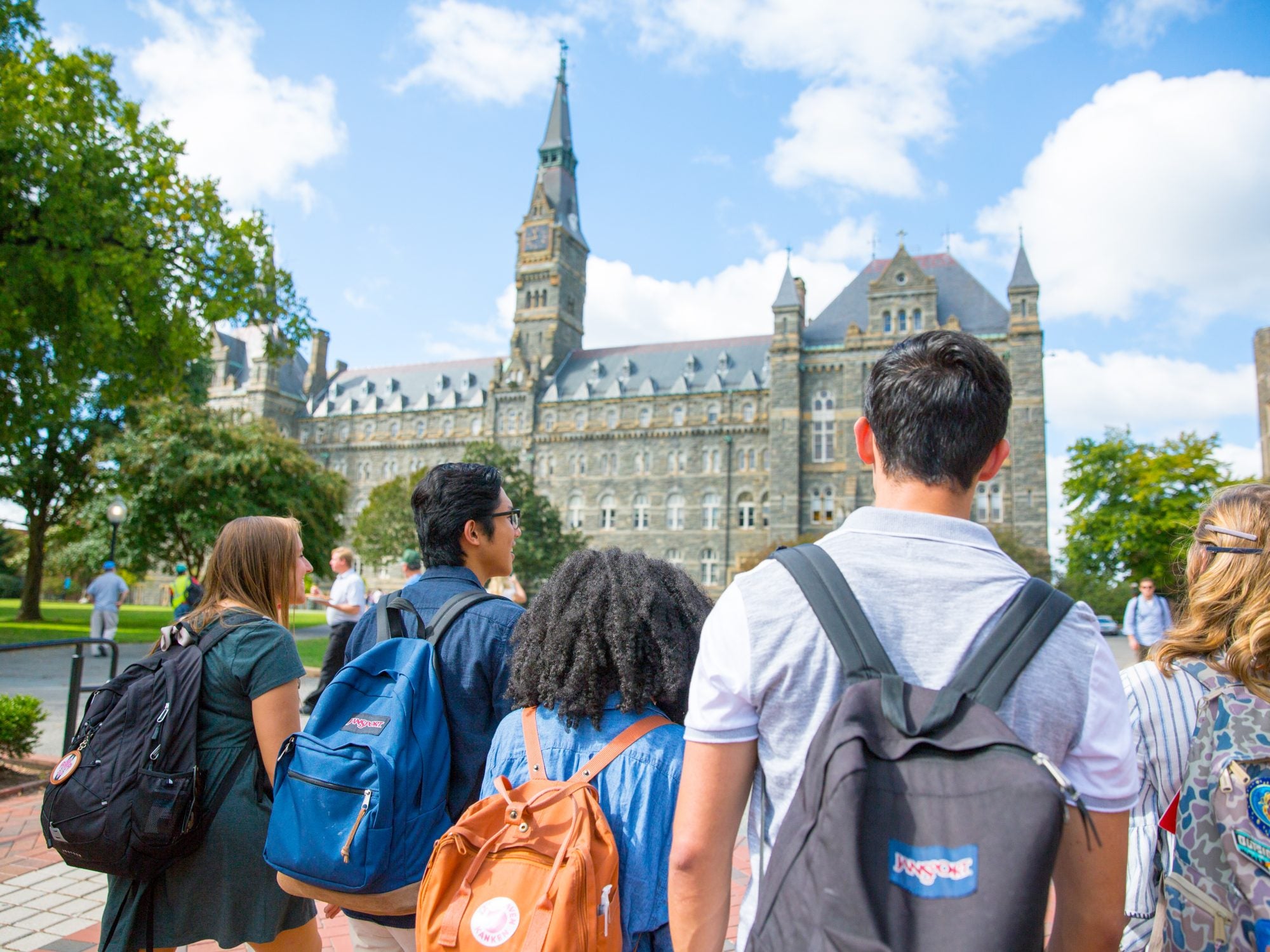 Race-Conscious Affirmative Action: What's Next
In a new study from Georgetown's Center on Education and the Workforce, researchers explain how the end of affirmative action will impact the diversity of student populations in the country's most selective colleges. Here's what they found.
Media Inquiries
For more information, please visit our resources page.