Title:

Working for the Common Good: Justice in Jesuit Higher Education Conference Includes Georgetown Delegation
Date Published:
August 16, 2017
A Georgetown delegation of 16 students, faculty and staff joins hundreds of representatives from U.S. Jesuit colleges and universities to present on topics ranging from racial justice to immigration and explore ways institutions can best use their resources for the common good.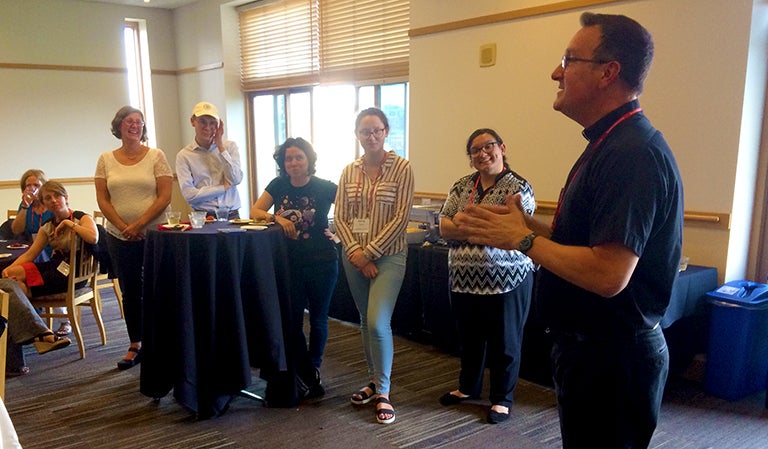 – A Georgetown delegation of 16 students, faculty and staff joined hundreds of representatives from U.S. Jesuit colleges and universities last week to explore how institutions can best use their resources for the common good.
The delegation members, which included Georgetown's new vice president for mission and ministry, Rev. Mark Bosco, S.J., attended and presented panel discussions on topics ranging from racial justice and poverty to immigration and interfaith dialogue during the Justice in Jesuit Higher Education Conference held in Seattle, Aug. 10-13.
"The university is one of the only spaces left in contemporary culture where deep thought and real inquiry about systemic injustice can occur," Bosco said at the event, organized by the Association of Jesuit Colleges and Universities' National Steering Committee on Justice in Jesuit Higher Education. "Jesuit higher education, in particular, has excellent resources for engaging in social justice that comes from its Catholic and Jesuit heritage. Opportunities such as this conference empower us to study, dialogue and participate in a faith and a truth – that does justice."
Confronting Racial Injustice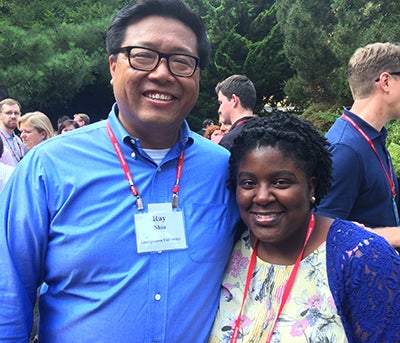 Ray Shiu and Whitney Maddox delivered separate presentations on racial justice and immigration at the Justice in Jesuit Higher Education Conference held in Seattle.
Members of the Georgetown community provided an overview of the university's racial justice initiatives during one of the conference sessions.
Whitney Maddox,assistantdirector for student organizations and leadership development, presented during the Georgetown panel discussion.
"It's important that no matter what level you are at within your university, that you see yourself as a stakeholder in advancing racial justice," she said. "My commitment to this work goes beyond my title. It is a calling I feel we all share – ensuring our universities are a welcoming and safe space for all of our students."
The panel also explored the university's research, teaching and service activities aimed at addressing current social justice issues, as well as the university's historical ties to slavery.
Daviree Velázquez, assistant director of diversity programs in the Center for Multicultural Equity and Access at Georgetown, shared her experience as a member of the university's Working Group on Slavery, Memory, and Reconciliation.
Rachel Barr, professor of psychology, rounded out the panel.
Immigration Advocacy and Research
Andria Wisler, executive director of the Center for Social Justice, Research, Teaching and Service (CSJ) at Georgetown, served on the justice conference steering committee.
She moderated a second Georgetown panel on the university's response to immigration that highlighted its support of undocumented students, as well as the refugee research and advocacy work conducted through the university's Institute for the Study of International Migration (ISIM) and the teaching and service efforts led by CSJ.
"The work of racial justice and care of our immigrant neighbors is not the work of one unit alone at the university," Wisler said. "It is our shared responsibility to reflect on how deeply each one of us, and each unit at the university, can call out injustice and act through our head, heart and hands for a more just campus, city and society."
Jennifer Woolard, associate professor of psychology, also served on the panel and said universities have the ability to gather people from different disciplines and positions to use methods of engagement that can individually and collectively examine what it means to be in a community with others.
"Together we strive to support, respect and value university community members with varying immigration and citizenship statuses, and carry that attention beyond the Hilltop into the larger society," Woolard said. "We have both the opportunity and responsibility to pursue truth and justice for immigration simultaneously."
Elzbieta Gozdziak, ISIM research professor; Jessica Lee, program director for the DC Schools Project; and Ray Shiu, CSJ associate director and psychology professor; joined Woolard and Wisler on the immigration panel.
Navigating Classroom Differences
Georgetown Law's Amy Uelmen and Michael Kessler, associate professor of the practice of moral and political theory in the government department, talked about the challenges to engaging students on issues of injustice and finding ways to foster meaningful and respectful dialogue in the classroom.
"Our goal in the classic liberal arts and Jesuit model of rigorous inquiry is to encourage patient and careful dialogue about diverse ideas while modeling for students … to encounter and interpret others' views in the best possible light while also critically engaging their ideas," said Kessler, also managing director of Georgetown's Berkley Center for Religion, Peace and World Affairs.
New Ideas
Georgetown student Sylvia Levy (SFS'18) also made a presentation on the university's student activism during a pre-conference meeting of service learning professionals.
She said participating in the conference gave her new ideas about how to approach social justice issues inside and outside of the classroom.
"As I prepare to return to the Hilltop in the fall," she said. "I'm deeply appreciative of the lessons I learned about making long-term structural changes to systems that perpetuate injustice."
Margarita Ramirez (G'22), a doctoral student in the government department; Bob Bies, professor of business; Jill Morrison, executive director of the Women's Law and Public Policy Fellowship Program and visiting professor of law; and Amanda Munroe, assistant director of social justice curriculum and pedagogy at CSJ, rounded out the delegation.