The Institute of Politics and Public Service at the McCourt School of Public Policy (GU Politics) hosted some of Washington's heavy hitters in journalism and politics to close out its fifth year of connecting Georgetown students with leaders in public service.
Among the participants were White House Chief of Staff Ron Klain (C'83) and White House Press Secretary and Spring 2017 GU Politics Fellow Jen Psaki – former President Barack Obama also made an appearance.
"Ever since launching the Institute of Politics and Public Service in 2015, we've worked to help foster a sense of political and civic community on campus and establish ourselves as a key hub of thoughtful political discourse for the entire Washington community," said GU Politics founding executive director Mo Elleithee. "But what I'm most proud of is watching Hoyas seize the opportunity we give them to engage with and challenge the political practitioners we bring to the Hilltop, from across the ideological spectrum, in exploring ways to make the system work better."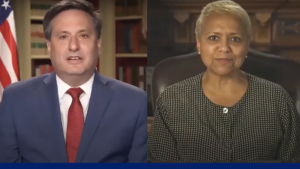 Hoyas in the White House
A discussion with Klain and fellow Hoya alum Tina Flournoy (C'78, L'84), chief of staff to the vice president, kicked off the institute's end-of-year events.
The program opened with a message from President Obama, who commended GU Politics for the work it does to inspire young people toward careers in public service.
"Let me just say, I love your motto. 'Public service is a good thing. Politics can be, too,'" Obama said. "It's really something I believe because I know that even in times like these, what unites is far greater than what divides us." 
"Keep the faith, especially the work you are doing to break through the filters and bubbles to help us come together," he added. "Your work couldn't be more important."
Klain encouraged young people to get involved in politics and public service – both during their time on the Hilltop and beyond.
"That's the unique thing about Georgetown," said Klain. "It's this combination of world-class academics in areas of public policy now with the addition of the McCourt School…and that chance, by being in Washington, to work hands-on in the government." 
Flournoy shared what her time as both a Georgetown undergraduate and law student taught her about what it means to enter a career dedicated to public service. 
"It was always the sense that you should lead a purposeful life. That you need to do something that matters," said Flournoy. "You need to do something that impacts someone other than yourself."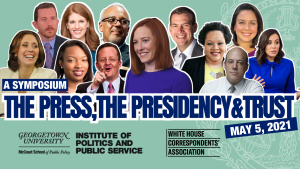 Press and Press Secretaries
In lieu of this year's White House Correspondents' Dinner, which was cancelled due to the pandemic, the White House Correspondents' Association partnered with GU Politics to host a day-long symposium on the unique role of the press in covering the American presidency.
The symposium featured current and former White House press secretaries and several leading White House correspondents. Conversations focused on the evolving norms in the relationship between White House correspondents and White House press secretaries, diversity in the briefing room and the future of the White House press corps and the Biden White House.
During her conversation with White House Correspondents' Association President Zeke Miller, Psaki emphasized the importance of the relationship between the White House and press corps that extends beyond the Beltway. 
"The tone is a part of the messaging that we are sending, too, to the country, to the world," said Psaki. "We value the press, we value the role of the press, we value the importance of sharing information."