This past summer, I spent five weeks studying abroad in Italy at Villa Le Balze – Georgetown's study abroad location overlooking Florence. To share with you a snippet of my experience, I compiled the answers to some frequently asked questions I received from friends and family after returning from Italy! First off…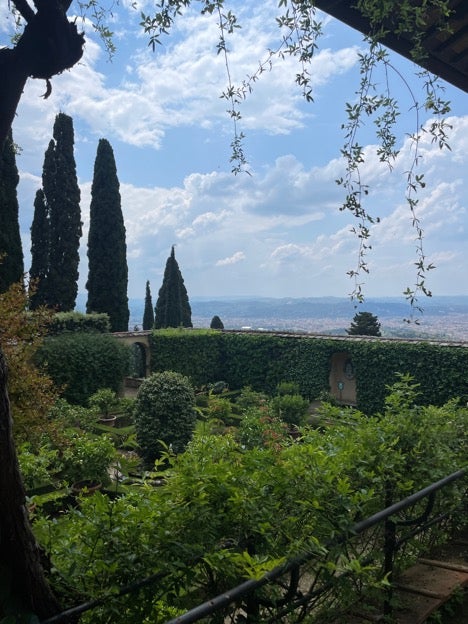 1.
Why study abroad in the summer vs semester?
As a pre-med student, I am required to fulfill my pre-med coursework on campus. When making my four-year plan during freshman year, I determined that studying abroad during a semester would be difficult for me. That being said, I do know many pre-meds who study abroad during the semester, so this was just my personal decision.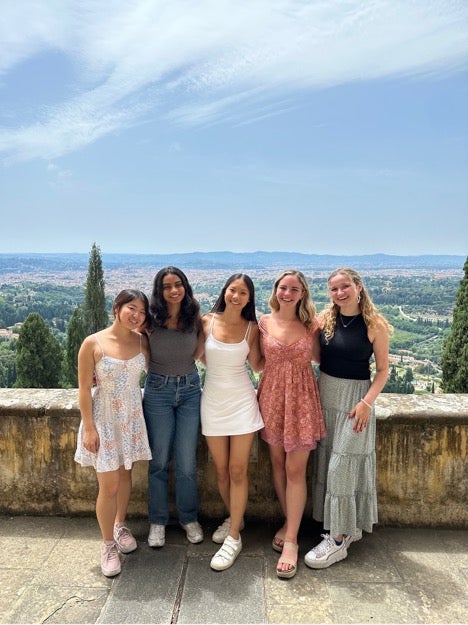 Studying abroad was always an experience I wanted to have during my time at Georgetown. Summer study abroad was the perfect solution – especially after I learned about Villa Le Balze! Additionally, the summer study abroad schedule still allowed me to thoroughly explore Florence and take advantage of travel by Italy's amazing train system!
2.
Where did you stay?
During our program, we lived at a student residence in the heart of Florence! This housing situation made exploring Florence after class and on the weekends extremely easy. Florence is a densely packed city and extremely easy to navigate on foot. We were a quick walk away from the Duomo, Ponte Vecchio, Uffizi Gallery and many more landmarks/must-see spots of Florence.
3.
Did you need to know Italian?
While the courses at Villa Le Balze are taught in English, I did take Italian through the intermediate level at Georgetown prior to my summer abroad. Honestly, when deciding which language to pursue at Georgetown, I had my sights set on spending time in Italy. 
I found that the majority of locals I encountered in Florence and other tourist hot spots spoke English. However, knowing the basics of Italian certainly allowed me to better navigate Italy. Additionally, I had the opportunity to converse with various shopkeepers, artisans and locals in their own native language – an experience that added to my immersion in Italian culture.
4.
What course did you take?
While in Italy, I finished my theology core requirement by taking Theology of Beauty with Father Bosco. Uniquely, the majority of the courses at Villa Le Balze are taught by Georgetown's main campus faculty. Other courses my classmates took were the biology course Microscopic View of Tuscany, International Journalism and the Women of the Medici Family history course.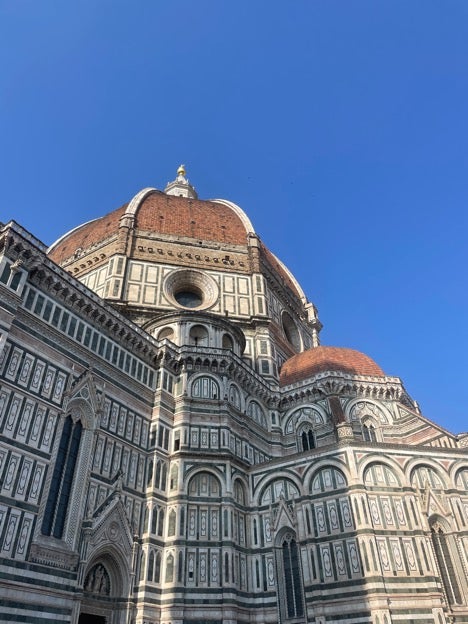 5.
Did you have a favorite experience or moment?
Although it felt like my time in Italy flew by, I struggle with choosing a favorite out of all the amazing memories I made this summer. I will forever be grateful for the unique opportunity I had to take classes at the Villa, study in the Villa's gardens overlooking Florence, devour absolutely delicious Italian food, rank the gelatos of Florence, learn more about Italy's culture (and experience it firsthand) and explore with old and new friends. 
One moment that stands out in my memory came during my first weekend in Italy. I traveled with friends to spend a morning in Lucca – a city just about an hour and a half from Florence by train. We biked the historic walls of Lucca, which offer views of both the town and surrounding Tuscan hills. This was perhaps the moment that – after shedding the haze of jet lag – the reality of my amazing summer circumstances truly sunk in.