Vice President Joe Biden joins a gathering of Muslim, Catholic, Jewish and other religious leaders at Georgetown's Interfaith Gathering for Solidarity, Understanding, and Peace.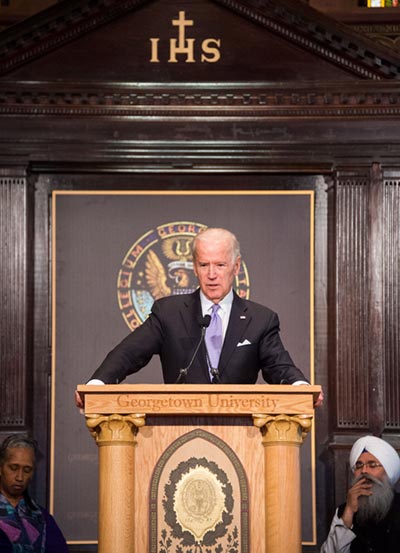 –
Vice President Joe Biden joined a gathering of Muslim, Catholic, Jewish and other religious leaders today at Georgetown'sInterfaithGathering for Solidarity, Understanding, and Peace.
"This is America," he said, turning to the diverse set of leaders on stage in the university's Gaston Hall, many of whom were dressed in religious wear.
"I believe in faith," Biden said, after lamenting what he called hate speech and phobia following the recent terrorist attacks. "I believe faith is a gift. It's a gift that should be embraced, and it embodies not just what we believe, but it dictates what we must do."
He said exploiting people's fears is "unacceptable and counter-productive."
Human Identity
The university held the event to promote understanding through faith leaders' reflections and through music and prayer.
Imam Talib Shareef, president of The Nation's Mosque, Masjid Muhammad; Cardinal Donald Wuerl, archbishop of Washington; and Senior Rabbi M. Bruce Lustig of Washington Hebrew Congregation were among the attendees.
"The Quranic readings remind us of our common life," Shareef said, "…and this tells us there are no two types of humans. "
He said the first human, Adam, was "not a racial identity."
"His identity was not a national identity," Shareef said. "His identity was not an ethnic identity. The first identity given by He who created him, that identity was human."
One Nation
Wuerl reflected on Pope Francis' September visit to the city.
"I said to him … 'Holy Father, when you get on the platform for Mass, you are going to see the face of our nation,' " Wuerl explained. "And as we stood there looking out over that vast sea of faces, what we encountered was a reflection of ethnic traditions and heritage found all over the globe."
Wuerl told the audience of about 400 that "all of us are one nation of people" who reflect the many "faith traditions of this land."
Choosing Love
"These are very difficult days for us for our nation and for our world," said Georgetown President John J. DeGioia. "At this moment, when acts of violence and words of exclusion, fear, hatred and discrimination threaten to divide us, we are called to solidarity."
Georgetown's commitment to interreligious dialogue is evident through the university's Berkley Center for Religion, Peace and World Affairs as well as through numerous gatherings of faith leaders.
"We can choose how we see others," Lustig said at today's event. "Let this gathering be our promise that we will choose love over hate, peace over violence that we will endeavor to live as God's children. … This is our prayer, this is our hope this is our greatest opportunity."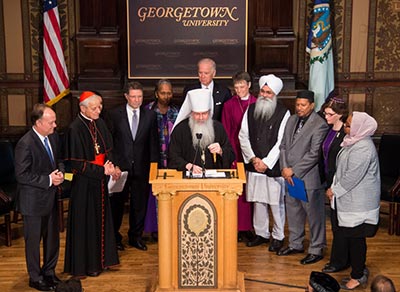 Conscious Effort
Georgetown student Laila Brothers (SFS'18) of Chesapeake, Virginia, reflected on the how difficult it is for her and other members of the Muslim community when Islamic extremists strike with violence.
Brothers, a regional and comparative studies major focusing on the Middle East, said Republican presidential candidate Donald Trump sparked feelings of Islamophobia when he suggested that Muslims should be entered into government databases and not allowed back into the country after traveling.
"I asked my mother if she ever considered removing her hijab," Brothers said. "Her response [was], 'No. If people are so concerned about Muslims in America, where they talk about making us wear badges, I guess I have my badge. My hijab is my badge.' "
Brothers said she was glad Georgetown convened the interfaith gathering.
"In these times of turmoil, it is easy to lose sight … to divide along religious and political lines to stay silent when we should speak up … We must make a conscious effort to make sure during uncertain times that humanity and compassion is anything but [uncertain]."
Other program participants included Right Rev. Mariann Edgar Budde, bishop of Episcopal Diocese of Washington; Rev. Cheryl J. Sanders, senior pastor of Third Street Church of God and professor Christian Ethics at Howard University School of Divinity; Khadija Mohamud (C'17); Rabbi Batya Steinlauf, director of social justice and inter-group relations at the Jewish Community Relations Council of Greater Washington; Bhai Gurdarshan Singh of the Sikh Spiritual Center, Rockville, Maryland; and Metropolitan Tikhon, primate at the Orthodox Church in America.