Title:

University's Environment Initiative Receives $20 Million Gift
Date Published:
April 30, 2015
Georgetown University has received a $20 million gift to launch the Georgetown Environment Initiative – a multi-campus effort to advance the interdisciplinary study of the environment in relation to society and stewardship of natural resources.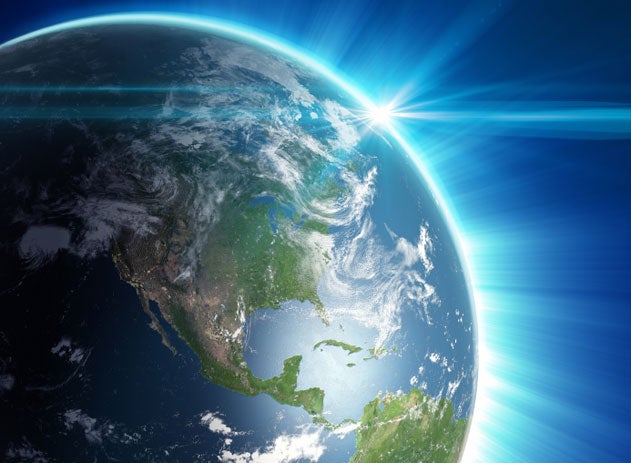 November 1, 2012
The gift, from a family affiliated with the university that wishes to remain anonymous, will provide resources to create a formal initiative that will benefit from the university's wide-ranging expertise in relevant fields in science, business, public policy, the humanities, health, law and international relations.
Georgetown will also be able to hire three new faculty members in the sciences who conduct interdisciplinary research on the environment and are leaders in their fields.
Although the initiative encompasses many disciplines beyond the sciences, the university recognizes that science is what ties them all together.
This fall, Georgetown opened Regents Hall, a $100 million, 154,000-square-foot teaching and research center housing most of the university's biology, chemistry and physics faculty.
Environmental Justice
"The opening of our state-of-the-art new science building and this gift give us the opportunity to become a global leader in this increasingly urgent area," says Georgetown President John J. DeGioia. "Our Jesuit tradition leads us to deeply understand the value of reducing negative effects on the environment and to see environmental justice and sustainability issues from a faith perspective."
The gift also will fund faculty research grants and aseminar seriesthat will bring leaders in the field to campus to discuss environmental science, research and policy.
Other priorities of the environment initiative include additional scholarship and stipend support for students, curricular development and strategic partnerships with other institutions.
Building Scholarship Capacity
"The Georgetown Environment Initiative exists to build capacity for scholarship and education in the environment in the broadest possible sense of the word," says Matthew Hamilton, faculty chair of the initiative. "It is an acknowledgement that the well-being of humanity depends on the health of natural systems and that myriad complex factors are involved in sustaining them."
An associate professor of biology who studies ecological and conservation genetics, Hamilton says the initial investment will be used to recruit prominent natural scientists.
Expanding Georgetown's science faculty has been a priority of Georgetown's capital campaign,For Generations to Come, since its public launch in October 2011. Additional support from other donors and university investment is expected to allow the initiative to expand across the spectrum of issues related to the environment on Georgetown's main, medical and law campuses, Hamilton adds.
Expanding Collaborations
Many of Georgetown's schools, centers and institutes have worked on environmental issues for years, but a focus on collaborations among faculty began in 2009, when environmental and sustainability studies were identified as a university-wide strategic priority.
Faculty members already doing advanced research on the environment include Timothy Beach, Georgetown's Cinco Hermanos Chair in Environment and International Affairs.
The geoscientist has taken students around the world to conduct field research on soil, water and agricultural systems.
"These new hires will be like a gravitational pull – bringing in new resources, new people, new interest," Beach says.
Diverse Interests
Laura Anderko is an associate professor in the School of Nursing & Health Studies who specializes in environmental health.
"This is what is unique about Georgetown – its focus on values and social justice," says Anderko, NHS' Robert and Kathleen Scanlon Chair in Values Based Health Care. "We weave that into our work in a continuum, from the initial science to studying health impacts on underrepresented populations all the way through to implementing the policy and facilitating community-based participation."
Students also contribute to the environmental efforts at Georgetown.
Eric Mooring (C'13), a government and environmental biology major, spent the past two summers studying saltwater marsh grasses off the mid-Atlantic Coast and will soon analyze his samples in Regents Hall.
"I came to Georgetown because I knew I wanted to study both government and biology, and the university welcomes and encourages diverse interests like that," Mooring said.
Already in Place
On campus, DeGioia has pledged to reduce greenhouse gas emissions at least 50 percent by the year 2020. Georgetown already has reduced its carbon footprint by almost 20 percent since 2006.
Several existing programs at Georgetown already conduct notable research and teaching in environmental and sustainability issues, including:
The environmental biology major in Georgetown College
The environmental law program, the Georgetown Climate Center and the Institute for Public Representation environment clinic at the Law Center
Research and coursework on the interactions between environment and health at Georgetown University Medical Center
The Science, Technology and International Affairs Program at the School of Foreign Service
The Center for Business and Public Policy at the McDonough School of Business, which offers a focus on energy and environmental policy
The Environmental and Regulatory Policy Program at the Georgetown Public Policy Institute
"By 2016, we expect the initiative to have made significant contributions to a broad range of topics in the study of the environment and educate future leaders in scholarship, policy and public action," Hamilton says.