Mikadze, a start-up co-founder who's led humanitarian relief efforts in her native Ukraine, will pursue an MBA to build her growing company while continuing to support the Ukrainian war effort.
This year's Knight-Hennessy Scholars program brings together 85 promising individuals from around the world and across various academic disciplines to pursue a fully funded graduate degree at Stanford. In addition to their studies, scholars participate in programming to prepare them to take on important leadership roles across academia, industry, government and beyond.
"In her dedication and initiative, as a student, a businesswoman and humanitarian, Salome represents the best of Georgetown; we couldn't be more proud of her well-deserved success," says Lauren Tuckley, the director of the Center for Research and Fellowships. "While her heart will remain in Ukraine, we know she will bring so much to Stanford, just as she brought so much to Georgetown."
Building a Startup in Ukraine
Mikadze co-founded her software and design startup, Movadex, during her first year at Georgetown. Her four years in the McDonough School of Business helped shape the company from an idea to a full-fledged creative software development agency with more than 40 employees today. 
She also visited start-up incubators like Georgetown's Red House to meet entrepreneurs and attended start-up challenges through McDonough to tighten her idea.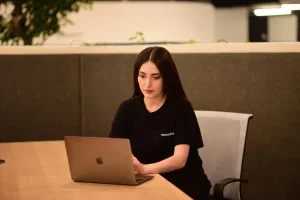 Mikadze, who spent two and a half years as an undergrad studying from Ukraine due to the COVID-19 pandemic and the war, said she applied her Georgetown studies to her company in real-time.
"Management classes prepared me for managing cross-functional teams. Accounting for managing the finances of the company. Communication classes for presenting our company and pitching to our clients," she said. "I wasn't even on campus to get such a profound impact from a Georgetown education and career that then translated into me building this company."  
For Mikadze, her experience living in wartime Ukraine while leading Movadex has profoundly shaped her career trajectory. Over the last year, she has helped support the Ukrainian war effort by coordinating supply chain logistics and assisting families with evacuation from war-torn areas through her company. She says her drive to be a leader and empower her community ultimately motivated her to apply for the Knight-Hennessy Scholars program. 
"Amidst the turmoil of war, my vision and purpose have been forever transformed," Mikadze said. "Applying to the Stanford MBA program while taking cover in a bomb shelter, I was certain that our team could create something that transcends borders, impacting communities across industries, countries and ages."
Since graduating, Mikadze has also given back to the Georgetown community and helped other aspiring entrepreneurs, serving as a judge and mentor in this year's Georgetown Entrepreneurship Challenge.
Getting Back to the Classroom
Mikadze hopes that her Stanford education will accelerate Movadex's growth and connect her with other aspiring leaders and changemakers from all over the world to further propel global change and continue building a platform for aiding refugees with Globi, the nonprofit arm of Movadex.
"I am eager to join a cohort of visionary classmates and continue growing both Movadex's business and social activities," Mikadze said. "Being a Knight-Hennessy Scholar to me is not only a once-in-a-lifetime opportunity but a profound responsibility."
Mikadze is eager to get back to a physical classroom after several years of remote learning from Ukraine.
"Having learned on the go during the pandemic and the war, I am excited to return to a classroom setting with a unique perspective and learn from everyone in the room," Mikadze said.