Category:

News, Veteran & Military-Connected Community
Title:

Truman Scholarship Winners Include Marine Corps Vet, Ordained Deacon
Date Published:
April 12, 2017
Marine Corps veteran Cristine Starke (SFS'18) and ordained deacon Daniel Wassim (SFS'18) receive the prestigious 2017 Truman Scholarship for their graduate studies and opportunities for programs to help prepare them for public service leadership careers.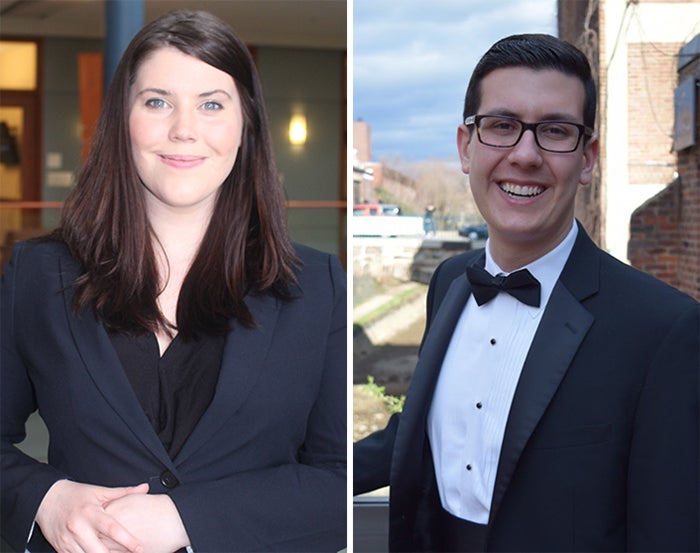 A Marine Corps veteran and an ordained deacon who are students in Georgetown's School of Foreign Service have been awarded the prestigious 2017 Truman Scholarship for their academic and public service achievements.
Cristine Starke (SFS'18), a veteran of Operation Enduring Freedom, and Daniel Wassim (SFS'18), an ordained deacon in the Presbyterian Church (USA), will each receive a $30,000 Truman Scholarship toward graduate school and opportunities to participate in professional development programs to help prepare them for public service leadership careers.
"It is terrific to see Cristine and Daniel recognized for their exemplary servant leadership in this way," said Georgetown President John J. DeGioia. "Our entire Georgetown community joins me in offering them our sincere appreciation and deepest congratulations."
International Development
Starke, a regional studies and comparative studies major from Portland, Oregon, will use her scholarship to pursue a master's degree in international development.
"I hope to marry [my graduate studies] and my security background with an intentional focus on gendered engagement in war and post-conflict zones," she says.
Starke transferred to Georgetown in fall 2015 after serving for five years in the Marines as an Arabic linguist.
The retired corporal attributes her academic focus to her combat deployment in the Horn of Africa, where she supported the African Union Mission in Somalia, saw the civil war break out in the Sudan as well as Ebola spread through the Western side of the continent.
Mediating Two Worlds
"All of these experiences, but primarily in support of our antiterrorism operations in Somalia, I was exposed to the inefficiencies of a post-conflict mission," says Starke, who serves as president of the Georgetown University Student Veterans Association (GUVSA). "I found as an Arabic linguist that not only were there miscommunications cross-culturally but cross agency as well as between the various U.S. agencies trying to improve the situation on the ground."
John Glavin, professor of English and director of the Georgetown Office of Fellowships, Awards, and Research (GOFAR), says Starke has made a significant contribution to the university by leading the GUSVA .
"The undisputed and popular leader of Georgetown's sizeable veteran population, Cristine mediates between two worlds," he says, "those who know perhaps too much and those who know perhaps too little of war, helping them to understand and value each other, helping to make a new and stronger America for all."
Pursing Equal Justice
Wassim, an international politics major minoring in French, plans to use his scholarship to pursue a law degree.
His internships with the U.S. Senate, Department of Justice and North Dakota Attorney General's Office have impressed upon him the ability of the law to provide a voice to the vulnerable, he says.
"As debates rage about the 'justness' of the legal system, I am confident that Georgetown has prepared me to become not only an analytical attorney," says the Bismarck, North Dakota native, "but also an attorney who is conscious of the law's impact on society, an attorney who will utilize the tools of law as a means of striving toward equal justice under the law."
The Defender
Wassim, who is interested in consumer protection and the enforcement of financial regulations, hopes to become a federal prosecutor after graduating from law school.
"While some might see financial crime as a problem too big to tackle or too complicated to grasp, Daniel sees an opportunity not only to combat them, but to engage everyday people in recognizing and defending their rights," Glavin says."Indeed, if there were one word for him, it would be 'defender,' a defender through his own strong faith of the faith and rights of others."
Wassim is involved with student government, serves as editor for the Georgetown Journal of International Affairs and is active in his church.
He also spent a semester working with a refugee resettlement nonprofit in France.
"Georgetown has pushed me … by teaching me to reflect on the world around me and to examine the structures of power that exist at every level of governance," Wassim says.