Title:

Top Country Songwriter Says GU Class Changed His Life
Date Published:
September 17, 2012
A Georgetown Graduate – Jim McCormick (C'90) – is making a name for himself in the country music business, co-writing country star Brantley Gilbert's song, "You Don't Know Her Like I Do," which topped Billboard's Hot Country Singles chart in July.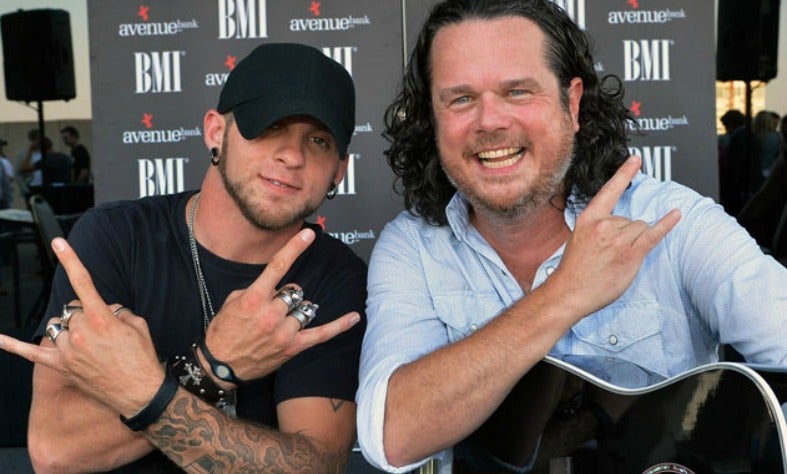 A Georgetown graduate – Jim McCormick (C'90) – is making a name for himself in the country music business, co-writing country star Brantley Gilbert's song, "You Don't Know Her Like I Do," which topped Billboard's Hot Country Singles chart in July.
"Brantley was going through a relationship with a woman and defending the continued pursuit of her to his buddies," explains McCormick, a native of New Orleans who now lives in that city and Nashville. "For me as a writer, it's about tapping into those feelings of that part of your life as it applies to the song you're writing and saying it in the most honest way you can."
According to Nielsen SoundScan, a music sales tracking system, the song sold 189,000 digital downloads during its first week on sale. Gilbert recently was nominated for the New Artist of the Year award in the 46th annual Country Music Association Awards, which airs Nov. 1 on ABC.
Major Country Stars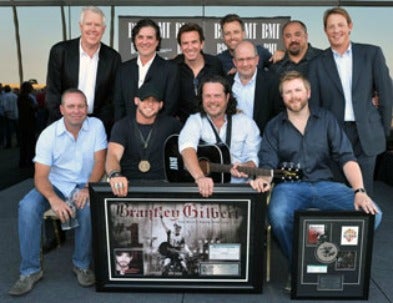 Georgetown alumnus Jim McCormick sits next to country music singer Brantley Gilbert, second from left, while posing with members of the record label, management and publishing teams who made the No. 1 song possible.
Gilbert isn't the only major country star McCormick has written with or for – Tim McGraw, Trisha Yearwood, Randy Travis and Jason Aldean, among others, have performed his songs.
The song McCormick wrote for Aldean – "Take a Little Ride" debuted the third week of July as the No. 1 iTunes song in all genres.
A singer who started a band at Jesuit High School in New Orleans as a teenager, McCormick began at Georgetown as a business major.
Life-Changing Class
His father, a member of the Merchant Marines, went into the steamship business after his son was born. Growing up with a nonmusical "businessman father," the younger McCormick intended to go into the field himself.
"I had one poetry workshop with [Georgetown professor] Roland Flint, and it changed my life," he says. "Roland conducted a workshop that was extraordinary. …It was really a place where I started to see how much I loved writing and thought I had a skill at it enough to develop. I switched my major to English."
Flint, who died in 2001, published nine poetry anthologies and served as poet laureate for the state of Maryland from 1995-2000. He attended graduate school with and maintained a long friendship with radio personality Garrison Keillor, who came to speak to Georgetown students in the early 1990s.
Sense of Right and Wrong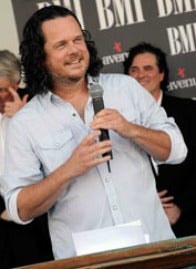 Jim McCormick says his Georgetown education opened his eyes to the literary world of poetry that he uses as the foundation of his songwriting.
McCormick decided to transfer to Georgetown from Loyola University in New Orleans after his freshman year. He wanted the challenge of a new city.
He also had seven high school classmates already at Georgetown.
"That transition made Georgetown very attractive to me, plus the caliber of the school," McCormick explains. "Having gone through a Jesuit education for six years of my life and feeling very satisfied about it, I wanted to continue to do that."
At Georgetown, he participated in three alternative spring breaks in Appalachia.
"I think a lot of my sense of right and wrong and a lot of the seriousness with which I take life,the perspective I have, is informed by the Jesuit tradition," he says.
"I like its rigor," he says of a Jesuit education. "I think it sets high standards on tradition, and I think some moral compass in a university setting is helpful. You can take them or leave them, but the Jesuits are there for you, and I think they have a great respect for free thinking."
Private Audience
McCormick said switching to the English department also "led to a series of great professors" that included Keith Fort, Norman Tilden, Dan Moshenberg, George O'Brien and Anthony Hecht. After Georgetown, the student went on to get an MFA in poetry from the University of New Orleans.
"I was a Lannan fellow [at Georgetown], and that was extraordinary," he says, "because once a month we had a very up close and private audience with a successful working, relevant poet, who would then give a reading at the Folger Shakespeare Library." He met poets such as Henry Taylor, Rita Dove, Lucille Clifton, Charles Simic and Carolyn Kaiser.
That tradition continues with the Lannan Center for Poetics and Social Practice, part of Georgetown's English department.
Readings this year include ones by novelist Dinaw Mengestu (C'00) and renowned poet Mark Strand.
Compelling Artist
McCormick is a poet in his own right. A frequent guest lecturer at music schools and conferences around the globe, he has had numerous poems and scholarly articles published in national academic journals.
The alumnus plans to visit Georgetown's Music Program Oct. 2 to talk with students in Seminar in Songwriting, a class taught by Bill Danoff (C'68). Danoff is best known for writing "Take Me Home, Country Roads," made popular by singer John Denver in the 1970s.
"The Music Program is delighted to welcome Jim McCormick back to the Hilltop," says Anthony DelDonna, associate professor of music and director of musicat Georgetown. "The opportunity for our students to work with and to learn from such an accomplished singer-songwriter is a tremendous asset to their education. The can also benefit from Jim's considerable insights about the music industry and how one can enter the entertainment field."
Today's Nashville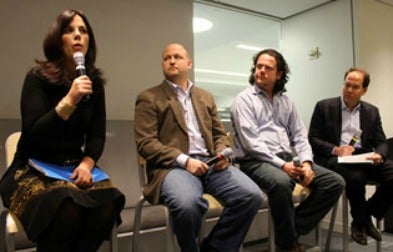 Georgetown alumnus Jim McCormick (C'90), second from right, listens as Liz Leahy (C'91) speaks during a panel discussion on intellectual property sponsored by the Georgetown Entertainment and Media Alliance last year.
Danoff says he's looking forward to McCormick coming to his class.
"In my seminar we listen to and discuss all genres of music, and I can't think of a better representative of today's Nashville than Jim," he says, "especially with his connection to the Hilltop."
McCormick's former high school and Georgetown classmate Bernie Cook (C'90) is now associate dean and director of the Film and Media Studies at Georgetown.
"Jim's success as a songwriter is built upon the foundation of his high school education by the Jesuits in New Orleans, his Georgetown English major, and his graduate study of poetry and creative writing," Cook says. "He has always been a compelling performer, leading bands both on campus and in New Orleans and releasing albums as a solo artist. Jim's evolution as a writer is informed both by his study of writing and by his life as a performer."
McCormick also has participated in events on content creation and intellectual property sponsored by the Georgetown Entertainment and Media Alliance (GEMA).
A Georgetown Band
The 2004 alumnus started a band at Georgetown called Johnny Zhviago and started writing songs with Eric Rigaud (C'90), now founder and creator of Buoyant Sound Agency.
Rigaud was the only other person McCormick wrote songs with from the age of 14 to 30 besides his New Orleans high school classmate Ed Conway.
"To say that now is really strange, because today I write a song with a different person or two different people every day of my work life," he says.
McCormick played classic rock songs and toured the country for years with Conway and his band The Bingemen. After the band broke up in the late 1990s, he got his MFA in poetry from and taught English at the University New Orleans.
For three years after that he edited a trade magazine, then made the leap to Nashville.
One of his friends, Kris Bergsnes, had told him "If you ever want to come to Nashville, call me. I think you would do well here."
For four years he went back and forth between New Orleans and Nashville and slept on Bergsnes' couch for two weeks a month for four years.
He finally got his first songwriting agreement with Generator Music and "wrote songs for everybody I could."
Poetry and Songwriting
"I fell in love with songwriting," he says. "I fell in love with it like I fell in love with poetry in Roland Flint's class. And for the first time in a long, long time, I was happy."
In 2006, he went to work at Warner Chappell, Warner's publishing company and then in 2009 to Chrysalis, which BMG bought and renamed BMG Chrysalis.
While he didn't grow up with country music, he came to understand why he enjoyed writing and listening to country songs.
"I think my love of literature predisposed me to a love of the best country music, which is very literary in nature," he explains. "Country music really appreciates a narrative, a metaphor, a heartfelt clever twist."
Persistence Counts
Of the thousands of songs he's written, about 100 have been recorded.
"If I'm hitting 10 percent, that's a great outcome," he says. "I tell young people that I don't want to hear anything until you write 100 songs. Most of those thousand I've written are pretty horrible.
"On most days, most of us are pretty average, but you've got to show up every day, because you don't know when lightning is going to strike."
Giving Back
Every summer, McCormick works with a New Orleans philanthropic organization called Positive Vibrations, which brings high school students to stay at Tulane University, with classes free of charge.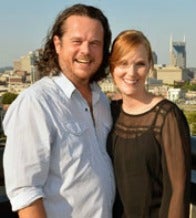 Jim McCormick and his wife, Jenirose Buss, have two sons. He says he enjoys raising the boys in the Catholic faith.
"I am one of the teachers who talks to them about songwriting," he explains. "We'll write a song and record the song and they'll have a final performance."
McCormick sees himself as a lyricist even though he plays guitar and a little piano.
"The thing about Nashville is that there are so many people who are so touched by God in their gifts musically, that I'm really short-changing myself if I'm the one trying to play the instruments in the co-writes when I've got these amazing players to work with."
Faith and Family
When he's not writing songs for some of the bigger country stars, McCormick enjoys spending time with his family. He and his wife, Jenirose Buss, have two young boys.
"If I had started a family earlier, I would have given up on trying to break into songwriting I think," he says of his touring days. "There's no way I would have taken myself away from my family as much as that requires."
He says he's enjoyed growing up Catholic and will raise his sons in the faith.
"I would be afraid to raise children in the absence of the Catholic faith," he explains. "I hope I raise them to be critical and to wrestle with it. But if I don't give it to them, there's nothing to wrestle with it. They won't decide to wrestle with it when they're 21 if they don't have it to start out with."