Georgetown has elected longtime business executive and philanthropist William J. Doyle (C'72) – who funded the university's innovative tolerance and diversity initiative – as its new board of directors chair.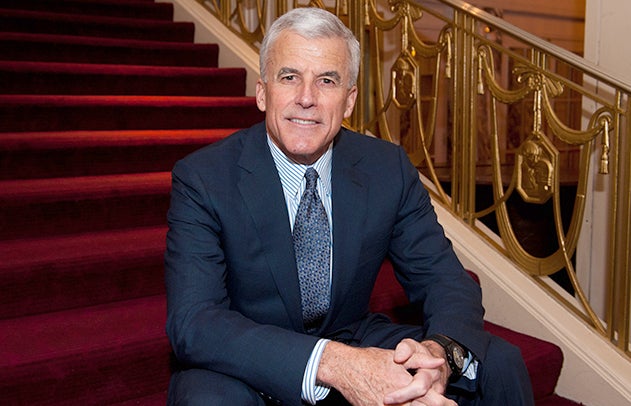 Doyle, senior advisor and former president and CEO of Potash Corporation – the world's largest fertilizer enterprise, succeeds former NFL commissioner Paul Tagliabue (C'62) as board chair on July 1. He is currently a vice-chair on the board, where he has served for the past seven years.
His appointment as chair took place at the board of directors' June meeting.
"We are pleased to welcome Bill as our incoming chair of Georgetown's board of directors," says Georgetown President John J. DeGioia. "Bill brings a wealth of experience and a gift for strategic thinking to the role of chair – he is an energetic and persuasive advocate for our university, and I look forward to continuing to work with him to advance our university's priorities in the years to come.
Harvard Business Review recognized Doyle as the 10th ranked CEO in the world in 2014.
Steady Contributors
The one-time government major and his wife, Kathy, have been steady contributors to Georgetown. Aside from serving on the board, Doyle has led Georgetown's capital campaign and with his wife donated $10 million to create the university's Doyle Engaging Difference Initiative.
Established in 2009 as a campus-wide collaboration among Georgetown College, the Berkley Center for Religion, Peace and World Affairs and the Center for New Designs in Learning and Scholarship, the initiative is aimed at deepening the university's own commitment to tolerance and diversity and enhancing global awareness.
Since the program launched, nearly 2,200 students have taken 90 courses taught byDoyle Faculty Fellows from 28 different departments. A total of 328 students have participated in theJunior Year Abroad Network, and nearly 300 students have engaged in faculty-supported research projects through more than 28 Doyle Seminars.
Jesuit Principles
"The Doyle Initiative is just part of what I think Georgetown stands for," the new board chair says. "When I came up with the idea I said there's only one place in the world that I know of that could teach people to confront their prejudices. We all have them. … To be able to teach people to learn about themselves in that way, you make a more whole person.
"We talk about cura personalis (care of the whole person) as a fundamental Jesuit principle, and Georgetown ascribes to that."
The veteran business leader retired as president and CEO of Potash Corporation last year and remains involved with several other boards, including the College Board of Advisors at Georgetown, The Executives' Club of Chicago and the Big Shoulders Fund.
A Great Honor
He describes his new appointment as "a very humbling experience and very great honor."
"As chair of the capital campaign, one thing for sure I've learned is … we have to really engage our alumni, our parents and our friends to support us like never before," he says. "We need them to really understand that great philanthropy and a global university go hand in hand."
Through his own Georgetown education and success as a businessman, husband and father of three – including son Ryan (C'06) – Bill Doyle believes humility is a healthy attribute for anyone in a leadership position.
"We're searching for preeminence, but we also need to realize that there's a lot that we can do better and bring a certain amount of humility to every task," he says. "Don't take yourself too seriously and have a good sense of humor and work like crazy to accomplish what you're trying to do."