Whether you're an incoming first year or starting your last year at Georgetown, there is a never-ending list of activities in Georgetown and the rest of Washington, DC, you must do before you graduate. There is never a dull moment when you're living on the Hilltop. 

Without further adieu, the ultimate Georgetown bucket list: 
1. Sunrise Walk/Run at the Monuments: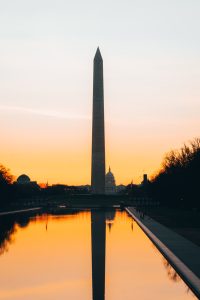 Whether you're a runner or not, you can't graduate from Georgetown without exploring the monuments. Go when there aren't too many people around—ideally early in the morning or late at night — and wander around the monuments and Capitol Hill. If your last time at the monuments was your eighth grade D.C. trip, make sure you get over there while you're at Georgetown. Sometimes it's tough to leave our Georgetown bubble, but in just a 20-minute walk, you can explore the epicenter of the nation's capital.
2. The Tombs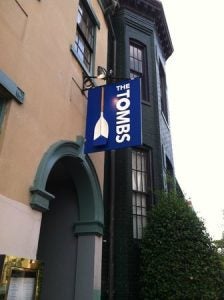 Georgetown is not Georgetown without our historic restaurant bar, The Tombs. If you're not yet 21, head to the tombs with some friends for dinner. Serving comforting American food and a great vibe, The Tombs is the most iconic Georgetown spot. As per Georgetown tradition, go to Tombs on your 21st birthday, get your forehead stamped and enjoy many free drinks. With trivia on Tuesday and a lively bar scene during the weekends, most Georgetown students will go to The Tombs dozens of times by the time they graduate, but if you haven't made it there yet, make sure you go ASAP!
3. The Exorcist Steps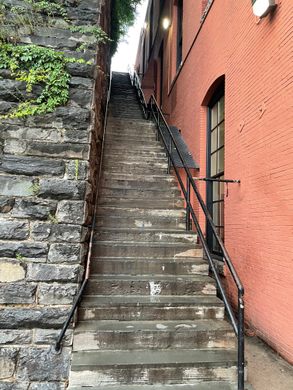 Another very famous Georgetown spot, the Exorcist Steps are the severely steep stairs next to Car Barn on Prospect Street that are featured in the movie The Exorcist. Although walking the Exorcist Steps might be the least enjoyable activity on the list, it is crucial you both see and walk the stairs, presumably numerous times, by the time you graduate. 
4. Experience Georgetown Day 
Georgetown Day is a full day of celebrating Georgetown. Get dressed in your best blue and gray and spend the day full of Georgetown pride with your fellow Hoyas. For Georgetown students, it's the most important day of the year!
5. Attend an Event at Gaston Hall 
Georgetown hosts a variety of great speakers at Gaston Hall. From prominent politicians to established authors, movie stars and comedians, Gaston Hall has hosted plenty of fantastic speakers. The ThisWeek@Georgetown newsletter is a great way to keep track of events happening at Gaston Hall or elsewhere on campus, so you don't miss a really cool opportunity! 
There are far too many bucket-list status activities and events, but those are my top five. As I'm starting my senior year, I am definitely taking advantage of every opportunity and everything Georgetown and DC has to offer. The years go by fast, so make sure you're having fun!
Hoya Saxa,
Ava