Category:

News, Veteran & Military-Connected Community
Title:

Slight Decrease in Unemployment for College Graduates
Date Published:
May 29, 2013
The overall unemployment rate for recent college graduates declined 1 percent over the past year, according to a Center on Education and the Workforce study released today.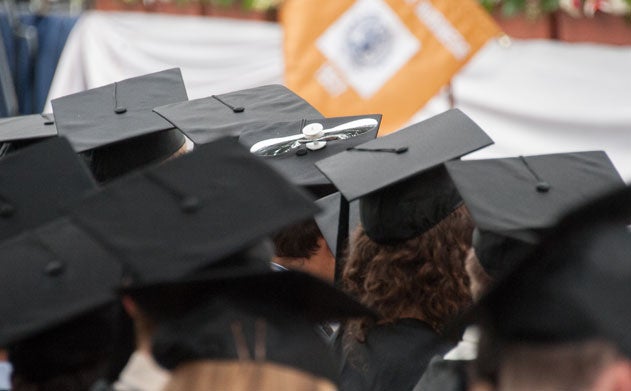 MAY 29, 2013THE OVERALL UNEMPLOYMENT RATEfor recent college graduates (ages 22 to 26) declined from 8.9 percent in 2012 to 7.9 percent in 2013, according to a Georgetown study released today.
This year'sannual report by the university's Center on Education and the Workforce (CEW), "Hard Times, College Majors, Unemployment and Earnings 2013: Not All College Degrees are Created Equal," notes that while a college education is still an advantage in today's economy, recent college graduates still suffer from a high unemployment rate in the short term.
"There are substantial differences by major," says Anthony Carnevale, CEW's research professor and director. "In some cases the rates for the near-term unemployed are fairly high … [such as] psychology, where it's more than 8 percent."
CEW is part of the Georgetown Public Policy Institute.
HIGH EMPLOYMENT FOR NURSES
Recent information systems graduates have the highest rate of unemployment at 14.7 (up from 11.7 percent last year), according to the report, while nursing majors were the lowest at 4.8 (up from 4 percent in 2012).
Computer science majors who are recent graduates have an 8.7 percent unemployment rate compared with last year's 7.8 percent.
Other fields with low unemployment rates for recent graduates are education (5 percent) and engineering (7 percent). Last year, the recent education major's rate was 5.4 percent, with engineering down from 7.5 percent in 2012.
UNEQUAL DEGREES
"Hard times could still be ahead for the current college students about to select a major," the study explains. "This report reconfirms a harsh reality: not all college degrees are created equal."
Median earnings among recent college graduates range from $54,000 (down slightly from $55,000 last year) for engineering majors, to $30,000 for those who majored in the arts, psychology and social work, and life and physical sciences.
Recent architecture majors have a slightly lower unemployment rate (12.8 percent) than last year, (13.9 percent).
EFFECTS OF RECESSION
Carnevale said the rate remains high because of the recession and housing slowdown that began in 2007.
"[This] has caused particularly high unemployment among two very highly educated majors – architecture and civil engineers," Carnevale says. "[That] will probably [continue]… until we get a recovery in construction and housing which is probably around 2017, 2016 …"
Art majors may have a slightly better chance of getting jobs this year – unemployment for recent graduates was 11.1 percent in 2012 and 9.8 percent in 2013.
But the rate for humanities and arts went up, from 9.4 last year to 9.8 this year, with law and public policy majors unemployment rate rising from 8.1 percent in 2012 to 9.2 in 2013.
EXPERIENCED WORKERS FARE BETTER
Carnevale notes the long-term rates for college graduates are much better across the board for experienced workers (ages 30 to 54) at between 4.6 and 4.7 percent.
The study also found that job seekers with graduate degrees in hand usually fared better at gaining employment.
The overall unemployment rate for people with graduate degrees ranges from 2.3 percent for those who studied agriculture and natural resources to a high of 6.9 percent for those with advanced architecture degrees.
POWER OF GRADUATE DEGREES
The CEW study found that job seekers with graduate degrees averaged salaries of $60,000 and $101,000 per year, with the exception of arts and education majors.
"Graduate degrees are pretty powerful in reducing unemployment and increasing earnings," Carnevale says.
He says that during the recession and now as the economy is beginning to show signs of recovery, the demand for jobs for people with graduate degrees continues to grow very slowly.
The complete report can be found on theCEW website.