Title:

SFS Board Establishes Graduate Scholarship to Honor Dean Carol Lancaster
Date Published:
May 14, 2014
A new Global Human Development scholarship will honor Carol Lancaster, dean emerita of the School of Foreign Service (SFS) and a longtime faculty member.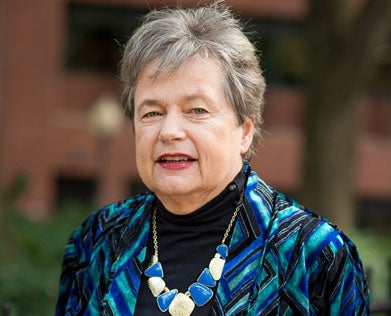 A scholarship that will go to students in the SFS's Global Human Development master's degree program will be named after Carol Lancaster, dean emerita of the School of Foreign Service.
A Global Human Development scholarship to honor Carol Lancaster, dean emerita of the School of Foreign Service (SFS) and a longtime faculty member has been created by the school's board of visitors.
The board's initial commitment of more than $100,000 will allow the first scholarship to go to a student entering SFS's Global Human Development master's degree program in the fall 2014 semester.
Steven P. Buffone (SFS'80), the board member who spearheaded the fundraising effort, said the board voted unanimously to create the Carol Lancaster Scholarship at their April meeting.
Spectacular Leadership
"We were looking to honor Carol for her spectacular leadership as dean, her scholarly accomplishments and her decades of service as a professor," Buffone said.
Lancaster, a 1964 SFS alumna, is a widely recognized scholar in the fields of foreign policy, foreign aid and development. She joined the SFS faculty as a research professor in 1981 after a distinguished career in government, including as deputy assistant secretary of state for Africa.
She also served as deputy administrator of USAID, a presidential appointment, from 1993 until 1996, when she returned to the Georgetown faculty.
Cherished and Respected
Before being named SFS dean in 2010, Lancaster held several significant positions at SFS in addition to her teaching and research responsibilities. She was director of the African Studies Department and director of the Mortara Center for International Studies, which brings together scholars and foreign affairs practitioners. She also directed the school's master's in foreign service degree program at one time.
"The School of Foreign Service Board of Visitors is delighted to establish this scholarship in honor of our wonderful Dean Carol Lancaster. Carol has made break-through accomplishments as our dean. She is highly cherished and respected by the GU entire community," said Paul F. Pelosi (SFS'62). "It is no surprise it only took one week for the board to fund this scholarship."
Under her leadership as dean, SFS launched two new master's programs, Global Human Development and Asian Studies, as well as the Georgetown Institute for Women, Peace and Security.
New and Innovative
"The Global Human Development program is something completely new and innovative in the field," Buffone said. "It was Carol's pride and joy. The board hopes that supporting a young scholar in the program will be meaningful for Carol."
The field of global human development is focused on reducing global poverty and increasing opportunities for societies to develop their full potential.
The master's degree program, which began in 2012, educates practitioners for the field. In addition to academic requirements, students have summer projects that offer practical experiences. This summer global human development students are working in organizations in more than 20 countries.
First Lancaster Scholar
Providing support for students while at Georgetown and during their summer practicum was among Lancaster's top priorities as dean. "Carol has been a champion of her students and of human development. There could be no better way of honoring her than to create this scholarship," said James Reardon-Anderson, acting SFS dean.
The first Lancaster Scholar is Natalia Leigh from the United Kingdom. A 2008 graduate of the University of Warwick in Coventry, England, Leigh is the Programme Development Coordinator at War Child, a group of international organizations working to help children affected by war. She also spent five years working with Save the Children in India, Afghanistan and the United Kingdom.
The SFS $100,000 raised by the board of visitors will support the scholarship for two years, during which time the board will work toward permanently endowing the scholarship.