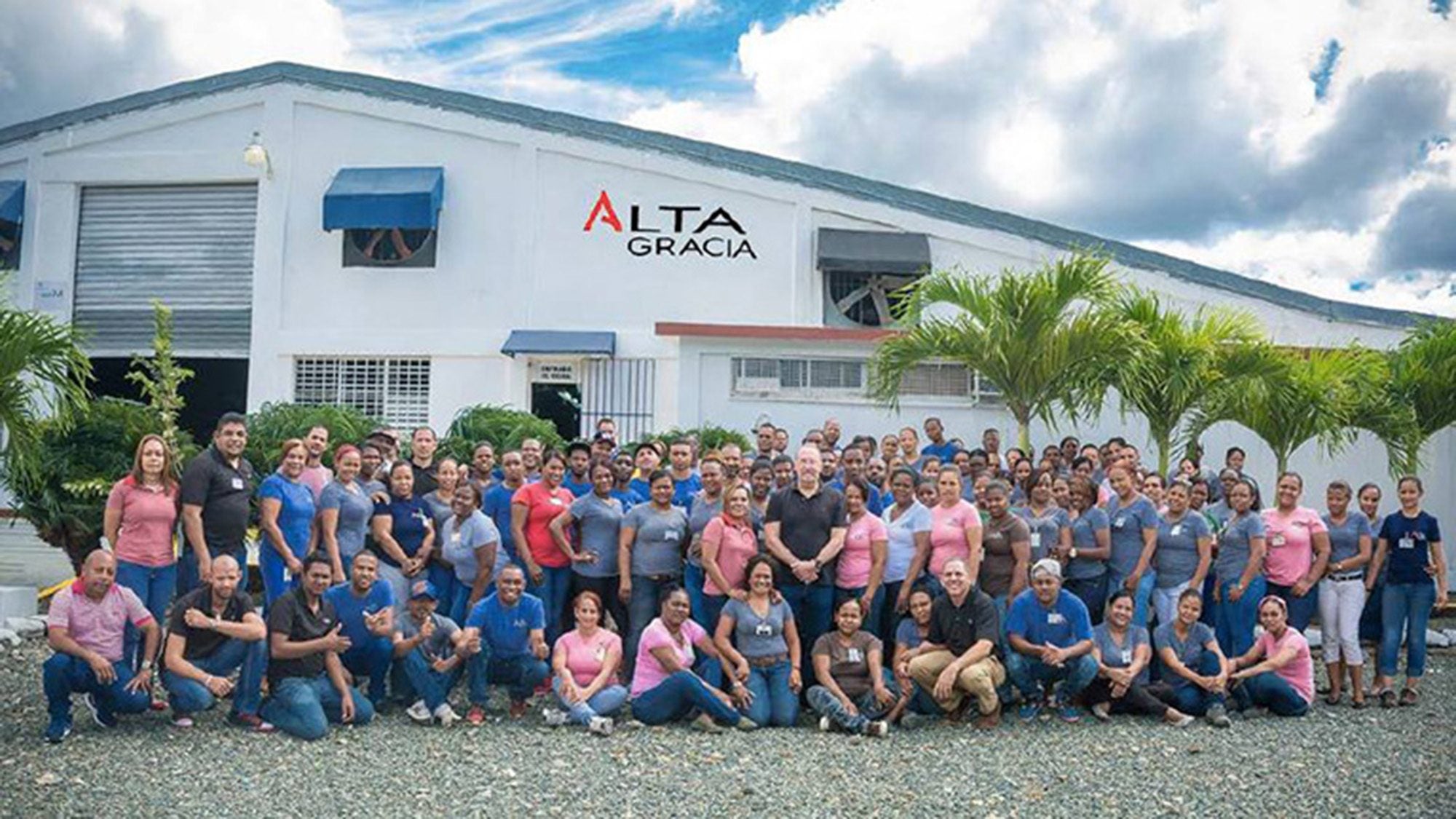 Category:

Discovery & Impact
Title:

Sewing Hope: Living Wage Apparel Factory a Lesson for Larger Companies
Date Published:
October 23, 2017
A new book co-authored by international affairs professor John Kline says large apparel firms should take a lesson from Alta Gracia, a Dominican Republic factory that provides safe conditions and a living wage. Sewing Hope: How One Factory Challenges the Apparel Industry's Sweatshops shows how adding just 90 cents to a sweatshirt's production price can change workers' lives. Alta Gracia's living wage has allowed workers to pay for life-saving operations and has reunited families, paid for school uniforms and allowed workers to obtain first-ever bank loans.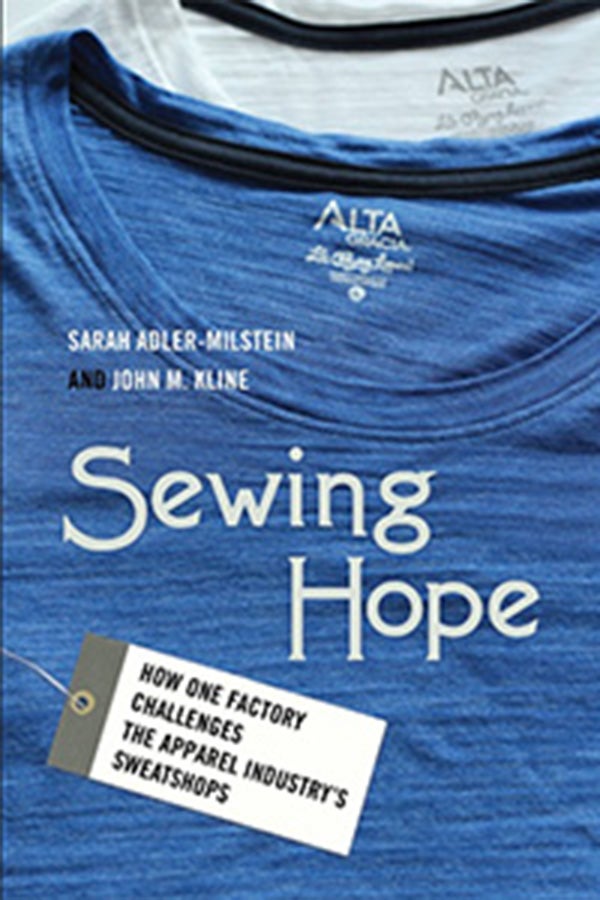 Large apparel firms should take a lesson from Alta Gracia, a Dominican Republic factory that provides safe conditions and a living wage, Georgetown international affairs professor John Kline writes in his new book.
Sewing Hope: How One Factory Challenges the Apparel Industry's Sweatshops (University of California Press, 2017) by Kline and Sarah Adler-Milstein, a former Worker Rights Consortium (WRC) field director, explores the history and future of the factory.
Kline and McDonough School of Business professor Edward Soule, both members of Georgetown's Licensing Oversight Committee, have researched the factory from its beginnings in 2010, with the last of three academic reports coming out in 2014.
Making the Difference
While Kline's past reporting on the factory has been a purely academic venture, the book is a call to larger apparel companies to reform their operations to bring them up to the Alta Gracia standard.
"The real issue is not replication with many more startups," Kline explains. "That won't make the difference. The difference will be if you can show that this model can be adopted by existing firms, big firms that will make the difference for many more workers."
He says if a company such as Alta Gracia, which faced numerous obstacles in its short history and employs only 140 workers, can manage this, large apparel companies can do so much more easily.
"I want to disabuse people of the notion that there is some economic inevitability about having these kinds of poor conditions for workers," the professor says.
Book Launch Event
Kline will take part in an Oct. 24 book launch event at Georgetown's Alumni House that includes Donnie Hodge, Alta Gracia's current CEO and owner. The Landegger Program in International Business Diplomacy, which hosts the Alta Gracia Research Project, and the Kalmanovitz Initiative for Labor and the Working Poor are sponsoring the event. Kline is a former director of the Landegger program.
"We are pleased with the continued interest in Alta Gracia by the university community and we are humbled that Professor Kline and Ms. Adler-Milstein have given additional insight into the difference we make in people's lives with their new book," Hodge says. "The continued race to the bottom in regard to worker pay and treatment is not sustainable and has troubling societal implications."
Knights Apparel, the factory's original owner, was sold in 2015 to the Hanes Corporation, but without Alta Gracia.
The factory survived in part because Hodge, formerly president and COO of Knights, agreed to lead its transition. He also invested more of his own money into the venture.
University Support
Georgetown has supported Alta Gracia in numerous ways, including having the company make T-shirts for its New Student Orientation for the past four years.
The project is in keeping with Georgetown's long commitment to worker rights, as a founding affiliate of WRC – which launched in 2000 – and with the establishment of its Licensing Oversight Committee (LOC) the same year.
The university recently facilitated the establishment of a new protocol between Nike, Inc., and the Worker Rights Consortium (WRC) that will provide the WRC with access to Nike supplier factories that manufacture collegiate products to investigate working conditions.
Georgetown also supported research on the Alta Gracia factory with a complex moral problems grant under its Engaged Ethics Initiative.
Full of Hope
The professor says the factory has been a good educational research opportunity, with several Georgetown students assisting him in the work.
Isabelle Teare (C'18), a justice and peace studies major from the U.S. Virgin Islands, is creating a documentary on Alta Gracia for her senior thesis.
"It means a lot to participate in something that's positive and full of hope and opportunity because so much of what I learn about in class is really sad," says Teare, who has served as an LOC member. "It's tough to wrap your head around how you're going to make a change, and it's really nice to be a part of something that is so obviously doing that."
Hopeful Step Forward
Kline says what began as a research project has become something more personal. "I went into this project almost eight years ago as an objective academic observer," Kline says. "But I want that factory to succeed – because it is a hopeful step forward. And you don't hear about much that links hope and sweatshops. All you hear about is the factory fires, and the building collapses and horrible work conditions."
"So I thought there is a story to be told and while it can be told in a few academic writings in a university, it really needed a much broader audience."