Daniela Fernandez's (C'16) leadership of a major movement for sustainable oceans has landed her among Glamour magazine's top 10 College Women of the Year and led to her receipt of the 2016 Christopher Benchley Youth Award.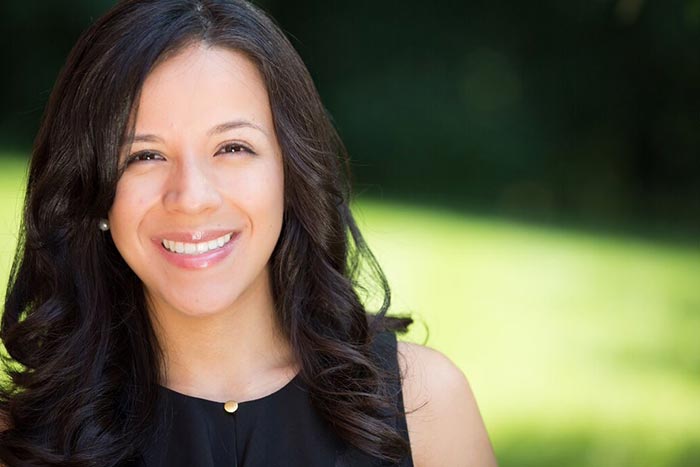 Daniela Fernandez's (C'17) leadership of a major movement for sustainable oceans has landed her among Glamour magazine's top 10 College Women of the Year and led to her receipt of the this year'sChristopher Benchley Youth Award.
Fernandez found out on her birthday this past January that she would be featured with nine other outstanding college women in Glamour's May issue, which hits newsstands tomorrow.
The magazine recognized the Georgetown economics and government major for her work as chair and founder of the Georgetown Sustainable Oceans Alliance (SOA), which is designed to educate and empower the Georgetown community to support and make a difference in ocean sustainability.
The international Benchley award, known as the "Academy Awards for the ocean," acknowledges outstanding achievement across multiple sectors of society leading to the protection of oceans and coasts and their associated communities.
Past winners have included four heads of state, U.S. secretaries of state and defense, senators, leading marine scientists, journalists, explorers, youth leaders and citizen activists.
Role of Oceans
SOA is the first student-led organization of its kind in the country.
"It all clicked for me one day, the important role that oceans have for the whole climate cycle and environmental changes," says Fernandez, who emigrated from Ecuador at the age of 6.
The Glamour recognition will provide $3,000 and a meeting with a mentor when she travels to New York for the April 27 awards ceremony.
Founded in 2014, SOA has its roots in Maria Devaney (C'90) inviting Fernandez – then a freshman – to attend United Nations meeting on ocean sustainability.
"There, I learned that fishers' stock could be gone by the year 2050, and I learned how ocean warming is affecting coral reefs and animal extinction," Fernandez says.
Determining Solutions
Soon after the U.N. visit, she founded SOA as a platform to bring together multiple universities and sustainability experts to work on the environmental issue.
Since then she has led two gatherings of the Sustainable Oceans Summit with representatives from more than 30 colleges and universities participating in learning about ocean sustainability from leaders in government, science, business and policy.
"With the second summit, the focus shifted from identifying the problems to determining solutions," she says. "We wanted to expose our generation to all the different paths and possibilities to make a difference."
Intellectual Gifts
Andria Wisler, executive director of Georgetown's Center for Social Justice, Research, Teaching and Service, says Fernandez is "inspired and inspiring."
"Daniela is an excellent model for how to turn one's passion into a social justice commitment – to simultaneously love what you do and fight for what you believe in," says Wisler, who nominated Fernandez for the Glamour recognition. "She has generously applied all of her intellectual gifts to educate the Georgetown community and the world about sustainable oceans and matches this with a creative capacity to effectively advocate in challenging political contexts."
Fernandez also sits on Georgetown's Board of Governors' Licensing and Oversight Committee's Environmental Committee and is a student leader in the Georgetown Global Social Enterprise Initiative.
The senior says she plans to remain involved with the sustainable oceans movement after graduating from Georgetown in May, but in more of a business and finance capacity.
"I'm going to be immersing myself in finance, particularly impact investing – helping to create products that come from sustainable companies, concentrating on eco-friendly stocks and bonds," she says.
Jesuit Influence
Looking back, Fernandez says none of her accomplishments would have come to fruition had it not been for the support of the Georgetown community andJesuit education.
"When I came to Georgetown, I looked for ways to make an impact beyond the gates," she says. "I wanted to do something to help other people. I definitely think that being women and men for others played a large role in what I wanted to do while I was at Georgetown."
The Glamour recognition puts Fernandez in the company of other outstanding Georgetown alumna honored as College Women of the Year – including Kay Lauren Miller (C'06), Pamela Nwaoko (C'10) and Kendall Ciesemier (C'15).
"I'm very much looking forward to the awards ceremony and being able to share my passion and the work I've been doing with thousands of young girls that will be reading the magazine," Fernandez says, "… showing them that this was just an idea I had in the back of my head while riding the train, creating this platform that became this huge movement."