Nearly 1,800 graduating seniors gathered in McDonough Arena today for Senior Convocation, which kicks off Georgetown's 2016 Commencement Weekend.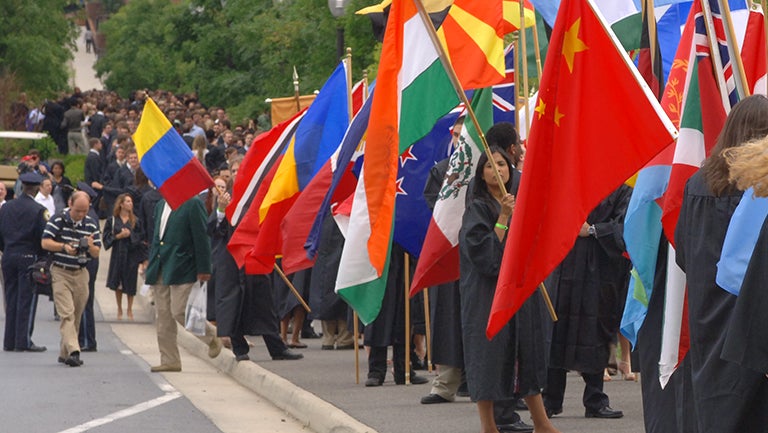 May 19, 2016 – Georgetown's 2016 Commencement Weekend began today with nearly 1,800 students and their families gathering in McDonough Arena for Senior Convocation.
Maher Bitar (SFS '06, L'12), deputy to U.S. Permanent Representative to the United Nations Samantha Power, served as the main speaker for the event, which marked the last time the students gathered as the full Class of 2016.
Bitar, a first-generation Palestinian-American, told the Class of 2016 that he hoped to "plant a seed with all of you as you take your first steps into what feels like uncharted territory," and encouraged them to pursue public service.
Preserve Humility
"I want to make a case for and demystify government service, particularly for those of you from underrepresented communities, for those of you who might feel conflicted about or even disagree with American policy and want to change it …" Bitar said.
He said it is "imperative that the federal government, with a focus on our foreign policy and national security workforce, truly reflect our country and all its diversity," noting that graduates from universities such as Georgetown were greatly needed.
"Preserve a deep sense of humility and perspective," he concluded, "As you walk outside these doors today, remember that your degree and the credentials you will accumulate – they don't define you and they should not define others. What will forever define you is how you treat others and what you decide to do with the immense privilege granted to you today…"
A Border Experience
The seniors also heard reflections from two classmates, Grace M. May (C'16) and Matthew C. Quallen (SFS'16).
May talked about her experience this past summer staying at a Tucson migrant shelter. She hiked along migrant trails with a volunteer organization, leaving jugs of water in the desert for those making the attempt to enter the United States.
An unaccompanied minor who had crossed over by himself ended up down the hall from her, told her he had run out of water in the desert and survived because of similar jugs left in his path.
"Suddenly, the stranger who I had struggled to imagine while in the desert was sitting in front of me on the couch of my living room," said May, who won one of the nation's prestigious Harry S. Truman Scholarships while at Georgetown.
Moral Imagination
"Every day we make judgments about who matters – whose lives matter, who deserves a face, a name, a story," May said. "We decide who is worthy of our tears and whose children deserve clean water."
"We draw these invisible circles around ourselves, around our families, our churches, our teams," she added. "And those decisions, in our personal lives and in our politics, mean something."
"… Moral imagination means believing that children should not die in a dessert, and then having the courage to take action."
Living With Difference
Quallen, a Marshall Scholarship winner, talked about the 1838 sale of 272 slaves that supported the university.
"People, even places like Georgetown, contain good and bad," he said. "Be compassionate."
"The way in which we will learn to resonate with one another will not be by crafting one single narrative," the senior explained."It will happen when we understand that in a world as complex and shattered as our own, we each have something to say.And we learn to live with the difference."
Cherishing Achievements
This year's senior class of 1,779 represents 48 states and 65 other nations.
Together, they have won numerous competitive graduate fellowships, including 15 Fulbrights, the largest number in Georgetown history, 13 Gilman International Scholarships, six Critical Language Scholarships, six Princeton Fellowships, two Presidential Fellowships, a Marshall Scholarship, a Schwarzman Scholarship, an Allbritton Scholarship, a Middle East and North Africa Regional Fellowship, a Truman Scholarship and a Pickering Fellowship.
Before the end of the ceremony, the Class of 2016 presented the university with a $151,800 gift, which will fund six scholarships at Georgetown.
"Today we celebrate this journey you've made," President John J. DeGioia told the graduating class,"and the one on which you're about to embark.This is an extraordinary moment in your lives – there is nothing else quite like it."
"I encourage you to cherish it," he added. "Cherish those around you in this room to reflect on all that you have achieved together."