Title:

Secretary Kerry Explores Ocean Protection at Georgetown Conference
Date Published:
September 16, 2016
U.S Secretary of State John Kerry speaks during a Georgetown conference for environmental leaders, faculty and students focusing on leadership strategies to fight threats to the world's oceans.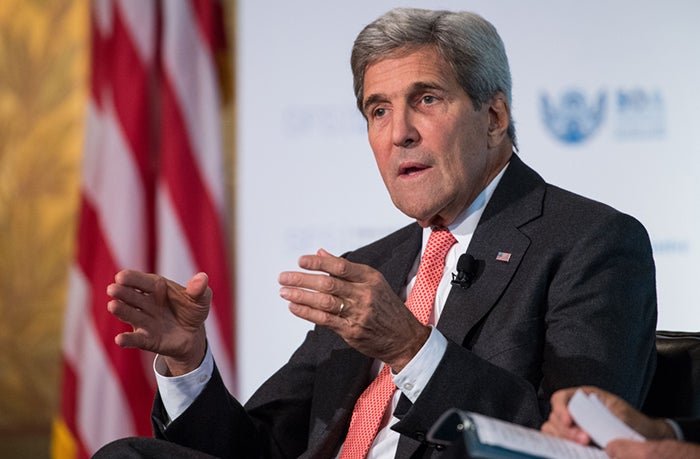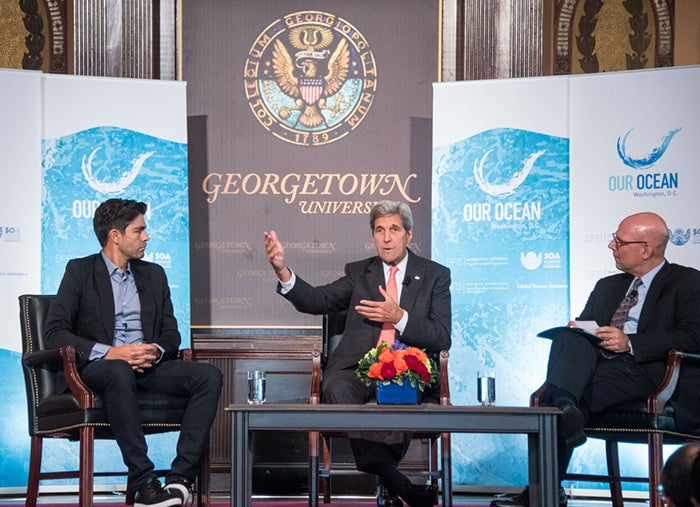 U.S. Secretary of State John Kerry, center, and actor and advocate Adrian Grenier, far left, discuss our world's oceans with School of Foreign Service Dean Joel Hellman in Gaston Hall.
– Understanding the importance of the world's oceans is key to ensuring the security of the planet's waterways, ecosystems and food chain, U.S Secretary of State John Kerry said during Georgetown's Our Ocean, One Future Leadership Summit.
Sponsored by Georgetown's School of Foreign Service (SFS), the U.S. Department of State and the Sustainable Oceans Alliance, the two-day summit aimed to engage the next generation of political leaders, entrepreneurs, scientists and civil society.
The summit was a parallel event to the 2016 Our Ocean Conference, which also took place Thursday and Friday at the U.S. State Department.President Obama announced the creation of a new marine reserve in the Atlantic on Thursday during the State Department event.
At Georgetown, Kerry spoke with actor and activist Adrian Grenier during its two-day conference, which was designed for environmental leaders, faculty and students interested in leadership strategies to fight threats to oceans around the world.
There has always been a "clear inescapable" link between climate change and oceans, Kerry said during the discussion, moderated by Georgetown School of Foreign Service Dean Joel Hellman in Gaston Hall.
"We have almost 50 percent of the planet dependent on food from the ocean," Kerry said. "We have 12 percent of the world's workforce [that] depends on the oceans for their livelihood."
He pointed to the criminal activity such as human trafficking, narcotics trafficking and gun running – on the waterways as a cause of carbon emissions polluting ocean water and increasing the melting of ice in the arctic.
Pollution as well as illegal, unregulated, unreported fishing strips the oceans and threatens to destroy entire ecosystems, he explained.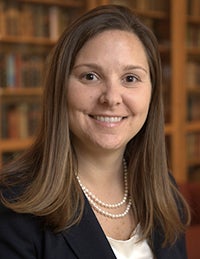 Joanna Lewis
"Caring about the oceans and understanding the connections to the oceans and what we do to cause pollution," is crucial, he said.
The discussion followed a panel on international action to protect oceans featuring world leaders Isabella Lövin, deputy prime minister and minister for International development cooperation and climate of Sweden; Susana Malcorra, minister of foreign affairs and worship of Argentina; and Segolene Royal, president of the COP 21 and minister for environment, energy and marine affairs of France
A group of 150 students were competitively selected to participate in the Georgetown summit alongside high-level activists and thought leaders highlighting the challenges of and solutions for healthy oceans.
"This conference is extremely important because the oceans are impacted by almost every global environmental issue, from fisheries to climate change," said Georgetown professor Joanna Lewis, who presented a Thursday conference breakout session on "Science, Research, the University and Problem Solving."
Lewis, associate professor of science, technology and international affairs (STIA) program, is author of Green Innovation in China: China's Wind Power Industry and the Global Transition to a Low-Carbon Economy (Columbia University Press, 2012). Her research focuses on energy, environment and innovation in China – including renewable energy industry development and climate change policy.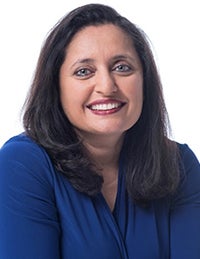 Sonal Shah
"I hope the conference will raise awareness across college campuses and promote policy action to protect our oceans," said Lewis, before the summit.
She shared how her early study of marine biology and ecology inspired her research interests in environmental issues at the event.
Other Georgetown faculty members who joined the long list of summit speakers included Sonal Shah, professor of practice and executive director of the university's Beeck Center for Social Impact and Innovation, and Monica Medina, STIA adjunct professor and deputy director of the environment program at the Walton Family Foundation.
Shah said she hopes the summit provided participants opportunities to discuss the importance of healthy oceans and how human activity affects them as well as inspired practical solutions.
"The health of our oceans and our planet overall is one of the most critical challenges of our time," said Shah, who led a Thursday breakout session on the roles colleges and universities play in shaping a new generation of leaders. "Building the next generation of leaders who have the courage and experience in solving this critical problem is an important mechanism for catalyzing transformative change."