The university's program for low-income, and often first-generation students has been identified as a model for other universities.
The Georgetown Scholarship Program, which helps talented, low-income, often first-generation students thrive at the university, has a high graduation rate and has been recognized in a forthcoming longitudinal study as a model for other universities.
Last year, high-achieving, first-generation student Ebony McKeever (C'17) of San Francisco was anxious because she had yet to find a summer job and really needed one.
Instead of panicking, she headed over to the offices of the Georgetown Scholarship Program (GSP), created in 2004 to help talented, low-income, often first-generation students thrive at the university.
"(Former GSP assistant director) Alejandra Martinez sat with me for over an hour," explains McKeever, who will graduate on May 20 with a degree in psychology. "She discussed my passions and offered employment opportunities, even walking me to an office … to meet potential employers."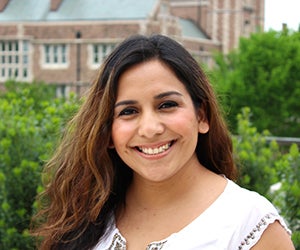 "I remember the afternoon when Ebony came in stressed because she hadn't yet finalized her summer work plans," recalls Martinez, who is now pursuing a master's degree in clinical mental health at the Washington University in St. Louis. "I asked her a few questions, hoping to learn more about her interest and how I might help and she blew me out of the water within minutes."
All-Star Student
"Ebony is without a doubt an all-star – intelligent, amazingly kind and compassionate and dedicated in all that she sets her mind to," Martinez adds. "I'm thrilled to learn she'll be continuing in the tradition of paying it forward."
This kind of attention to students is part of why GSP participants have a 96.4 percent graduation rate, unheard of among such rates for first-generation and low-income students.
It's also why the program has been identified as a model for other universities in a forthcoming longitudinal study in which Georgetown, Harvard, Duke and Brown universities participated.
According to the U.S. Department of Education, more than 40 percent of first-time, full-time students enrolled in a bachelor's degree program don't graduate within six years.
Global Leader
The first of its kind in the nation and mostly supported through philanthropy, GSP gives students access to an alumni network, career assistance, mentoring programs and numerous activities, as well as emergency funds for necessities such as groceries during college breaks or medical bill coverage.
There is now a total of about 650 students in the program and more than 900 graduates.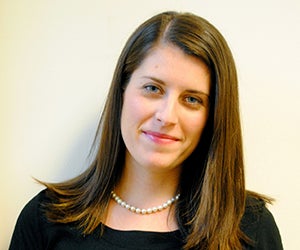 Staying on Track
Due to the high costs of a higher education, many GSP students can't afford to go home for every break or pay for meals when the dining hall is closed.
McKeever says she received grocery grants during her time at Georgetown as well as opportunities to share meals with fellow students and alumni during Thanksgiving. GSP also funded an extra trip home and took her and other female GSP students to the LOFT in Georgetown to help them build a professional wardrobe for their future endeavors, thanks to a partnership with Ann, Inc.
"Sometimes it's a matter of just a few hundred dollars to keep our students from having to drop out of college," Foy says. "At GSP, we are there for students at every stage of their college career and for all their college challenges and accomplishments."
Community Leaders
The staff at GSP work in tandem with Georgetown's Community Scholars Program, which for over 40 years has provided a diverse group of first-generation students with a robust summer program that includes academic advising, mentoring and personal counseling, study groups, workshops and seminars.
Foy says GSP students also give back to the community. About 25 percent of graduating seniors who are joining Teach For America are GSP participants.
This year, GSP students, who represent only 10 percent of the student population, also made up 40 percent of the students receiving Georgetown's Lena Landegger Award, which recognizes exceptional community service.
"Our students disproportionately represent those involved with community service, on and off campus," Foy says. "They are leaders on campus, social justice minded, winning prestigious scholarships and involved in undergraduate research."
Fixing Inequality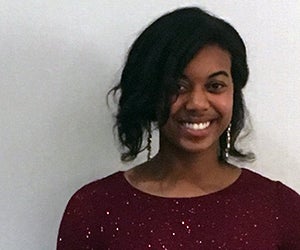 The organization creates a national corps of college graduates who commit to teaching in under-resourced schools.
"I believe the genuine people in my life met me on my journey to get to where I am today and I want to be that person in someone else's life," says McKeever. "I want to also ensure that all students receive a quality education. I intend to fix this inequality by gaining experience of it through teaching, then obtain a master's degree to learn about policy and education leadership."
Thriving Students
The forthcoming study Georgetown participated in, led by Harvard professor Richard Light, analyzed the experiences of first-generation college students at top universities and recommends a set of best practices that could be applied at other schools across the nation.
"Georgetown is in a great position to share its successes with other universities as a founding member of the American Talent Initiative, which is dedicated to substantially expanding opportunities and access for first-generation and/or low-income students,"Foy notes.
One of the most recent students to win the Rhodes Scholarship was GSP studentHannah Schneider (C'15), who won the Rhodes for 2016.
"Students in GSP have also won Fulbright and Pickering fellowships, Truman and Marshall scholarships and are increasingly involved in undergraduate research," Foy says.
GSP participants have also risen to the top of the Georgetown University Student Association (GUSA). The current vice president of Georgetown's student body is GSP student Jessica Andino (C'18).
The most recent GUSA vice president was GSP student Christopher Fisk Kolychkine (C'17), center in photo at right, with fellow GSP participants Jason Low (C'17), who was GSP board president, and Yanely Perez (B'17). Kolychkine is slated to teach social studies in Miami with Teach for America in the fall.
GSP student Adam Ramadan (SFS'14) was the GUSA vice president in the 2013-2014 academic year.
Steadfast Siblings
Word of mouth is a positive driver of the program, which currently boasts three sets of siblings – Bserat (B'17) and Amanuel Ghebremicael (B'20) of Las Vegas, Nevada; Yartiza (NHS'15) and Melissa Vargas (NHS'18) of Methuen, Massachusetts; and twins Brittany (C'20) and Taylor Farias (C '20) of Porter Ranch, California.
The Ghebremicaels of Las Vegas are the children of Ethiopian immigrants.
"It was nice having someone I could always go to," Amanuel Ghebremicael says of his sister.
"I met a lot of people because of Bserat," he adds. "For some people that would be annoying, just being recognized as being somebody's sibling. But it wasn't really like that. That was kind of an opportunity to make friendships but then make them into my own connection with the person."
BRAVE Woman
His sister was involved in an impressive number of extracurricular activities on campus. She founded the BRAVE Summit, an annual event designed to combat the "the pervasive, negative media coverage" of black women and "replacing it with the truth, our truth."
The summit draws accomplished women of color as speakers and participants. This year's event included such distinguished women as D.C. Mayor Muriel Bowser and Michele Jawando, vice president of legal progress at the Center for American Progress.
One of Bserat Ghebremicael's best moments at Georgetown is when she realized that there were 200 more participants slated for this year's BRAVE Summit than the inaugural year before.
She also has been a student member of Georgetown's Advisory Board for Affordability and Access, a GSP student board member and social media and marketing intern and chair of the Georgetown Aspiring Minority Business Leaders and Entrepreneurs' Diversity Dialogue Conference, to name only a few.
Incredible Support
"The support has been so incredible – we have peer, alumni, faculty and staff mentors," Bserat notes of GSP.
She also praised GSP donors for their support.
"It really makes me want to know how I can get to that level where I can also support GSP in every single way from financial to mentorship," she says.
Following graduation, she will become an account associate for Google's Online Partnerships Group, but has longer-term goals of completing a JD/MBA program. While finishing out her time at Georgetown, she was also busy studying for the GMAT.
New Options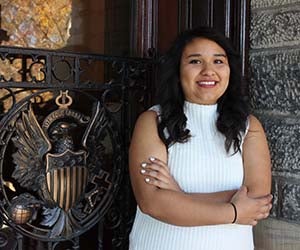 "Attending college means everything my family has ever worked for," she says. "My dad has been working since he was seven years old and my mom only made it to the third grade. Getting an education was never an option for them."
Perez says the GSP program is one of the top reasons she's been able to pursue her education at Georgetown. She said the program was there for her when she needed help and advice"I would not still be here without this organization and these people," she said of the staff at GSP.
Among other accomplishments, Perez worked all four years for Georgetown's Kalmanovitz Initiative (KI) for Labor and the Working Poor. In the summer of 2014, she was placed with DC Jobs with Justice's anti-wage theft campaign, which resulted in the D.C. City Council passing a strong anti-wage theft law.
"Yanely's important work has helped us build relationships with our community partners," says KI Director Joseph McCartin. "She's been a real leader."
Nick Wertsch, KI's organizing director adds that Perez is a hard worker.
"She did our KI Summer Organizing Internship a couple years ago, and she impressed our community partners at DC Jobs with Justice so much over the summer that they asked her to work for them as part of their staff after that," he says. "Yanely is smart, thoughtful and she's probably one of the most mature and responsible students we've had work for us."
You Are Never Alone
"I was exposed to the D.C. nonprofit world and I walked away with incredible experience in labor advocacy," Perez adds.
For the past two years, she has served as a research fellow with the initiative. In the future, Perez hopes to teach abroad and work on an engineering degree.
"Use this opportunity and run with it," Perez says when asked what advice she'd give to future GSP students at Georgetown. "You deserve to be here and there are people who will help you get there. Don't be afraid to ask for help … You are never alone on this campus."