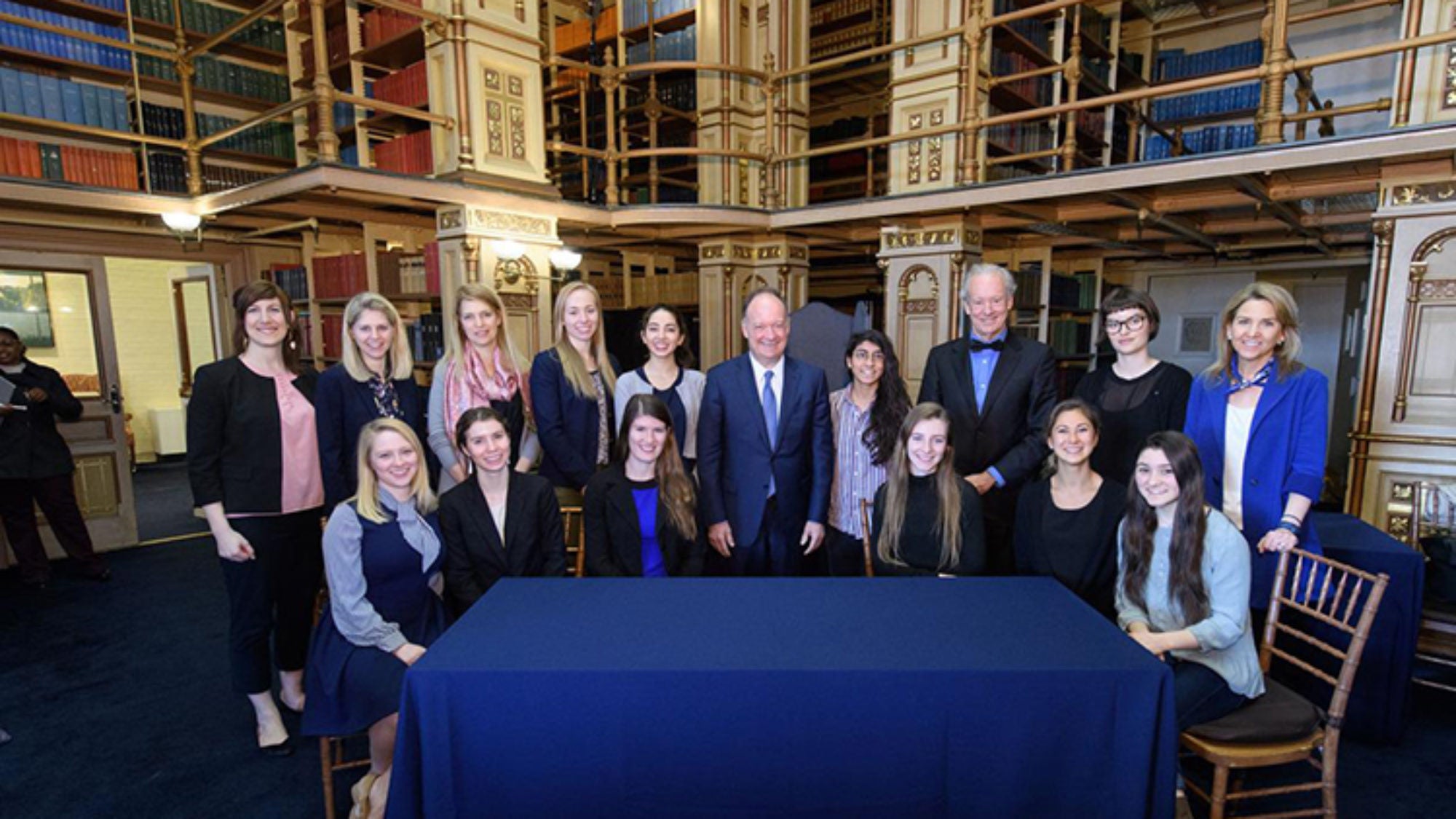 Category:

Discovery & Impact
Title:

Reimagining Georgetown's Sustainable Future Includes 'Doing More Good'
Date Published:
April 26, 2018
During strategic planning sessions in advance of Earth Day, faculty, university community members, students, and sustainability experts explore ways to deepen alignment between Georgetown's sustainability efforts, its core mission and Jesuit tradition, and Pope Francis' encyclical, Laudato Si'.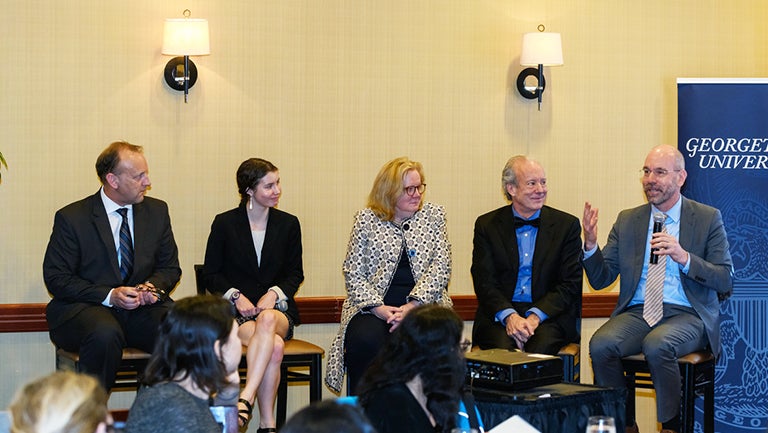 During strategic planning sessions in advance of Earth Day, faculty, university community members, students, and sustainability experts explored ways to deepen alignment between Georgetown's sustainability efforts, its core mission and Jesuit tradition, and Pope Francis' encyclical, Laudato Si'.
"The pope has asked Jesuit universities in particular to embody the teachings of Laudato Si'," said Eugenie Dieck, vice president of strategy at Georgetown. "So he's looking to us and to other Jesuit universities to really think about how we incorporate the teachings into our living, into our teaching, into our research, into our work and into our outreach."
The university is exploring opportunities to increase its positive impact in its operations, engagement efforts and education. The events last week emphasized that everyone on the Georgetown campus – faculty, students, university leaders and staff – has the ability and shared responsibility for pursuing sustainability at the university.
"Whether it's through faculty and student scholarship on climate change or a staff member using a reusable mug in the office, we all have an opportunity through our daily choices to have a positive impact on the future, both at Georgetown and in the world at large," said Audrey Stewart, director of the Office of Sustainability.
Shaping the Future
Students presented several ideas to help Georgetown achieve its emerging goal of creating "more good," including the creation of a "green guide" for planning campus events that would maximize composting, reduce food waste and result in other beneficial outcomes.
They also proposed establishing a community garden and explored the possibility of replacing single-use plastic on campus with compostable and reusable materials.
Sustainable development expert William McDonough of William McDonough + Partners is collaborating with the university as part of its strategic sustainability planning process, and was part of an expert panel offering insights last week to help enhance and accelerate the student-led proposals.
Additional experts included Erika Cohen Derr, assistant dean for student engagement; Laura Clark, an entrepreneur-in-residence at the university, and Christina Roberts, Georgetown's associate vice president for operations. The strategic sustainability planning process and the university's engagement with William McDonough + Partners is supported by philanthropy.
Promoting Connectedness
McDonough, co-author of Cradle to Cradle: Remaking the Way We Make Things and founding principal of William McDonough + Partners, also spoke at an event attended by about 60 university community members.
"We're not here just to make things," McDonough said. "We're here to be part of being something that's alive and thriving."
Hannah Funk (SFS'20), president of the student-run Georgetown Renewable Energy and Environment Network (GREEN); Cassidy Gasteiger (SFS'18); Maya Hiraki (B'20); Signe Stroming (SFS'19) and Trea-Ell Davis (C'19), presented their proposal for the green event guide, which covers everything from avoiding the use of plastic bottles to donating leftovers and composting food after an event.
The students worked with Georgetown event planners, the recycling and solid waste management office, the Center for Student Engagement and other university entities in creating the guide, which they plan to publish online, distribute and market to the university community.
"I love this idea," Cohen Derr told the students. "I love the connectedness of how you've gone about working with other departments and getting ideas and thinking through some of the logistical implementation issues that would be important in effecting real culture change on campus."
"When I think about the kinds of changes that will be required in the hearts and minds of the members of our community to realize the ideas that you all shared with us," said Georgetown President John J. DeGioia, who attended the session, "it's just incredible to imagine what this community will be when we're surrounded by our colleagues, our fellow students and our faculty who are living the kinds of ideals that are embedded in your projects."
Sustainable Expertise
McDonough's 2002 book Cradle to Cradle, co-authored with German chemist Michael Braungart, urged the creation of a circular economy that includes the manufacturing of items easily returned to the ecosystem or endlessly up-cycled in industrial cycles.
The authors' second book, The Upcycle: Beyond Sustainability – Designing for Abundance, with a forward by former President Bill Clinton (SFS'68), further suggested that the natural world can be improved in addition to just getting people to reuse and recycle resources.
"When we wrote The Upcycle, it's about things getting better," McDonough said.
Incorporating Teachings
Dieck gave reflections at the event on the pope's 2015 encyclical, which calls for environmental justice and sustainable development practices.
"It's a meditation about how we care for our common home," Dieck explained of Laudato Si'. "It brings all of us together to know that things can change and to know that we do this out of love for and love from our creator."
Dieck also noted that Laudato Si' argues that everything in the world is connected, that the poor disproportionately suffer from how the environment has been abused, that technology disengages and disenfranchises people, and that new approaches to the economy and responsible policies will need to be created to solve the world's environmental crisis.
McDonough and Dieck then participated in a panel discussion with Uwe Brandes, faculty director of the masters program in urban and regional planning at Georgetown's School of Continuing Studies (SCS); Robin Morey, vice president for planning and facilities; and student Hannah Funk. Funk noted the importance of the university's new Core Pathway on Climate Change, which allows students to fulfill core and elective requirements through an interdisciplinary collection of courses addressing the complex global challenge of climate change.
"Pope Francis' message that the economy should be sustainable, that materials and the hard sciences should be sustainable, that education should be sustainable, really is inspiring," said Funk, who said she read Laudato Si' for a course on theology and the environment, "that no matter what you study here, sustainability should be a component of your education. That's a really important movement the university is making."
The Common Good
New solar initiatives at Georgetown will contribute to a cleaner electric grid and may also one day support undergraduate scholarships for students with demonstrated financial need.
"Georgetown and the way we think about sustainability is very simple," Morey explained. "It's all about formation, inquiry and the common good. That is really what resonates at Georgetown and what makes it a special place."
The university recently was honored by the District of Columbia for being a top green organization, noting its high-profile commitments that address critical sustainability challenges, including having pledged to reduce greenhouse gas emissions by at least 50 percent by 2020 and achieving the goal six years early in 2014.