Registration for classes at the university begins Monday, and students will find a Voter Registration button on MyAccess, the website they use to choose classes for the spring 2020 semester.
The opportunity was made possible through the efforts of the Institute of Politics and Public Service (GU Politics) at the McCourt School of Public Policy; GU Votes, a GU Politics student-led voter registration initiative; Georgetown's Office of Federal Relations; and the University Registrar.
Civic Engagement Commitment
"The integration of GU Votes resources directly into our course registration system represents a real commitment to civic engagement on behalf of the university," says Andrew Straky (C'20), who has helped lead GU Votes since 2017 and initiated the change. "Even in a time of such heightened interest in our political process, young voters continue to face several intentional and unintentional barriers to voting. This is a landmark step in ensuring that every Georgetown student who wants to vote is able to do so."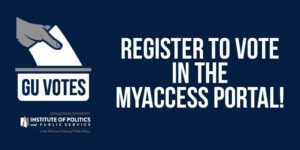 Developed in partnership with the Andrew Goodman Foundation, the new system allows students to register to vote from their home state or DC, request an absentee ballot, sign up for election updates, check their registration status and learn more about the 2020 candidates.
The goal is to achieve 100% eligible student voter registration.
"Engagement and excitement among young voters is much higher today than in recent years, said Mo Elleithee (SFS'94), executive director of Georgetown's Institute of Politics and Public Service. "For example, we saw that turnout from college students in the 2018 midterms was more than double the rate in the 2014 midterms."
"It's fantastic that more young people are educating themselves about the issues and participating in our democratic process," he adds. "With almost exactly one year to go until the 2020 elections, integrating this portal in our student registration system will further institutionalize voting across Georgetown's campus, something GU Votes has already been instrumental in promoting since their founding four years ago."
The ability to register to vote while students register for courses will further advance the goals of GU Votes and GU Politics and the university in general.
The move is part of a larger strategy of GU Votes, which is working to enhance what it calls the "voting culture" on campus by simplifying the voting process, increasing student turnout rates and more comprehensively integrating voter registration into the university.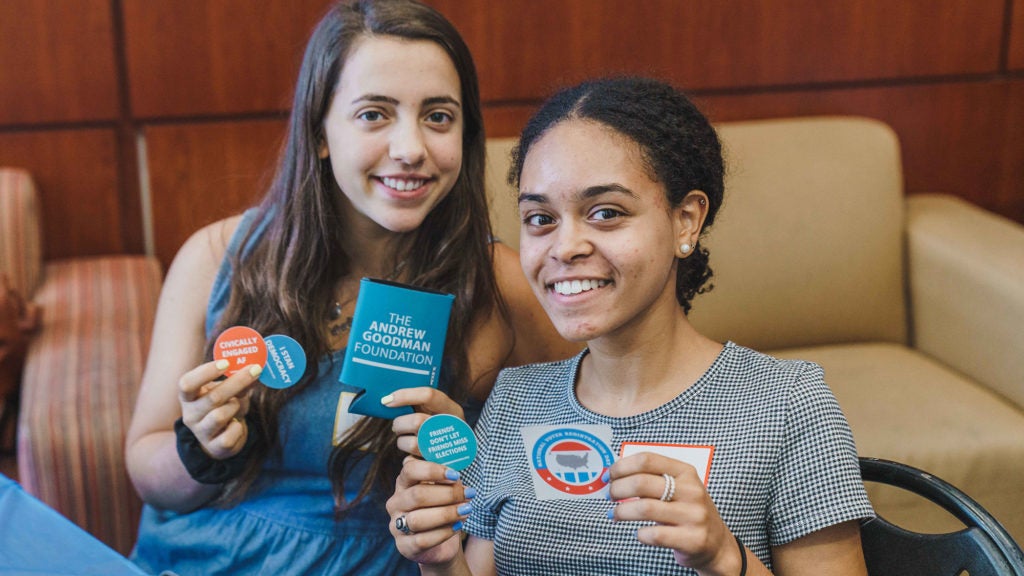 Last year, the group, which was created in 2015, helped undergraduates register to vote and request absentee ballots ahead of the midterm elections. The overall voting rate among eligible Georgetown students increased from 20% in 2014 to 49% in 2018, a 143% increase in voter participation.
The Georgetown Vote
Among other initiatives, the group piloted a Voter Dropbox Program with support from the Office of Residential Life to simplify student absentee ballot requests through a Georgetown Voter Portal. GU Votes mailed out the ballots after they created pre-stamped envelopes students could securely submit.
The organization also holds a Storm the Dorms event on National Voter Registration Day in September, and sends personalized emails to undergraduate and graduate students in partnership with the Georgetown Office of Federal Relations and several graduate school deans. Each email includes state-specific voting information with deadlines and general resources for voting absentee.