As a senior, I know I can look back at my years at Georgetown and know that I made the most of the city. After all, I have watched rugby matches at the French embassy, sang with Drag Queens at brunch, watched congressmen play baseball, gone to the Swedish embassy for a yoga class, watched dachshunds race at the Wharf, tangoed at the Kennedy Center, spent a night at a museum and more. 
DC has so much to offer when you know where to look. That's where newsletters come in – like friends in your pocket, they serve as mini-guides, ensuring you never miss out on the exciting events that make D.C. so special."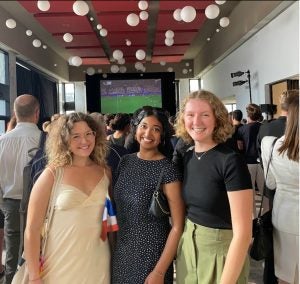 1. Embassies
Whether it be the UAE's art exhibitions, Mexico's Day of the Dead masquerade, Germany's Oktoberfest party, France's movie nights or Uzbekistan's dinners with ambassadors, every embassy in DC has a newsletter promoting public events. Simply go to the embassy's website/Eventbrite and find the link to their newsletter. You don't have to speak the language or have formal ties to the country to attend their events — just bring your curiosity! 
Cuneyt Dil and Anna Spiegel are former reporters and DC natives who will bring you the best of DC politics, business, culture, climate and even some sports news. As they write on their website, "no matter what, we'll always look for one cool thing to get you smiling as you start your day."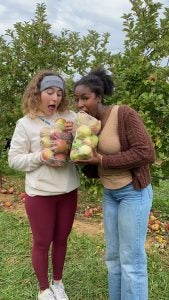 Check out their ultimate DC fall guide —thanks to their newsletter, I went apple picking last year and raced in a corn maze. 
Too busy to read long newsletters? You're a Georgetown student, you're juggling seven clubs, I get it. Let me tell you about "The Nudge," a text message-based DC planner. The Nudge texts you three DC lifestyle activities and events every week. As the name goes, they "nudge" you to get out of your comfort zone. Without their texts, I would have missed out on skating at the Wharf and watching boats decked out in Christmas decorations. 
4. Instagram personalities
When you're feeling adventurous: Austin Graff, a former Washington Post contributing writer, records every nook and cranny of DC neighborhoods on his walks with his wife and daughter. He highlights local art, restaurants, activities and teaches us DC history along the way. Whether it be a painted bench along Michigan Avenue, roasted coffee inside a 1924 bungalow or a small wooden chapel rumored to be a stop on the Underground Railroad, nothing escapes him.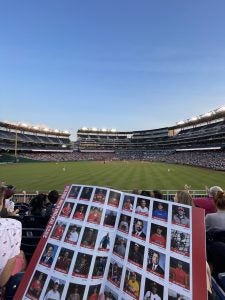 When your parents come into town and you have no idea where to take them: Sam Schlageter, more commonly known as Your DC Bestie and a Georgetown alum, makes sure we never miss a DC event thanks to her weekly rundowns on "Things Happening in DC." Night at the Smithsonian? A hot tub on the Potomac? She's got it all.
When you open your fridge and nothing looks satisfying: DevourDC, an account with a refreshing and cinematic take on food in DC. I especially love his "Best Things I Ate This Month" series, recapping his favorite dishes in DC.  
When you need some juicy gossip: Overheard DC, while not exactly a "newsletter," features bizarre snippets of conversations overhead by those living in DC. When we think of DC, we might think of its serious suits and clandestine meetings; however, this account shows the interesting, silly, and human side of the city — and it's extremely entertaining.
Newsletters have become my ear into everything DC has to offer. Attending the events helped me bond with friends, meet Hoya alums scattered around the city, experience new cultures and create an unforgettable college experience.