Title:

New Mobile App Allows Users to Track GUTS Buses
Date Published:
April 15, 2013
Commuters using Georgetown's transportation shuttles are now able to map the location of their next shuttle in real time with the NextGUTS GPS-tracking feature on the Georgetown mobile app.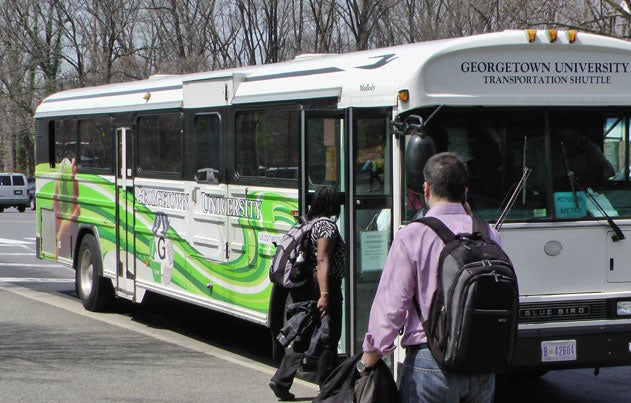 APRIL 15, 2013AS OF TODAY, COMMUTERS USING GEORGETOWN'S SHUTTLEsystem can determine whether drivers are on schedule or stuck in traffic, thanks to a new GPS-tracking feature for university shuttles.
NextGUTS maps the location of the next available Georgetown University Transportation Shuttle (GUTS) in real time, allowing anyone with a mobile device to access estimated times of arrival for the next available shuttles.
"It's really a service enhancement at the end of the day," says Robin Morey, vice president for planning and facilities management. "So if you're sitting in the rain or the cold or the snow, you can get an idea when that next shuttle is going to arrive."
DELIVERING A SERVICE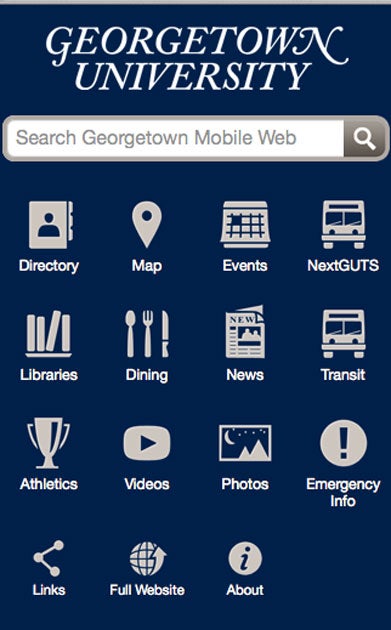 The NextGUTS feature on the Georgetown mobile app is one of many updates made to the application this year and since its launch last April.
University Facilities and University Information Services (UIS) collaborated on the NextGUTS tracking feature, available through theGeorgetown Mobileapp.
Users may download the Georgetown mobile app from the App Store for iOS or from Google Play for Androids. Those who already have downloaded the application will receive an update today.
"The university really went above and beyond with this GPS-tracking feature," says Adam Ramadan (SFS'14), vice president of Georgetown University Student Association (GUSA). "I think all students will truly appreciate it."
Lisa Davis, vice president for information services and chief information officer, says the Georgetown Mobile app team took the needs of the students, faculty and staff into consideration during the development of NextGUTS.
"The whole idea of adding a GPS-tracking component to the mobile app began with GUSA," Davis says, "and the need for such a tool was reinforced by numerous students during a university town hall on technology that [Chief Operating Officer] Chris Augostini and I convened with other senior administrators shortly after I came to Georgetown."
MOBILE UPDATES
Georgetown Mobile's NextGUTS feature comes after UIS's January update to the mobile app's alumni section, which now has a new set of features that include alumni career services tools, the alumni directory and more.
"We've continued to update the university's mobile app since its launch last April," Davis adds, "We're only a year into key innovation investments, and I'm excited to already see how the university and students are together creating innovative solutions like NextGUTS. UIS has the talent in-house to deliver these kinds of technology services and is eager to continue facilitating innovation at Georgetown."
Once users download the new version of the Georgetown mobile app, they will see the new NextGUTS icon for real-time shuttle arrival times as well as the current Transit icon, which will continue to show bus schedules for daily stops at Arlington Loop, Wisconsin Ave. Dupont Circle, Rosslyn and the Law Center campus.
The NextGUTS icon will include real-time arrivals for the daily stops as well as the newlate-night shuttlesto and from M Street, Dupont Circle-Adams Morgan, West Georgetown and Burleith.
BETTER ACCURACY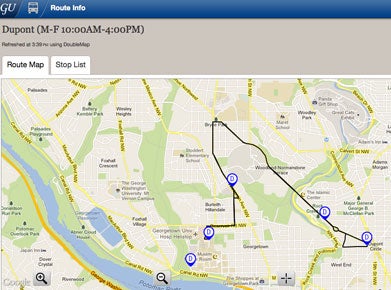 The NextGUTS feature for the Georgetown mobile app will provide real-time arrival times for all daily and late-night shuttles and allow users to map the location of their next available bus.
Drivers have been piloting the new technology with UIS since December to improve equipment operations and information on arrival times.
"The more data you get on the routes, the better accuracy you will get on the arrival times," Morey says.
He sees the NextGUTS technology as a benefit not just for the university community, but also for neighbors, who can now determine which routes GUTS buses are using at any particular time of day.
"It helps us manage our business better," he adds. "We can really bring true metrics and data to our bus routing system with this technology."