Title:

New Marshall Scholar Plans to Research Brain Cancer, New Therapies
Date Published:
November 29, 2016
Recent Georgetown graduate Seamus Caragher (C'16) becomes Georgetown's most recent Marshall Scholar who will study for the next two years in the United Kingdom.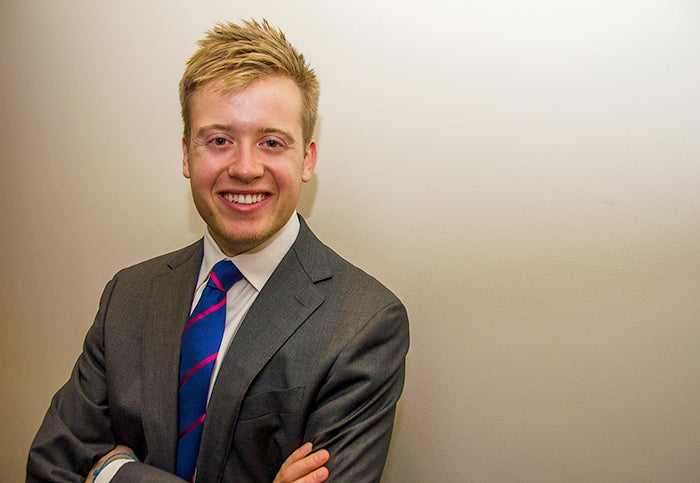 – Recent Georgetown graduate Seamus Caragher (C'16) has been named a 2017 Marshall Scholar and will research and study for the next two years in the United Kingdom.
Caragher, who studied neurobiology at Georgetown, plans to use his scholarship to pursue a one-year master's degree in cancer sciences at the University of Glasgow in Scotland and a one-year master's degree in technology policy at the University of Cambridge in England.
"Seamus is a resourceful scholar who brings extraordinary creativity to his research," said Georgetown President John J. DeGioia. "We are proud of his exceptional work."
Caragher, now a research technologist at the Feinberg School of Medicine at Northwestern University, focuses on understanding the role of cancer stem cells in glioblastoma the most common and aggressive cancer that begins in the brain – and finding targets for new therapies.
"Everyday, I have the privilege to marvel at the beauty of biological systems and the challenge to help solve the complex problem of brain cancer," says the 22-year old from Milwaukee.
After his studies overseas, he plans to pursue a medical degree and hopes for a residency in neurosurgery or neuro-oncology.
"Both [areas] encourage research in conjunction with clinical training," he explains. "I want to blend translational research and clinical practice. To successfully serve as a clinician, I must have deep connections to research. In order to meaningfully contribute to patient-focused research, I need to confront cancer each day."
While at Georgetown, Caragher received the Chapman Memorial Medal for best undergraduate research thesis, the Biology Medal for excellence in the study of biology, an award for Best Oral Presentation during the Georgetown Undergraduate Research Conference and fellowships from the Georgetown Undergraduate Research Opportunities Program (GUROP) and the Medical College of Wisconsin Summer Program in Undergraduate Research.
He used his GUROP stipend last summer to continue work related to his senior thesis research on opioid addiction's effects in the brain under the direction of Italo Mocchetti, professor and vice chair of neuroscience at the Georgetown University Medical Center (GUMC).
Mocchetti served as the mentor for Caragher's thesis project from fall 2013 to its completion in spring 2016. The project was funded by the Dean of Biomedical Research (Toulmin pilot project) of GUMC.
"I was supervising him on a scientific project related to chemokines and the neurobiology of opiate abuse, in particular, heroin," explains Mocchetti, who also directs the preclinical lab where Caragher conducted his research. "This is an interesting project that, if successful, will lead to a better understanding on how heroin, morphine and other opiate drugs induce addiction and craving."
Caragaher also took Mocchetti's graduate-level course on Molecular Mechanisms of Neurodegeneration last fall.
"Seamus is comfortable reading and discussing scientific literature. His writing is excellent, and his knowledge of the relevant literature [is] outstanding," Mocchetti says. "He was so well-prepared that no one had noticed that Seamus was, in reality, an undergraduate student."
Another professor, Kathleen Maguire-Zeiss, describes Caragher's research as "both timely and multifaceted."
"Seamus is extremely excited by research … It is his goal to continue a career path in medicine that includes research," says Maguire-Zeiss,associate professor of neuroscience at GUMC. "Seamus and I often discussed the role of glia in the brain – an area that my lab studies, and I found these discussions engaging and energizing – as if I was talking with a colleague, not an undergraduate student."
In addition to his research, Caragher performed advocacy work on Capitol Hill while at Georgetown.
Along with his classmates, he successfully pushed for the formation of a new pre-medical student shadowing program at the Department of Veterans Affairs' hospitals and clinics.
David Goldston, who taught Caragher science policy, says the Marshall Scholar emerged as the leader of the group, which succeeded in getting Congress to direct Veteran Affairs to institute the program.
"This was quite an achievement especially in the current stalemated Congress," says Goldston, an energy policy scholar in Georgetown's Program on Science in the Public Interest.
Caragher believes the Marshall Scholarship will offer him the opportunity to build a network of British collaborators and friends in the field.
"In neuroscience, there is a famous saying – 'cells that fire together, wire together' " he says. "Over time – and with repeated input, neurons undergo structural changes that enable the circuits of the brain to store more information and adapt to the world. In the same way, the Marshall scholarship affords me the opportunity to wire into the best of the British scientific network."