The ceremony marking the completion of a new solar electricity project at Georgetown brought the White House's Gary Guzy to campus.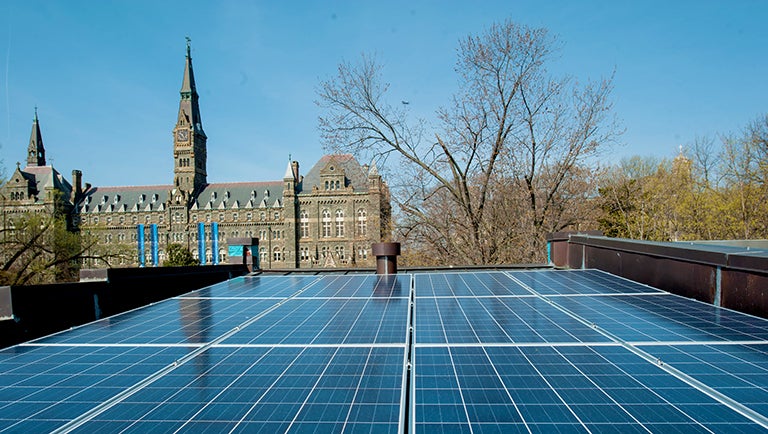 Georgetown today marked the completion of a new renewable sustainability project – six university-owned townhouses using solar energy – developed through its first student-staff partnership for green energy.
Gary Guzy, deputy director and general counsel for the White House Council on Environmental Quality attended and spoke at the ceremony, sponsored by the student-run Georgetown Energy as well as the Georgetown Sustainability Initiative and community partners.
"Georgetown is becoming a model for how universities across the country are seeing clean energy," says Guzy, who has taught at the university's Law Center, "how you're recognizing that sustainability can enhance the quality of community life, how it can save money, how it can be consistent with the university's educational and research mission …"
Guzy's appearance isn't the first time the White House has recognized Georgetown Energy's work. This summer, the student group won the Best Overall Video award from the White House's Youth Sustainability Challenge.
Going Solar
"We just wanted to help people in Georgetown go solar," says Dan Mathis (SFS'13), one of the project leaders for Georgetown Energy's Solar Street.
For nearly two years, the Georgetown Energy student group has worked with university leaders on the Solar Street project, which features six university-owned townhouses with rooftop solar panels.
With 18 kilowatts of capacity installed across the townhouse rooftops, university facilities officials say the student households will produce nearly 20,000 kilowatts of electricity each year, with solar power providing 27 percent of the electricity.
Sustainability commitment
Though the six townhomes are located on 37th Street NW just outside Georgetown's Healy Gates, Solar Street is an example of the campus's commitment to sustainability, says Robin Morey, vice president for planning and facilities management.
"Georgetown Energy ran the project," Morey says. "We just kind of sheparded them through the process of doing the design, construction contracts and getting approval through proper university and city channels. I think the students see what it actually takes to get the work done."
The group helped establish a revolving green loan fund for future student projects promoting sustainability.
"The idea behind the green loan fund is that you'd apply for this money, [then] pay back and reimburse the fund in a certain amount of time," says Mathis. "Once the fund grows through interest, we'll be able to give out more grants than loans."
The group selected Solar City, a national clean energy company, to work on the project, and it began installation last December, with the last of the panels being laid last month.
Future Collaborations
Mathis and Morey both hope the project sparks more collaborations between students and university staff for green initiatives.
Students already have expressed interest in improving and standardizing signage around campus recycling bins, and a residential compost program is in the pilot phase.
"Don't be afraid to ask all the questions and work with the university to get your goal achieved," adds Mathis about students' green energy ideas. "Make sure you see the university as a partner. Make sure that you engage everyone involved. We're all here for the same purpose – to make the university the best it can be."