Title:

Neurology Department Chair to Serve as Medical Center EVP
Date Published:
May 29, 2015
Dr. Edward Healton, whose entire career has involved both academic medical centers and community-based settings, will serve as executive vice president at Georgetown University Medical Center for the next two years.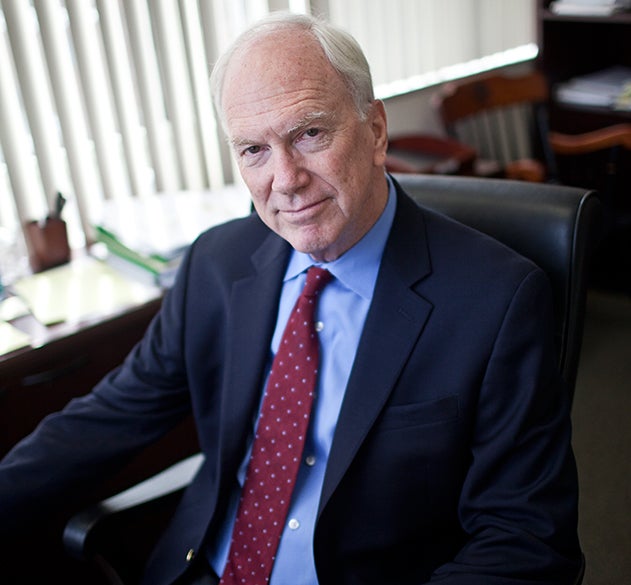 The neurologist who will serve as executive vice president at Georgetown University Medical Center (GUMC) for the next two years has bridged the increasingly important intersection between academic medical centers and community-based settings his entire career.
Dr. Edward Healton, chair of the neurology department at GUMC for the past 10 years, will take on his new role on July 1.
Healton, who also has served as chair and professor of neurology and rehabilitation medicine at Georgetown's School of Medicine and MedStar Georgetown University Hospital since 2002, has held leadership roles at MedStar National Rehabilitation Hospital (MedStar NRH) that include senior vice president for medical affairs and medical director from 2002 to 2011.
Beginning in July, Healton will oversee a biomedical research organization that attracts more than $100 million a year in sponsored research with more than 400 scientists at work on basic and clinical research projects, including 300 active clinical trials, andeducates physicians, scientists, nurses and health care professionals committed to the care of others and the health needs of society.
Trusted Community Member
GUMC's current EVP, Dr. Howard Federoff, is leaving Georgetown at the end of June to become the new vice chancellor for health affairs and dean of the School of Medicine at the University of California, Irvine.
"Dr. Healton is a trusted member of our community, and I am confident in his abilities to work closely with our leadership team to lead the Medical Center through this time of transition," says Georgetown President John J. DeGioia. "In his 14 years as a member of our community, he has proven himself a principled and effective executive, combining strengths as both a medical professional and organizational leader."
"I have had the good fortune to work closely with Howard Federoffin a number of areas," Healton says, "and I know firsthand how hard he worked for the Medical Center and his qualities as an exceptional leader and scientist. I am very grateful for his service."
GUMC comprises the School of Medicine, the School of Nursing & Health Studies, the Biomedical Graduate Research Organization and the Lombardi Comprehensive Cancer Center.
An Academic Leader
The product of a Jesuit medical education at Creighton University, Healton went on to do his residency in medicine at Harlem Hospital in New York, and his neurology residency at Columbia University.
"I stayed on at the department of neurology at Columbia, and spent a lot of time at Harlem Hospital," says Healton, who knew he wanted to be a doctor from the tender age of 6. "I was a typical academic clinician, seeing a lot of patients, teaching residents and students and doing clinically focused research."
He gradually took on leadership positions, becoming senior associate dean with the responsibility of overseeing the Columbia University College of Physician and Surgeons' partnership with Harlem Hospital Center – for which he came to serve as medical director.
"That period of my career was spent in the university setting and in a public hospital community-based setting, both of which were exceptionally valuable and satisfying for me," he says, "but which also reflects some of my priorities – to public health, to community health, to health disparities as well as the engagement of the university in those areas."
Published Scholar, Collaborator
In all, before joining Georgetown and MedStar NRH in 2000, he served for 32 years in clinical, academic and administrative management positions at Harlem and Columbia, where he is now professor emeritus of clinical neurology.
The doctor also has served as principle investigator on numerous studies and published extensively in the areas of cerebrovascular disease and the neurological complications of systemic diseases, such as Vitamin B-12 deficiency and severe hypertension.
He also has published research on community-based health services and consistently promoted collaborations among academic and clinical researchers that lead to health solutions moving more quickly from the lab to the patient.
New Opportunities
As GUMC's executive vice president during the two-year transitional period, Healton will focus on improving the integration and execution of GUMC's academic, research and clinical missions. He will address the changing dynamics of health care, declining federal support for research and pursue opportunities for the Medical Center to strategically strengthen its position for future growth.
"GUMC is really part of the broader community of academic medical centers facing changes in the way health care is organized and financed," Healton notes. "Our challenge is to find new opportunities and build on our strengths in a changing health care environment."
Healton emphasizes the importance of MedStar Health, with its network of 10 hospitals spanning three states and nearly four million outpatient visits and graduate medical education and clinically focused research taking place all across the system.
"It's a very large and excellent health system and a very good partner that will help us as we build some of the potentially new paradigms that we may look at in terms of the academic model," Healton says.
Healton says he will work closely with the university community in carrying out the work of repositioning the Medical Center.
"I really believe that building consensus and shared governance, as much as possible, is very important," he explains. "I think the faculty understand how important a moment this is for the medical center and that we can find a new direction together as a faculty and as a leadership group working with the senior leaders to build on the many strengths we have, working with our health systems."
A Model Partnership
He offers the Center for Brain Plasticity and Recovery as a good example of an important and successful collaborative partnership.
Co-directed by GUMC and MedStar NRH researchers, the partnership includes space at both entities and joint funding.
"The center is taking an important clinical problem and looking at basic and translational research focused on stroke, which of course is the leading cause of disability in the country," Healton says.
A Two-City Family
The neurologist and his wife, Dr. Cheryl Healton, live in Washington's Cleveland Park and New York City.
Cheryl Healton, now dean of global public health at New York University and director of that university's Global Institute of Public Health, previously served as CEO of the American Legacy Foundation, created through the Master Settlement Agreement (MSA)
The MSA is a 1998 accord that required the tobacco industry to pay settling states approximately $10 billion a year and imposed restrictions on the sale and marketing of cigarettes by participating cigarette manufacturers.
The Healtons have a daughter and two sons, the youngest of whom is in the M.D./Ph.D. program at the Albert Einstein School of Medicine.
"We go back and forth a lot between cities," the Georgetown doctor says, "and we share our interesting opportunities."